Finally, spring has arrived! Here are 15+ fast and amazing farmhouse spring decor ideas that are worth giving a shot in this season.
1. Stem Vase Wooden Holder – A Simple yet Creative Farmhouse Spring Decorating Idea
You should definitely try this unique and stunning flower vase holder. All you need are some flower stems to perk up your entire dining table. The wooden framed box adds a rustic touch to the vases. This design is perfect for farmhouse spring decor.              
2. Fresh Baby's Breath Heart
This farmhouse decorating idea for spring is extremely easy and inexpensive to do. Fresh and white baby's breath itself creates a cute and elegant vibe for your farmhouse. In addition, the wreath in heart shape is a lovely way to decorate your house instead of the usual rounded one. You can also use other kinds of flowers that you love such as rose, lavender, etc.
Check out how to do this beautiful baby's breath wreath here.
3. Rustic Wooden Box For Flower
Check out this unique and charming box for flowers. Choose a wooden box with a rustic look and some colorful flowers that screaming spring and you're good to go. It would add both a primitive and bright look to your farmhouse.
You can do it by yourself or buy this one here.
4. Mason Jar with Cotton Arrangement Centerpiece
Another cool farmhouse spring decorating idea that you definitely should try is this amazing centerpiece. No flower is more iconic for farmhouse decor style than cotton flowers – white symbolizes purity, and green is for the fertile land. This centerpiece is born for spring decoration!
You can buy it here.
5. Flowers in Watering Cans
This is a great farmhouse spring decorating idea to freshen up your farmhouse porch for spring. Get a beat-up watering can, add soil, plant some flowers in the soil and you're all set. Make sure you use vibrant flowers that will flatter the watering cans.
6. Terracotta Pots With Flowers
Besides watering cans and mason jars, you can consider using terracotta pots too. All you need to do is go to your neighborhood tool store, pick some of them, repaint whichever color you like, and plant your flowers.
You can also get terracotta pots online to save time from here.
7. Your Night Stand Needs A Fresh Look Too.
It's time to clean and tidy your nightstand up, put some unnecessary stuff down, and put on one or two appropriate pieces of farmhouse spring decor.
You can find another great tip for nightstand decoration here.
8. Lighten up Your Walls With Spring-Themed Canvas Prints
The easiest and fastest farmhouse spring decorating idea to bring freshness and vividness into your house is putting some colorful and bright canvas prints on your walls. Check out thousands of vibrant and elegant farmhouse canvas prints that would liven up your house here.
9. Add Spring Vibe Into Your Entryway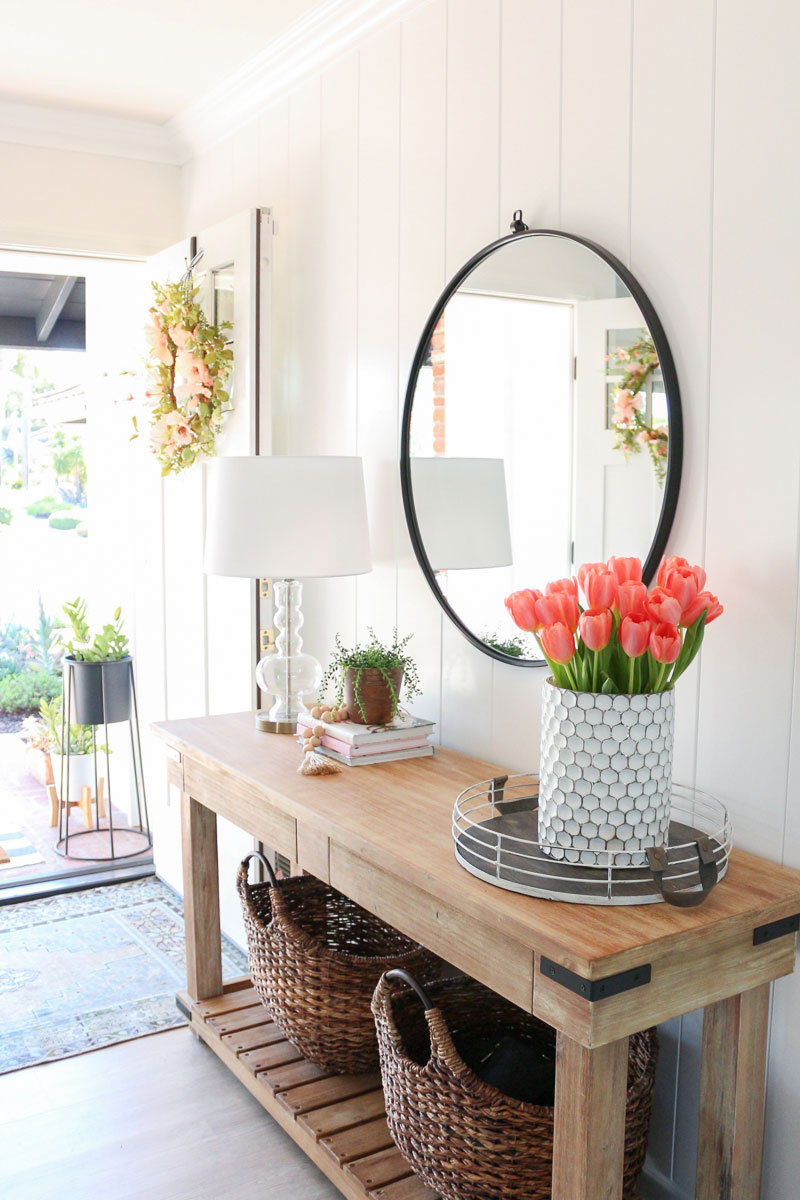 A console decorated with fresh flowers and a basket filled with greeneries and fake flowers is a great spring decor idea for your farmhouse. This would immediately brighten up your house and lift up the mood of everyone coming to your house.
You can check out more entryway decor ideas here.
10. Refresh Your Workspace
Hang some inspiring artworks to motivate you every day. Additionally, adding some greeneries and flowers will instantly bring a spring feel to your home office.
Check out our office canvas collection here.
11. Tea Cups With Flower Arrangements
Spring is all about flowers, right? And we can literally put flowers in everything, including teacups. Check out these gorgeous floral teacups and make one for your house now!
12. Fresh Greens and Florals
Add greeneries and colorful flowers into your house  – remember: fresh is always best. A great tip for you: Keep them near the sink so you won't forget to water them.
13. Pastel Hues Galore
Put away those gloomy accessories suitable for winter and replace them with pastel items. Robin's egg blue, soft pink, and lemon yellow are true colors for spring, they also work well for the warm-weather months.
14. Flowers in Farm Boots
An extremely simple and creative decor idea for your farmhouse during spring (or any other season) is to put flowers in farm boots and place them on your porch to instantly perk up the look of your house.
15. Hanging Basket Filled With Flowers Above Your Bed
Look at this beautiful bedroom with a flower basket above the headboard! It is a cute way to add a floral touch to your room and make it a simple yet stylish space.
16. Rustic Ladder With Flower Arrangement
Check out this fresh and unique wooden ladder with hanging flowers, a perfect farmhouse decor idea for spring, creating a stunning wall decoration for your entryway.
17. Spring Chalkboard Printable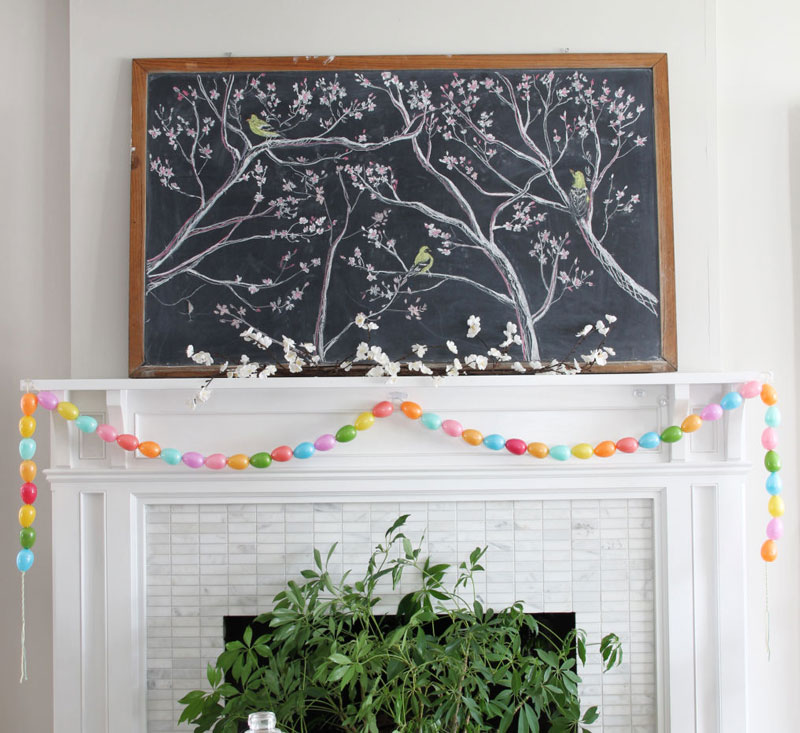 This chalkboard will make you happy whenever you see it! Hang this on the entryway so that it would be the first thing in your sight when you walk through the door.
Check out our latest blog posts to get more farmhouse decorating ideas and tips for your home:
18. Decorate Your House With Colorful Napkins
Napkins aren't just practical. They are also an absolutely easy and affordable spring decor idea for your farmhouse. You can easily get them anywhere, from a store in your neighborhood or an online one. Make some different combos with different napkins to add a decorative touch to your table or any shelf without spending a lot of money.
You can find some beautiful napkins here.
Do you find any of these farmhouse spring decorating ideas you can get inspired from? Let us know in the comment section, we would love to hear from you!
If you find this post useful, don't forget to share it on social media for everyone else to see! Because share is care, right? 😉