Do you dream of living in a country farmhouse that is surrounded by natural wooden items like Joanna Gaines'? Check the list here for 20+ amazing farmhouse decor ideas for your dream home.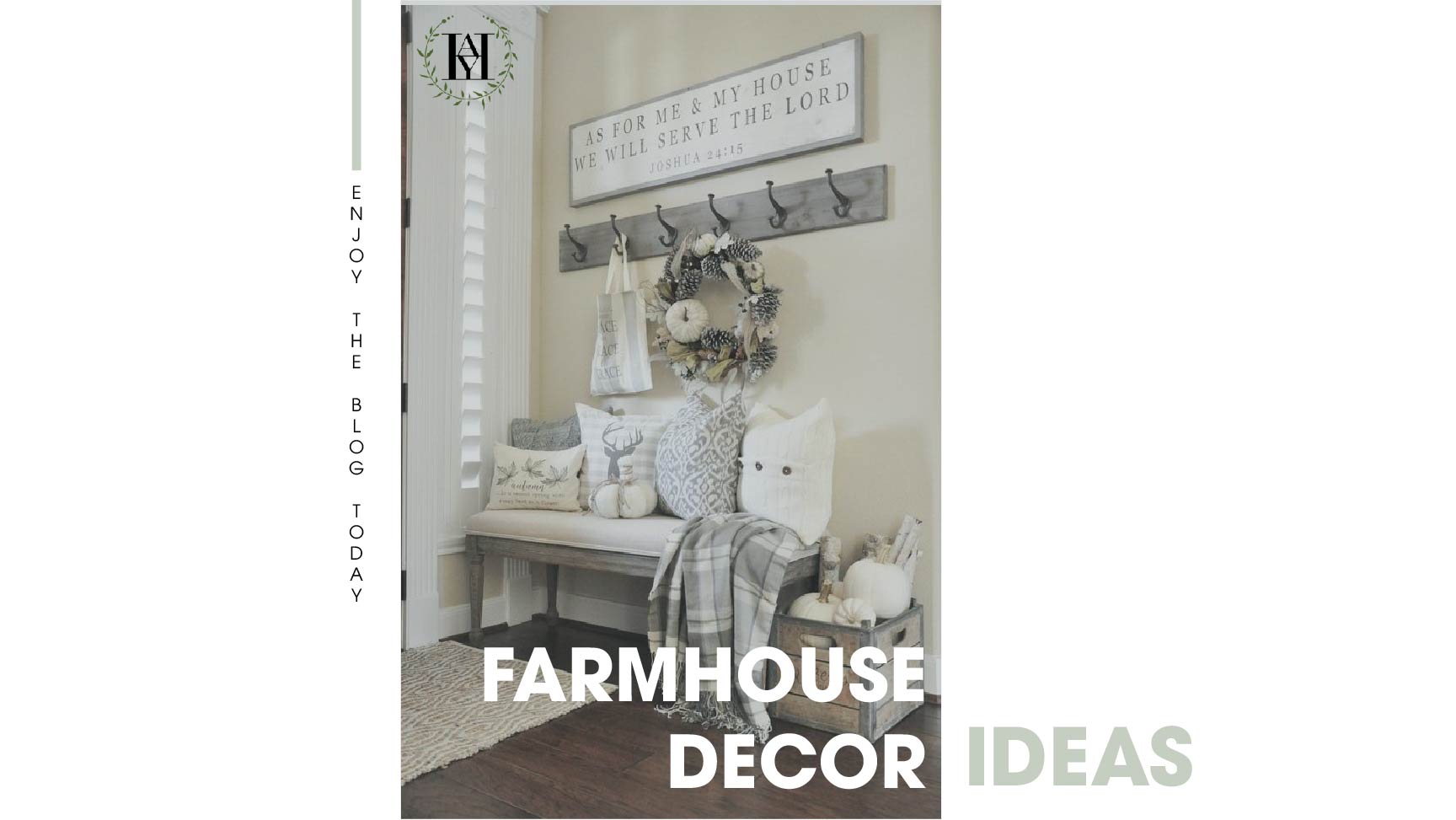 The farmhouse is the perfect blend of modern and rustic that is clean and yet homely. Little did we know when did farmhouses begins or where did farmhouse style come from, we simply never tire of this beautiful decor. And guess what, you don't need to live way out in the countryside to enjoy the benefits of this ultra-chic design sensibility, nor do you need a barn or a backyard chicken coop to embrace country charm.
In this blog, you will find the must-have decor items you'll need to create the awesome farmhouse vignette for your dream home in 2022.
Now, let's dive into it.
1. Try some farmhouse decor ideas with barn door
Scroll through Instagram, Pinterest, or any blog, it won't be long before you spot a barn door. It's not only a useful space saver but also can amp up the character in a country, traditional or modern farmhouse. Wooden barn doors create a sense of warmth in a home, or used as farmhouse wall decor, or simply cover up the mess of open shelves.
You can easily find elegant and practical ready-made barn doors on Etsy, Amazon, or Wayfair. However, if you prefer a rustic reclaimed look for your home, you can learn the way to make DIY items from plenty of Youtube tutorial videos.
2. Wool blankets and vintage quilts
Wooden ladders initially were used to reach upper shelves or even upper levels in barns. But now they are well-known as a great decorative accent to hang blankets or quilts. You can also add vintage flavor to your farmhouse living room decor by throwing some over the back of your couch.
3. Floor-to-ceiling shiplap
Maybe you have all seen how well shiplap works in creating a modern farmhouse look. But even if the interior design of your home is another type of farmhouse style, that doesn't mean a floor-to-ceiling shiplap is off-limits for your home.
Shiplap is a beautiful addition to any room in a house. Create clean lines by nailing a shiplap to the wall and ceiling and apply the brown one for the floor. You can also hang a black metal chandelier or a gold pendant light for a nice contrast.
4. Brick fireplace is perfect for farmhouse decor
To create a warm and cozy atmosphere in your farmhouse living room, you must make sure the fireplace is your main focus. Fireplaces were used considerably in authentic farm homes for both heating and lightening up space.
A thick, wooden mantel can be hung above your fireplace to display a bit of aged decor. They are timeless, which is great because they tend to be extremely durable. Updating your mantel is a great way to showcase festive elements throughout the year.
5. Family photo canvas for farmhouse bedroom
Home is all about family, so why not show off your family portraits or names for everyone to see? Nothing completes a farmhouse wall like images of your family in picture frames. Creating a wall that is full of family images can be a great way to add personality and flavor to your living room.
Rustic accents like wooden frames help you keep your family-center home. Or you can consider making it more special with custom wall art in many fabulous frames, which can include your photos, family names, or members' names.
6. Farmhouse style fabrics and patterns
Adding decoration pieces made with fabric to your home is the easiest way of renovating your home. Just think about it, you are having a beautiful solid couch with neutral color in your living room, and you want to add more flair and charm to the farmhouse style. Get some new decorative pillowcases and a rug in the checkered pattern! You will have a fabulous new living room.
Consider combining this with a couple of wall art which has buffalo check texture too. Its brightness and contrasting color palette make it become an eye-catcher element and so popular in this decor. They will bring to your home the feeling of a chic vibe.
1000+ Farmhouse wall decor for your home >>>
7. Painted kitchen cabinets
While your home is sticking to neutral palettes, a painted kitchen cabinet may be a smart choice to instantly refresh your space with color. And what's more? You can easily makeover this cabinet whenever you come up with your farmhouse-style kitchen. To make it more elegant or cozy, you can add some design elements that will never go out of style.
8. Mismatched table and chairs
Have you remembered "matchy-matchy is a big no" in farmhouse style? So this idea is balancing the weight of a reclaimed wooden table by flanking it with industrial chairs. The centerpiece of the farmhouse dining room is the rustic dining table, which can be painted or simply remains its reclaimed material. The kitchen is the heart of the home and an antique table is the heart of your kitchen, serving multiple purposes, for both dining and other decorating projects.
You can consider putting a burlap table runner on the dining room table to amp up the country look too. Then, pair this table with industrial cafe-style chairs, which can be made from metal or a mix of metal and wood. They will contrast nicely with the chunky farmhouse dining table.
9. Kitchen open shelving
Farmhouse decorating doesn't complete without open shelving. A wall of open shelving comes with endless possibilities to fill it with colorful glassware, greenery, or your extensive book collection. Whether it's attached to the wall or a free-standing piece, it helps you easily access your things and is utilized as a decorative item.
Farmhouse decor beauty often comes from antique furniture and used accessories. So if you have any idea about open shelving, you can consider a makeover from old drawers or choosing one from a second-hand store, which creates a rustic look to your home.
10. Family chalkboards
Chalkboards can give a personalized touch to your house. May this has been a trend for a long time to attribute to traditional and country homes, it has still become the desirable feature for modern farmhouse decor with its black and white contrasting palette. Chalkboards will fit any room design, be easy to make yourself, and surely is a great way to express your family identity.
There are many amazing chalkboard ideas for your family, from listing down your family chores in a week, or writing a dinner menu, creating some decorative sketch for the room, or simply letting the children draw something cute on it.
11. Well-dressed nightstand
To contrast, the light and airy feel of your bedroom, consider putting a vintage wooden nightstand with some old books, an old school alarm clock, and a small light fixture. Washed wood is a common material for any farmhouse-style decoration. Whether your option is a white, or grey, or dark brown item, washed wooden nightstand is an essential element for your space. Especially, you can consider a floral pattern lamp, which adds a little bit of romance to your decor and makes it perfect for the evening at home.
12. An iron bed for farmhouse bedroom ideas
Adding an unexpected touch of industrial charm to any bedroom with a wrought iron bed frame. Or maybe you just want to create a more classic look? Metal beds will do the trick! They remind us about things in the old days and are a simple decor piece that adds oodles of charm.
An iron bed will be the biggest impression in your bedroom and can go with any farmhouse style as well. This is also a must-have item for modern farmhouse decor.
13. Clawfoot bathtubs and deep sinks
Since you spend so much time soaking in the tub, make the rest of your bathroom feel just as warm and beautiful as possible. The clawfoot tub is a sign of an old farmhouse. Life may get more convenient gradually, but the clawfoot bathtub's beauty will never be defeated by any modern tub in any farmhouse interior design.
You can also consider a deep sink, which has some vintage elements, which contribute to the rustic charm of the farmhouse bathroom. Moreover, antique washboards and old-fashioned clothespins can add to your bathroom the country flavor, then adding flowers in a metal bucket can make it feel complete.
14. Antique wall mirrors
Shopping for mirrors, or silver platters and hanging them on blank walls as wall art is a great way to create an illusion that your small space is bigger and brighter than it is. The wood around the mirrors should be painted and sanded to give it more of an antique look, bringing a rustic charm to your farmhouse space.
15. Wall of lanterns/sconces/other metal lightings
If you have an empty wall, nail battery-operated lanterns in evenly spaced rows to illuminate any room. An iron lantern is a great way to recall the country living before we had electricity, which is perfect to create a peaceful atmosphere for your home.
Today, you can use these beautiful vintage accents to light up your home in a decorative way. Another antique lighting idea is iron wall sconces, which also date back to the time when candles had to light the walls. Or you can use another rustic metal one as well to add some traditional touches to your farmhouse decor.
16. Stunning chandeliers add farmhouse chic
Hanging antique chandeliers is an easy way to add character to any room in your home, from the ceiling in the entryway to the farmhouse living room, or above the dining table. Whether you are looking for a light fixture, or want to set the tone of the room, chandeliers will add the fantastic suspended character to space and make a big impact.
There are many options of chandeliers to suit any decor and style, so you can consider their functionality and size before choosing a proper one for your purpose.
17. Home is where the wreath is
Having a wreath in your home can be very festive, even though it's not in the holiday season. You can also utilize many materials from Christmas to create a perfect winter decoration, including wreaths. You can remake your wreath after each season, but remember to add a burlap bow to create a more farmhouse effect in your decor.
These wreaths may be amazing on the entry door, or above the fireplace mantel. Based on your taste, you can choose some small items which go with your wreath to decorate the surrounding areas such as white candles or a deer couple.
18. Animal Art
What better way to celebrate the farmhouse style than adding cute little farm animal figures to your home? Or if you have a perfect space on the wall, consider using animal wall decor instead. Besides wall decor, you can also choose some vintage signs to amp up the country accent for your home design.
19. Wire bins and baskets
Nowadays, wire bins and baskets are popularly used for many decorative accents in farmhouses because they are a simple way to get a rustic feel in your home. This decor idea has so many possibilities that can help create country decor. You can use these to chill wine and beer, store small items, or even plant flowers to add a fresh feel to your room.
Try adding a few on the wall or use a large one to contain pillows in your living room. These vintage-looking pieces are functional and add a great deal of country charm to your farmhouse.
20. Farm flowers
Farmhouse style isn't fussy, so flowers from the garden will be the best way to gain more farm-fresh and natural feeling to your home. The simpler the flowers are arranged, the better. They should look like you have just taken them from your garden and put it all in your favorite pitcher. Or another idea is using mason jars, which are very versatile and easily add farmhouse appeal to any room. Simply decorate these sweet accessories with raw cotton or lavender and you will have a glimmer of elegance in your home.
Here, we're helping you to take your love of farmhouse style to the next level. No matter if you want to renovate your house soon, or you're just imagining your home, these farmhouse decor ideas will serve you well. We will continue to update this list so follow us or continue to read other blog posts if you don't want to miss awesome decorating ideas for your dream farmhouse.
Leave your email in the VIP customer register box at the bottom of this page to receive exclusive offers and information on our newest blogs.