You appreciate farmhouse style, but also adore the colorful interior? Come and check the ultimate guide to have the best farmhouse color palette in your home with ease!
May you like these blogs:
1. What is Farmhouse Style Colors
Farmhouse style is the master of neutral tones. If you are a fan of farmhouse decorating ideas, you definitely know that most of these home-style projects are built to stay in a neutral tone. (You can also explore how to create a perfect modern farmhouse besides neutral palettes here). All different textures and materials work surprisingly well and harmoniously to obtain the elegant but gorgeous look for farmhouse-inspired homes.
Most modern farmhouse rooms that we've ever seen have a lot of white and beige, and there is nothing wrong; but sometimes, we crave some bright or dark tones to block the boredom of our homes. Lots of whites, creams, and beiges can be used, contrasted with some bold hues in a good measure.
In this blog, we will give you some interesting guides to play with colors in your home decor that Joanna Gaines would even approve of.
Are you serious? Yes, we are serious. As blog writers, Pinterest is our best friend, an endless source of creation. So do homeowners and designers! You can find many inspirations to combine hues in your farmhouse. Just go to Pinterest and scroll down to get more motivation about decorating your dreaming home.
However, you need to be mindful that you may not recreate exactly what those images look like, or some of them will be not suitable for your home at all. For example, if you want to paint a large room with tons of natural light, the elegant light shade of a Pinterest living room picture seems not fit. You need to stick to a darker paint color instead.
3. Choose the Right Painted Color
The first thing we need to notice is the painted palette for each room in your home. This is completely based on your desire, intention, and sense of art. However, it can be so overwhelming when you walk into a store of millions of different paint colors, just to pick a couple of them.
Choosing painted palettes tends to be one of the harder decisions when building or renovating your home. You spy at least 300+ shades of gray and can't decide if you prefer Ellie Gray or Gauntlet Gray, and which is better for a farmhouse living room. We have all been there, trust us…
This is especially true when we see a perfect farmhouse decorating idea that has a gorgeous paint scheme, but not sure what are the specific hues they used. You may find the source where to buy the sofa, the cupboard, or even the table cloth. How about the paint?
Step 1: Consider the room you are painting
If you are painting a big room with lots of natural lights, select a darker tone for the wall. And if your room is converse – which means darker and smaller, choose a lighter shade instead. If you have enough white furniture, going neutral and adding some colors is attractive. And if your room is full of dark items, you would probably stick to lighter shades only.
Step 2: Be careful with undertones
After understanding the room you want to paint, go to any painting store and grab all the paint swatches which catch your eyes. Bring it home and choose the best colors in the palettes.
Then, start to study its undertones. Sometimes, the beige you picked may look pink, the gray surprisingly looks green. It's all because you choose the hue which has the wrong undertone. You need to tape the white paper to the wall and then tape your paint color pieces right next to each other on the white paper (which has no spaces between). The undertone will appear, and you will easily eliminate a few other ones.
Step 3: Try painting small sections in your wall
If you are confused between 3-5 colors, get a sample for each one. Then paint a small section on your wall to see how it looks. Only in this way, you will pick the right color that you have no regrets about afterward when it is done.
4. Start with Neutral Farmhouse Color Palette
If you still don't know how to choose a palette for your house design, start with a neutral background. White, gray, and beiges are the foundation of a farmhouse design. To create an elegant home look, don't be at risk with supersaturated or bright colors like red, or orange. Those are too much. Or if you want something more special, think about blue or green at the starting point instead. Then, go a shade or two lighter than you think.
Besides, many homeowners and designers are now shifting toward the earthier palette to make the house embrace natural charming. It is also a good idea if you want to use a white baseboard and crown molding, which is known as the signature of farmhouse designs, and they will make your room brighter and fresher.
A neutral tone can help you feel easier when redecorating seasonal items such as winter farmhouse or farmhouse on Valentine's day as well.
5. Paint Your Walls Light and Add Colors to Decor Items:
This may be an old-school guild, but it just wants to say: "I'm not old, I'm a classic". Keep the walls and main furniture in a neutral tone, then play with other colors in decorating, such the best way to bring your farmhouse the timeless value.
Now, it's time for you to pop any hue you want, even the brightest yellow is possible. Let the color shout out to the world as your personality trait. If you find a vintage piece at a local thrift furniture store, and you want to play with color, don't hesitate to paint it a pop of hue. Your space will be vivid immediately, and it also helps you modernize this antique find so well. You can do this with open shelving, a kitchen cabinet, a nightstand, or even a living room table.
Home is all about relaxing and comfort, so feel free to make something interesting. But over 3 hues in a room will easily lead to a mess. If you feel confused, just stick to 60-30-10 rules: 60% of the room should be the dominant color, 30% should be the secondary color and the last 10% is an accent.
6. Add a splash of color with lighting fixtures
One of the hallmarks of a farmhouse design is its light and airy atmosphere. Besides, using light fixtures is a great way to add color to your room. You have many options for lighting, not only to amp up the modern farmhouse look to your home but also to create the charm of hue.
Mix metals, rustic chandeliers, glass, and vintage bulbs are all possible. Choosing some suitable ones is not as easy as it may seem because unlike pillow covers or table cloths, lighting fixtures can not be changed that easily. For example, if you have a plan to decorate your farmhouse kitchen, some simple glass pendants are enough to help the room brighter and bigger without taking up a lot of space.
While these kinds of lighting can be used to highlight other furniture or patterns, they can become the highlight too. Imagine that your home living is painted and decorated in light blue, golden, or yellow metal fixtures. You can do the same with other scones, lanterns, chandeliers, or even lamps. Pick a contrasting color with the theme for lighting fixtures, and you will get an interesting combination for any room in your farmhouse.
7. Don't afraid of using wallpaper
Wallpaper is a super-easy way and fun way to add an instant focal point and drama to your room. Keep in mind that this guide is suitable for a room in which most of your furniture has clean lines and a neutral color palette.
Turning back to the popular question: "What kinds of the pattern should I choose?" It depends on your taste, it may be something geometric or fun, but nothing is more farmhouse-ish than wallpaper with typical patterns such as vintage flowers or buffalo check.
Again, too much is not good. You just need to find something in the accent color you pick at the beginning and the rest of your wall will stick to a neutral tone. With this idea, you can update your room in a few hours, and it definitely brings to your home the effortless beauty of your home and color as well.
8. Other colorful farmhouse decoration items:
You love modern farmhouses, but you also love colors at the same time. Yes, you can marry the two by ornaments. Here is the list of some decoration items you can't miss.
Throw pillows are such a perfect way to add color to any space. They can be made from many textures, and guess what is the most special? They are changeable, so you can redecorate to increase the seasonal atmosphere or simply create a brand-new and fresh feeling for your home at any time. You can find some interesting items on the website of Wayfair.
Greenery is another option that brings to a farmhouse the natural elements and makes it more fabulous. Consider using a beautiful shallow bowl arrangement and gorgeous blooming flowers in mason jars or wire baskets.
If your walls are in lack colors, the artwork makes everything pop with joy. You have many options to choose from in our farmhouse wall art collection, from family gather to floral and countryside canvases. Or you can check our top 20+ suggesting popular items and bring them to your home to fill any blank wall.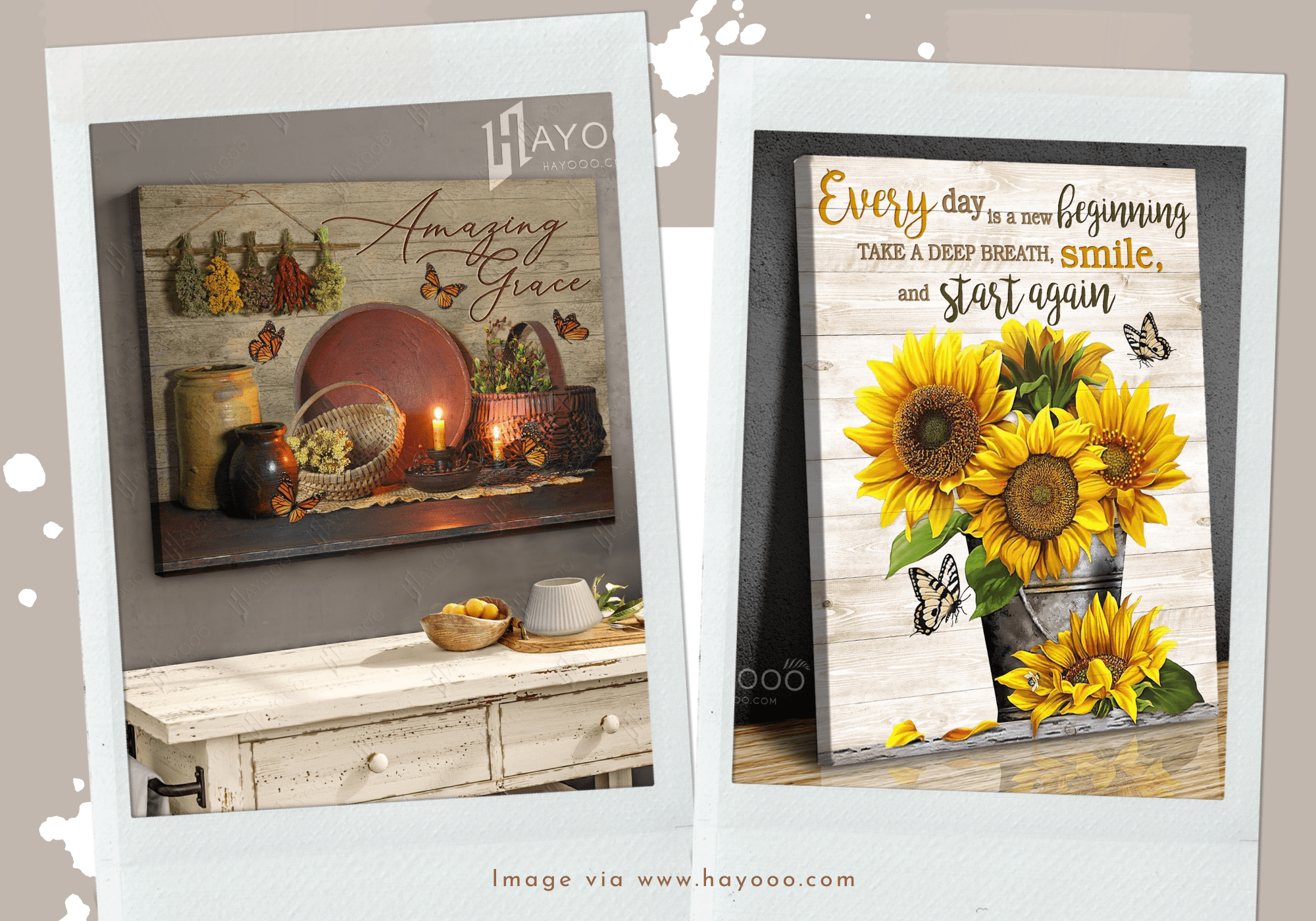 Vintage rugs are always an easy way to bring hue to any farmhouse design. The worn look of worn pieces will give your home the traditional and classic charm.
We hope that this blog has inspired you to add more colors to your home. Follow those guides, and you will have more confidence to build or renovate any room this weekend. Thank you for always supporting us. You can also visit our blog lists and get more ideas about home decorating here.
Wait, before you go:
Don't forget to leave your mail at the VIP customers box at the bottom of this page to receive the newest blogs and our exclusive offers!