Do you want to create a perfect modern farmhouse? This Hayooo blog will help you understand the features of a modern farmhouse and how to apply this style in your home.
Whether you live on a farm, or near the shores of an ocean, or in the urban area, the good news is you don't have to be rural to have the perfect farmhouse decor you've dreamt of. Let's dive into it!
Why consider modern farmhouse design ideas?
Farmhouse home decor is often referred to as a style that introduces rustiness, warmth, tradition, and chic. Its coziness and family-friendly flavor bring the feelings many people want to create in their homes, making the farmhouse style gaining popularity today.
One of the most popular decorations is the modern farmhouse style. This is considered as a perfect blend of the traditional country look with the more minimalistic contemporary design. From Pinterest to Instagram and other interior design publications, the contemporary farmhouse look is everywhere. And for a good reason!
What does a modern farmhouse mean?
The terms "modern" and "farmhouse" might have once seemed like opposites. However, their combination works surprisingly well in incorporating contemporary twists into the classic of your home. Rustic yet chic, practical yet stylish – modern farmhouse design strikes the best balance between the old and the new.
Whether you go for a traditional farmhouse or an urban farmhouse style, rustic finishes will always be your friends.
Essentially, the contemporary farmhouse style is more sophisticated than the classic country style. It is the perfect combination of everything we love about contemporary minimalism mixed with the warm and comforting rustic look.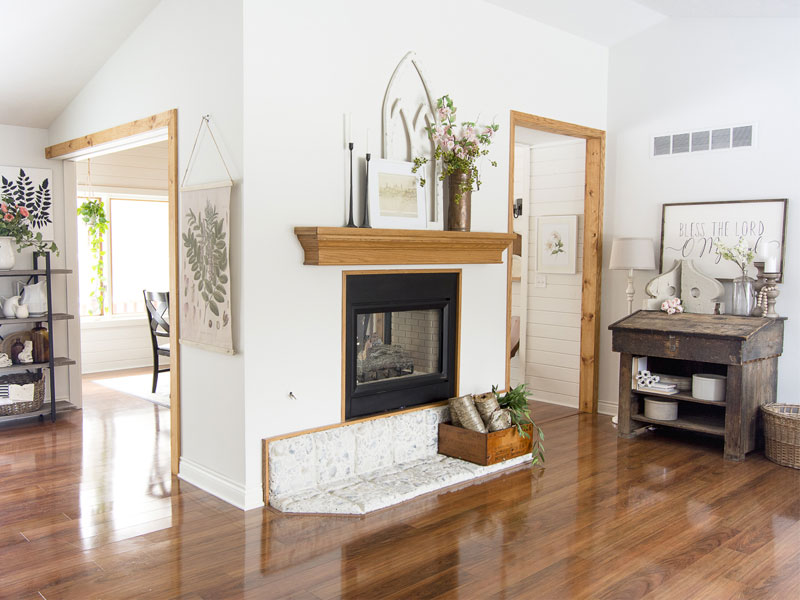 An urban farmhouse design is comfortable, relaxed and adds modern touches such as smooth lines, glossy accents, and neutral color schemes. It's less rustic, more stylish. It uses contemporary design elements to create a timeless look and stand out with character.
How to create a perfect modern farmhouse?
Whether you're looking for an up-to-date design for your kitchen or a cozy rural-inspired living room, this is the way to cultivate your love for modern farmhouse decor with tricks that put a fresh spin on rustic details.
If you want to get the urban farmhouse style, here's everything you need to know! Read over these tips and keep them in the forefront of your mind as you work on your own interiors. With any luck, you'll achieve the perfect balance between classic comfort and modern flair.
1. Use lots of textures in farmhouses
One of the top farmhouse decorating ideas is certainly the mix of several textures. This can create a cozy and welcoming feeling as soon as you step into the front door. Think about how you can combine various textures with your furniture, floor, decor, and wall art.
Organic and natural materials are the foundation of the modern farmhouse style. Layer up wood, stones, and bricks through from the architecture to furniture. Consider adding farmhouse character with shiplap – the traditional material once relegated to barns and outhouses to indoor spaces.
They can help you modernize the look in a neutral color scheme. Or you can think about exposed brick – the cool design tricks that can be traditional, industrial, or edgy.
When it comes to accessorizing, consider using a blend of the pillows, such as faux fur, cotton, or leather, to create the contrasting look of your farmhouse living room. Or you can mix and match linens and velvet fabrics to add an extra dimension while keeping things timeless.
Give the raw texture of farmhouse-style homes flair by pairing it with open shelving packed with antiques and vintage books. A mix of rich textures gives depth and helps you achieve an effortlessly stylish look in your home. However, it's a well-known fact that accessories can make or break a design.
Mixing textures is not always an easy task, but it is not that hard in farmhouse style. You should be consistent in your decor. For example, if you stick to a neutral color palette, similar hues will be sufficient to tie your accessories and textiles together, although they have different textures.
2. Play with contrasts
For a perfect modern farmhouse design, it's all about the vibrant combination of the old and the new for a comfortable and soothing vibe. An urban farmhouse contrasts itself, mixing the classic and old with the trendy and fresh. So when you look at the furniture and accessories, remember to mix them up. Vintage furniture has authenticity, while the new one has added comfort and style.
Firstly, don't be afraid of looking for vintage finds, hand-me-down items, and arty decorative add-ons. In this way, these items add history and the depth of space. You'll ensure your home achieves the country look and remains as unique as you are.
Secondly, keep in mind industrial accents can take your farmhouse decor ideas to the next level. The exposed beam ceiling, concrete patio, and lighting fixtures are ideal for creating that industrial look, which links in perfectly with modern farmhouse touches.
Metal furniture and decorative items are other vital elements in an urban style. And even when talking about metal, a relaxed vibe is also essential. Don't be afraid of mixing. Gold, black, and silver may work together in the same space. Above all, gray metals are a must in a farmhouse interior design because the dark color adds elegance and contrast.
Thirdly, farmhouse style can miss many pieces such as warm blankets, vintage mirrors. But don't get everything from a store. Because the perfect farmhouse interior looks spontaneous and collected over time, stay away from matchy-matchy items. Modern farmhouse styling is fresh contemporary, but it is also welcoming and friendly. Therefore, no matter if you play with contrasts, harmony is the priority.
3. Neutral colors in farmhouse interiors
Whichever way you choose to complete your modern farmhouse design, there is a key to link them all. Neutral tone palettes are the base for creating this style, layer up shades of gray, white, and cream. By going neutral at the beginning, you're immediately adding a sense of freshness to your space.
Besides being ideal for urban farmhouse interiors, sticking to an overall neutral palette is always a great strategy to create a design you will not get tired of in the long run. Because with a neutral background, you can always come up with vivid decorative ideas such as a summer theme or coastal home. And changing the accent color will be enough to give your space a new look with minimum effort.
Sticking to muted tone farmhouse hues can also help you to achieve the nature-inspired feeling. Why the look is grounded in neutrals, consider adding in pops of color – especially gray, navy blue, and dark green. By using these kinds of hues, maybe for an accent wall, you're steering away from going classic and starting to create the contemporary version you're aiming for in your home.
4. Utilize natural fibers for farmhouses
Perfect modern farmhouse style means to bring the outdoors in, so the ideal way is to explore the beauty of raw pieces such as natural wood, linen, unpolished metal.
The best choice for contemporary farmhouse decor is to utilize hand-hewn or weathered wood. If your home is blessed with wood ceiling beams or wall panels, let them sign. Or you can visit any architectural shop for wood remnants which you can easily install. The key is bringing the big hand-hewn or weathered wood pieces to work well with available modern materials. For what? To provide contrast and create the warmth of unfinished wood elements.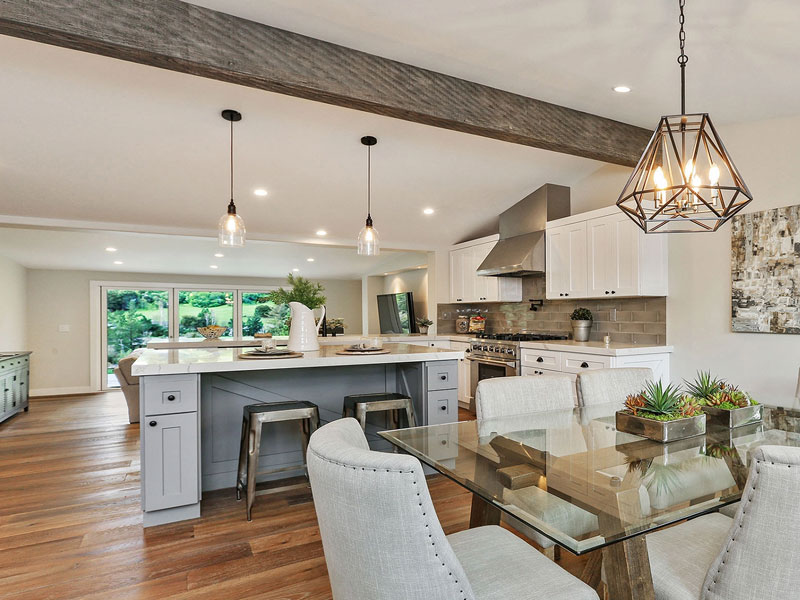 Besides, do try to collect as many organic and handcrafted items and features as possible to keep them themed. And last but not least, bringing some greenery to complete the natural look and make the farmhouse fresh. Adding greenery is always a great idea for any style of home design.
Choosing greenery depends on personal tastes. For modern farmhouse design, they may be cotton flowers, eucalyptuses. They can be arranged in wreaths or garlands to decorate on the entrance door or any wall and stay in all year long.
You can also choose some plants which can adapt to thrive indoors, such as ivy, spider plant, herb, and small bonsai trees. These plants help you add a natural look to your home and purify the air and help you enjoy fresh air in the house.
5. Embrace imperfections
As this style mixes contemporary minimalism and country flavor, approaching this style means exploring the beauty of irregular and imperfect elements. If you're limited with space, take a cue from small farmhouse interior design boards on Pinterest. Or you can choose from Hayooo shop the rustic decor to keep imperfect decorative objects petite in the house; let them shine and keep the eye be distracted.
Embrace natural rustic materials to let them tell their own story and add a sense of history to your home, creating warmth and charm because this kind of design look is all about the perfectly imperfect. Rough textures and signs of use are highly recommended, setting the farmhouse interior apart from other styles. But – be mindful of proportion!
There is no one-size-fits-all rule. For instance, a weathered wood shelf will be perfect over a white plaster wall, but maybe too much over a rustic brick wall! In short, always mix rustic and modern items and experiment to achieve the perfect contemporary farmhouse interior design for you!
Pause for a moment and imagine this bright space without its wall art. It would be cool and contemporary, yes, but also far from cozy! Therefore, if you're going for a farmhouse interior design, you should be consistent in your wall decor as well. For instance, the preferred artwork for perfect modern farmhouse design is rustic signs and graphics. You can find plenty of them in our farmhouse collection.
Or, if you have the available space, visit our store collections here and enlarge your gallery by country-inspired decor or typical floral canvas prints, which are also our bestseller items. What is better than something vintage to add a rustic feel to space?
If weathered wood and other rug materials seem not enough for your home, consider adding some primitive art with an inspirational quote. They can become a beautiful piece of art when hung on the wall or fireplace mantel to create a warm and cozy atmosphere.
7. Simple is the best
It's easy to go overboard and get carried away when decorating a space with modern farmhouse style. Maybe your excitement about a new style or design brings you endless possibilities to consider.
However, keep in mind that urban farmhouse is about utility and functionality. Don't make your home over the top or heavy-handed. Planning can help you avoid this regrettable mishap. Take time to look and consider details (lighting and furniture arrangement). Always ask yourself the purpose of using something to serve your home; will you enhance it or just put it in the corner?
Then carefully reconsider each piece you tend to place in any space to ensure it remains effortless in feed and easy on the eye. Let your furniture and storage items take center stage in the room above any decorative elements. Try to stay away from pointless pieces that will end up collecting dust in your house.
Now that you know our top 20 perfect modern farmhouse decor ideas and tips, let's try them! We hope that you're ready to start your journey! Are you looking for other farmhouse design inspirations? Check out our blog here!