It goes without saying that we're all wishing that Christmas 2022 will be a very special celebration. Hopefully, this year may mark a time when things can return to some kind of normality. 
If you're already getting into the festive spirit and thinking about how to decorate your home in a way that you and your family can enjoy, we've rounded up a list of the best Christmas home decor ideas for Christmas 2022.
1. Christmas Decorating Trends Of 2022
These current trend themes show a whole range of Christmas decorations for the green sector. Let's walk through some decorating trends for 2022: Opulent & Crafted, Lush & Precious, Natural & Organic, and Classic & Elegant.
1.1 Opulent & Crafted
Durable materials and warm brown tones are focused on this trend. Both of these give a feeling of familiar elegance and security. Moreover, rich, soft as well as shining materials create a luxurious and opulent feast.
1.2 Lush & Precious
A lush and precious Christmas theme sets accents in your home with its blue and green tones. With a lot of glamour, attention to detail and historical touches, it convinces those who are looking for something special.
1.3 Natural & Organic
The desire for simplicity, for nature, and sustainability is the focal point of this pure theme. Especially during the holiday season, we look for a retreat with comfort and surround ourselves with soft shapes that soothe our senses. The combination of natural materials and colors such as greenery, matte gold, and candlelight creates a cozy festive mood.
DISCOVER: FARMHOUSE CHRISTMAS DECOR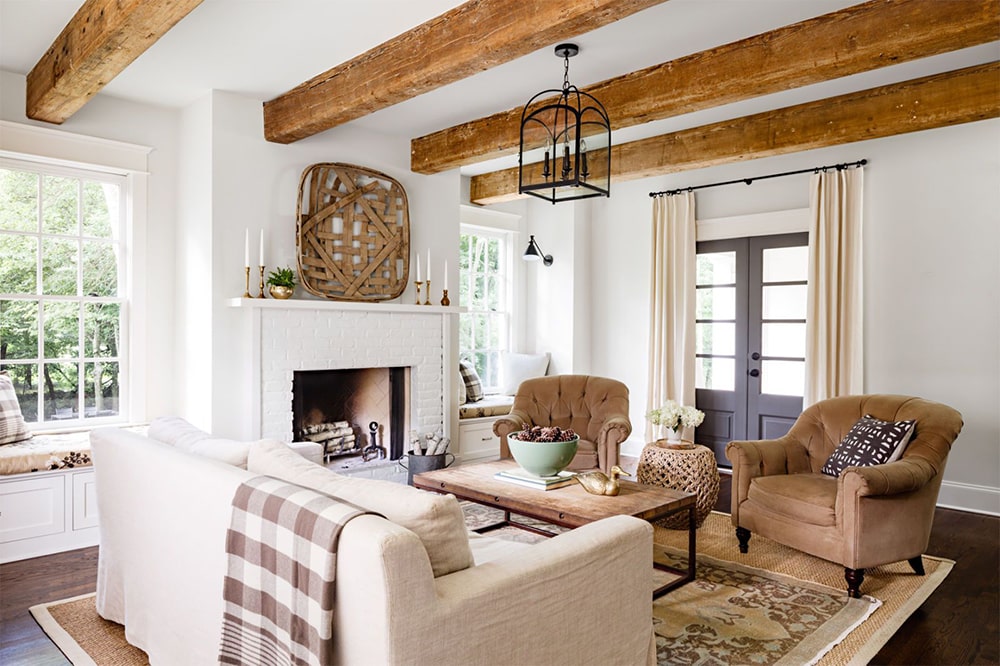 1.4 Classic & Elegant
Green and red are becoming increasingly important, particularly during the Christmas season. They are the perfect match for those who are longing for classic elegance. Various shades of red combined with dark green, cream, and gold are the basis of classic shapes and timeless design. 
2. Christmas Home Decor Ideas
2.1 Outdoor Christmas Decorations
Once the halls are decked and the tree perfectly trimmed, don't forget to give your porch a little bit of love. Outdoor Christmas decorations can often get overlooked in the hustle and bustle of the season.
2.1.1 Fraser Fir Garlands On The Porch
Fraser fir is one of the most popular Christmas trees nowadays. As a matter of fact, it always brings a sense of the festive holidays. So why don't you wrap the porch pillars of your home with Fraser fir garlands? It will be more stunning if you pair them with green wreaths and festive red bows.
2.1.2 Greenery Covered Front Porch
Winter is often associated with snow and ice. However, trees have their place too. So let's tap into your natural side and add lots of greenery to your entryway patio for a fresh and festive greeting.
2.1.3 Backyard Decorations
This backyard outdoor room has all the comforts of its indoor counterpart, like a mini living room. The fireplace keeps it warm and cozy throughout the colder time of year, while the vaulted ceiling helps with airflow during warmer months. What a unique idea!
2.2 Fireplace Christmas Decorations
Just like the kitchen, the living room is very much the heart of the home—especially during the holiday season. And when it comes to Christmas decorations, there is no doubt that decking out the living room fireplace should be at the very top of your to-do list.
2.2.1 Nature-inspired decor
Are you looking for nature inspiration when decorating the mantelpiece this year? Use fresh evergreen boughs, garlands, and wreaths combined with in-season citrus like lemons, tangerines, and oranges. These will give your home a beautiful natural look.
2.2.2 A crafty collection
Just gather all of your holiday trinkets, even some tree ornaments, and then put them on the mantelpiece. A whole bunch of mismatched stockings will also spruce up the space. You need Christmas artwork hanging above them all to top off the crafty look.
2.2.3 Match Your Tree
Believe it or not, the "less is more" theory can even apply to holiday decorating. We mean you don't need to make it colorful to get the festive spirit. Why not decorate your mantel with garland, wreaths and stockings that complement the color of your Christmas tree decorations?
2.2.4 Farmhouse Christmas Wall Art
Thanks to farmhouse Christmas wall art, styling your mantel for the holiday doesn't have to be nearly as nerve-wracking. And then take your mantel one step further with garlands and rustic stockings below.
Click here for Product #1 info >>>
Click here for Product #2 info >>>
There are many options for you to choose from. From Christmas wall art with meaningful quotes such as "All hearts come home for Christmas" and "May your journey always lead you home" to faux window canvases with memorable Christmas scenes. All come from the latest Christmas collection of Hayooo.
Click here for Product #1 info >>>
Click here for Product #2 info >>>
2.3 Christmas Decorations For Your Window
2.3.1 Paper Snowflake
If you adorn your windows with white paper snowflakes, you can live vicariously as though there are inches of snow outdoors, regardless of the actual weather forecast. What's better than snowflake decor to embrace the true meaning of Christmas?
2.3.2 Matching Wreaths
In the event that your style is best described as minimalist, hang matching green wreaths up to your windows. Plus, we have a small tip for you to connect a blank gap between two windows. All you have to do is put up a Christmas wall art. Problem solved!
2.3.3 Ribbon-tied Ornaments
You may think spectacular ornaments belong to places such as on the tree or above the mantelpiece. But we suggest you tie them to colorful ribbons and then hang on the window. Simple yet remarkable!
2.3.4 Festive Blind
A seasonal patterned print with subtle hints of Christmas is perfect, if you're looking to add a festive touch to your windows. We bet it will certainly create the perfect cosy scene for Christmas festivities.
It appears Christmas is already on many of our minds. As we know that home is of a higher priority than at any other time. Everyone desires to gather with family and friends for Christmas and celebrate together, physically rather than digitally. So let's get ready for Christmas this year and improve your home pleasantly with our recommended Christmas home decor ideas.
If you want us to write more about Christmas home decor ideas and tips, just leave a comment below. And don't forget to enter your name and email in the " Join our VIP list" box to access our special excluded offers.  
Like this article? Try one of these next: