The most wonderful time of the year is here, and sprucing up the home with decorations, festive signs and Christmas cheers is all in! And what can be better than making the walls of the house itself greet a Merry Christmas to the friends and family? 
Here are our Christmas wall decor ideas adding holiday charm to your home's walls!
Maybe You're Interested In:
1. Rustic Christmas Wall Decor Ideas 
1.1 Ornaments Wall
Live for the more-is-more look? Amp up a boring wall with your best ornaments for an Instagram-worthy vibe. Let's hang a group of them near the entryway or above the mantelpiece. It's just awesome.
1.2 Christmas Gallery Wall
Christmas is the time to go bold with your farmhouse accessories, farmhouse wall art and even any wall hanging items. It's a simple way to jazz up your wall and take your holiday decor to the next level.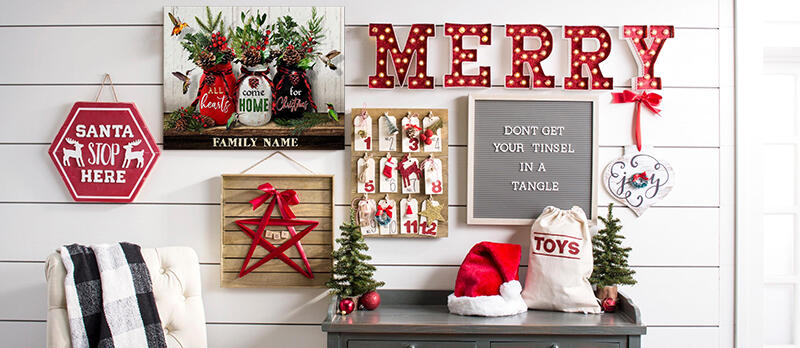 1.3 Stockings Can Be Everywhere
Even if you don't have a mantel, you can still show off your Christmas stockings. Add personality to a blank wall by hanging a trio of stylish stockings along the staircase.
Christmas art is everyone's best friend during the Christmas holiday season. They come in all sorts of shapes and sizes and they can be hanged pretty much anywhere. For example, a common option is to display a festive wall art above the fireplace mantel.
Perfect for a bare nook or corner, these pieces of vintage artwork are sure to crack a few smiles this holiday season.
1.5 Don't Throw Away Tree Branches
The living room below is the perfect example of how to work a rustic tree branch into your holiday decor. Cover it in greenery then add a collection of wreaths in different sizes for an eye-catching look.
Or you can place the branches intentionally so that they'll shape the real tree figure. Then choose your favorite ornaments and decorative items to adorn it in a way you like.
1.6 Christmas Wall Countdown
Your kids will love counting down the days until Christmas using this pretty advent calendar. What's more, you'll love the way it looks on your wall. Simple and rustic!
There are plenty of designs for you to pick out one. The thing is you can do it yourself based on many inspirations on Pinterest. 
1.7 Christmas Piano Decor
You don't really have to hang anything on a wall in order to decorate it. You can avoid punching holes in the wall by simply displaying items on a piano and letting them casually rest against the wall. You can do this with framed pictures or with wreaths.
1.8 Christmas Wall Hanging Tapestry
In recent years, tapestry has turned out to be rather widespread Christmas decorations for walls. It's a convenient and easy way of adding the holiday atmosphere to your home. Even a simple tapestry with a snowflake or a Christmas saying on is cute. 
PRO TIP: You can opt for Hayooo's fleece blankets to hang on your wall instead of these tapestries. As a throw blanket, they are just awesome. Then as wall hanging decor, nothing can compare. Kill two birds with one stone!
1.9 Christmas Tree With Family Photos
Try dressing this alternative tree with photos of loved ones. Whether styled to perfection with polaroids or dressed with old snapshots of festive family fun from the photo albums, this is a great way to welcome all to Christmas in your home.
1.10 Christmas Wall Stickers
The wall stickers are usually made on vinyl and are self-adhesive. You can easily attach them to the walls and remove them as soon as the Christmas decorations on the wall become unnecessary. Don't be afraid, they won't spoil the walls.
1.11 Light-up Wreath
How about leveling up normal wreaths by switching to light-up wreaths. Such festive decor on walls in hallways and living rooms will brighten up the space for sure. This simple idea allows for a changing of decor without too much effort.
This farmhouse light-up wreath is enough to give this hallway a magical touch of festive charm. White poinsettias in rustic baskets below add another simple seasonal finishing touch.
1.12 Wreath Over Your Head
Imagine one over a dining table, breakfast bar or down your stairs. A great option if you don't have a door you want to hang a wreath from, and the wall just isn't an option. We suggest adding everything from ivy to eucalyptus, berries, dried orange slices and lights, obviously.
1.13 Christmas Saying With Wooden Ledge
This sign is made using ledges on the wall and a lush evergreen garland covering them for modern vibes. You can change the saying as you like. "All hearts come home for Christmas" is a good option, right?
2. Farmhouse Christmas Decorations Inspiration
2.1 Red-And-Green Entryway Decor
It would be a good idea to have a large greenery wreath with a bell and a plaid stocking with evergreens and berries hanging on hooks. Or you can try a pompom, paper house and decorative stocking garland plus a wreath on the wall. Both are nice suggestions for a vintage space.
2.2 Red And Black Buffalo Check Theme
We love this buffalo check light up tree! It is stunning even when lit up or without the lights!! Of course, you have to add a little old in with the new to satisfy your vintage loving heart, so we recommend using some antique lanterns. How perfect that they are red and green!
2.3 EnJOY Along Your Stair
Looking for a festive way to decorate your staircase this Christmas? The most popular choice for staircase decorating at Christmas is typically an evergreen garland wrapped around the handrail, but you can take this traditional garland and make a wreath!
2.4 Or… Joy On Your Mantelpiece
Wow, this is a stunning mantel! Where to even start! The garland and all the lights make it feel so cozy and warm. You can go simple with this idea but still keep the season spirit. Hurray!
RELATED: MORE "JOY" DECOR
2.5 The More, The Merrier
This year in your entryway, you can add a modern twist to traditional Christmas decor items. Let's create this simple wreath gallery and add traditional farmhouse Christmas decorations with faux greenery.
2.6 Modern Touch For Christmas
We tried styling it first with an antique cupboard and then with more modern open shelves. We love it both ways. If you want to keep with a more modern farmhouse style for the living room, the latter will satisfy you.
2.7 Don't Overlook Your Outdoor Decor
While most of us are focused on our living rooms and Christmas trees there are those of us who love to decorate outside. From wall art to home accents and mantel decorations there are plenty of ideas here to give your whole home a country-styled makeover for Christmas. First of all, let's deal with the front door.
2.8 All-white Never Goes Wrong
For whoever loves the neutral farmhouse vibe, let's officially start your Christmas decorating this year with the magic and coziness of all-white theme. We bet you'll never get tired of enjoying your finished work. 
2.9 Rustic Christmas Living Room Inspo
We have always believed that the view from the front door is the most important one in the house. Why is that? Well, because it gets the most views, even the Fed Ex may know what your entryway looks like. So, we suggest starting with your living room for this reason.
2.10 Vintage Nook With A Snowy Vibe
The reading nook is always a fun focal point. So you can continue your snowy vibe by adding a couple of pillows. This space will pull the viewer's eyes across the entire room when they first enter for sure.
So that's what we want to share with you in today's blog post. If you want us to write more about farmhouse Christmas decor ideas, just leave a comment below. And don't forget to enter your name and email in the " Join our VIP list" box to access our special excluded offers.