Start to feel the crispness in the air as well as see the leaves changing colors? Let's officially welcome fall and then Thanksgiving. If you have not already thought about fall and Thanksgiving decor, it is time to start getting into the spirit. Get ready as we have some fabulous inspiration to share with you!
1. Is Fall And Thanksgiving Decorations The Same?
Although fall is one of the shorter seasons, it has some of the most noteworthy decorations and symbols such as pumpkins, leaves, natural materials, and orange and red color schemes. 
While Thanksgiving is closer to winter than it is to fall, its aesthetic matches more with fall. In general, fall and Thanksgiving decor may be considered the same and you can keep up fall decorative pieces until Thanksgiving. 
2. Fall And Thanksgiving Decor Inspiration
2.1 Faux Window With Fall Scene Canvases
Why don't you add a nature-inspired accent to your Fall and Thanksgiving living room decor with this faux window canvas? The artwork exhibits a moody autumn scenery and comes in various sizes. Stock up now to update your home with cozy, autumn-inspired style.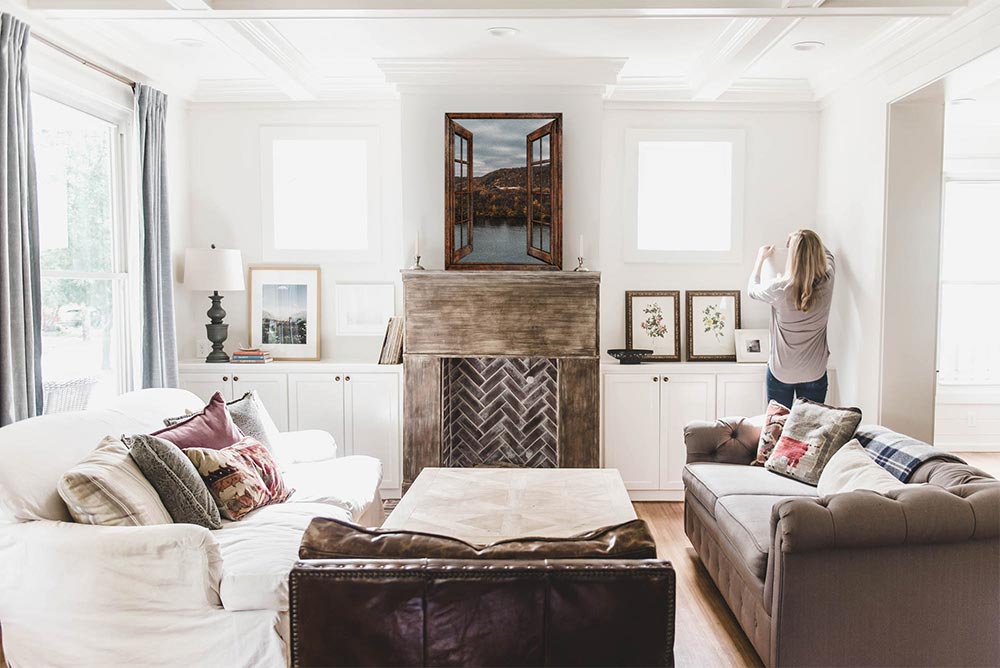 DISCOVER: NEWEST FAUX WINDOW ARTWORK
2.2 Farmhouse Artwork In The Kitchen
Let farmhouse artwork fill the blank wall and complete the fall and thanksgiving theme of your kitchen and dining area. Hayooo is currently promoting their fall and thanksgiving collections, including pickups wall art and fall scene wall art, just to name a few. 
2.3 Accent With Plaid And Gingham Pattern
Plaid is a traditional fall staple and a fresh and classic pattern. Whether you add a throw blanket, or hang a farmhouse wall art with this pattern, introducing some plaid is a sure-fire way to usher in autumn. Don't forget to put a gingham pattern canvas over the mantelpiece. These two patterns go really well with each other.
Plaid curtains also transform your kitchen from a light and airy summer feel to a warm and welcoming fall vibe. So as you refresh your fall and Thanksgiving decor, try to mix in a touch of plaid fabrics.
2.4 Create the Warmest Welcome
Make guests feel right at home from the moment they meet your front door. You can deck the sitting area with some cozy touches like a set of fall pillows and farmhouse artwork above the bench. 
Interested in this Sunflowers & Pumpkins wall art? Click here
2.5 Bring Out Your Copper Collection
Doesn't copper go so well with a fall color scheme? Certainly yes. The hanging collection of copper pots ensures the moody beauty in this farmhouse kitchen. Here, you can see the woods, whites and copper all combine to warm the kitchen for fall. Copper will be a favorite collectible this year, we may say.
2.6 Create A Rustic Room
Leather club chairs plus a pair of facing sofas serve up plenty of cozy seating. They all centered around the fireplace. The thing is that we see no significant fall and Thanksgiving decor but this house still brings us a sense of the season. Maybe it is the result of the wall art.
2.7 Pair Furniture from Different Periods
Have a little fun with decorating and mix up furniture styles for a collected-over-time vibe. For example, here we've got a pair of orange velvet sofas that date back to the 1900s and a vintage-style sideboard piled with pumpkins. A coffee table, made from an iron gate, adds an outdoorsy touch to the gathering space.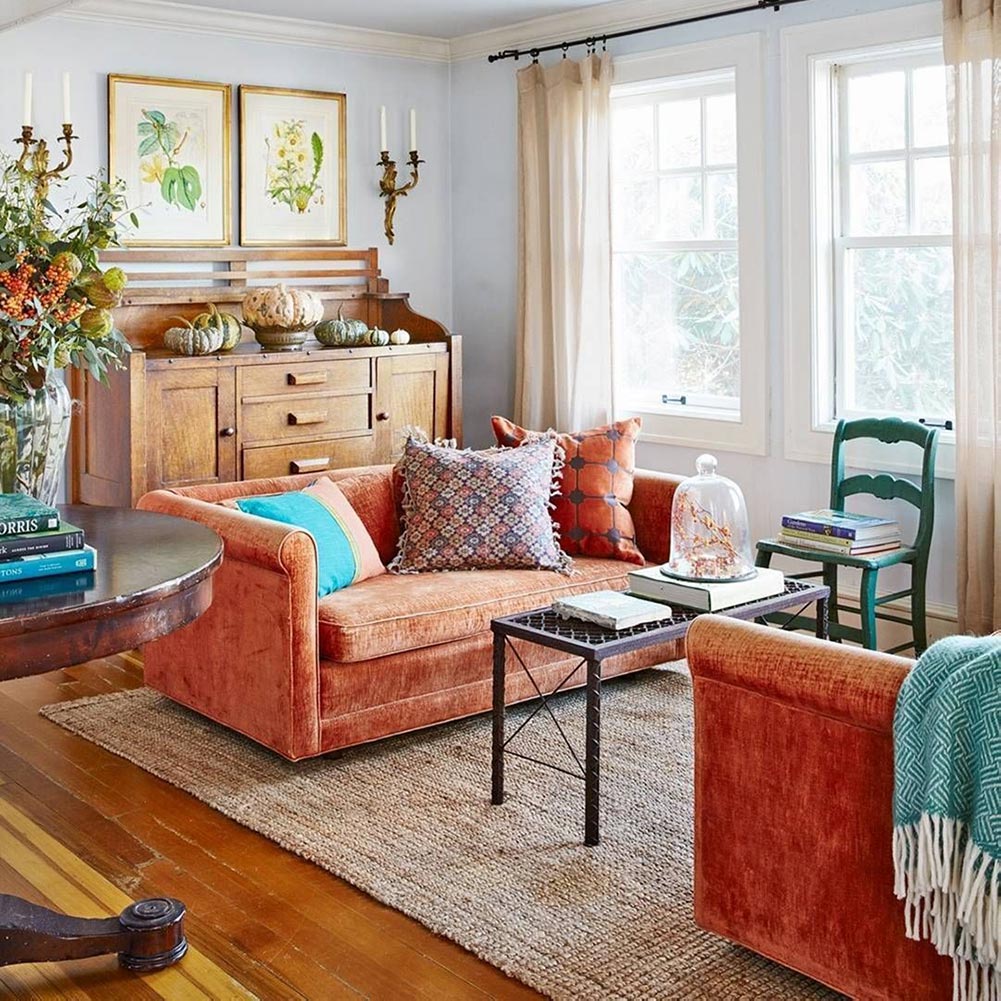 2.8 Utilize The Rustic Ladder
Change out your ladder's decor with the seasons to keep it looking fresh and give your home a quick update for fall as well as Thanksgiving. You can put seasonal decorative items such as gourds, brown leaves or even tartan blankets.   
2.9 Outdoor Reading Nook For Your Fall Mood
Fall and Thanksgiving is ideal for outdoor reading. Why so? In the comfort of your own backyard, you can grab a new novel, a cup of mint tea and curl up under a downy throw blanket on a bench plumped with pillows.
2.10 Spruce Up Your Bathroom
Seasonal decor doesn't have to be completely cheesy, but can also be minimalistic. We recommend restyling the shelves with bits of fall decor and adding a few candles and modern pumpkins.
WE'VE GOT MORE BATHROOM DECOR HERE!
2.11 Incorporate Fall Colors Underfoot
You can ground your bathroom with a seasonal rug. If your bathroom color scheme is rooted in beige, a rug in rich oranges, vibrant reds, or golden yellows will give your space an easy fall makeover. 
In addition, let's apply this recommendation to your living room,  and bedroom as well. Simply swap out your rug for one in a fall palette and then you can add more accessories matching the rug's colors.
2.12 Rock Your Porch
Get your porch, deck or patio ready for Fall and Thanksgiving slower pace of life with a swing. What's even better than sitting here having lazy weekend conversations and leaf-peeping in mind? You can place colorful mums and pumpkins around to perfect the overall look.
Another intriguing idea is arranging your dining table on the porch. Because when the air is cool and crisp, it's the perfect time to dine al fresco. Don't you think so?
2.13 Centerpiece On The Coffee Table
When it comes to living room decor, mantelpiece decorations may be the first thing that springs to people's minds. But your living room table needs attention too. You can simply place pumpkins and a vase of fall and Thanksgiving florals in a woven basket.
Or it would be a great idea to swap out your tablescape decor with festive tabletop accessories and plenty of flickering candles. These will certainly contribute to the seasonal vibes.
2.14 Spread The Blanket On Your Table
How creative! We bet you never thought of using those cozy blankets for this purpose! Two tartan blankets used as tablecloths turn this porch table into a work of art.
2.15 Get Out The Gourds
Pumpkins may be obvious, but still worth including and can be the simplest way to get your home in the fall and Thanksgiving spirit. Let's turn your mud room into a haven with a splash of gourds.
What's more? Gourds can turn a simplistic kitchen into a festive, seasonal retreat. Let us guide the way. There's nothing easier than filling a basket or bowl with some decorative gourds.
Like this article? Try one of these next: 
Summer comes and goes in the blink of an eye. It gives up its place for the next moody season. Fall and Thanksgiving is tied to creating the look of your home and to feel as cozy as possible. We hope, after reading this blog post, you will know what to do this fall and Thanksgiving. 
If you want us to write more about fall and Thanksgiving decor ideas, just leave a comment below. And don't forget to enter your name and email in the " Join our VIP list" box to access our special excluded offers.