As you know, the epidemic had a negative impact on social life. The world is no longer the same as it once was. It is true that the economies of some countries are gradually recovering after a long period of stagnation. However, some people are still maintaining temporary work from home and will continue to do remote tasks for a long time ahead.
If you want to transform your home office to have a new look, create a motivational and comfortable home office for productive day work. Nevertheless, what happens when your room seems a little bit small and suffocating? Let me present you with a brilliant idea: faux window wall art can brighten your area and enlighten the space's atmosphere.
You may like these blogs:
 1. What are the problems of a windowless room?
1.1. Cannot afford for the home to have a window
People always feel comfortable and fresh when immersing themselves in nature. So do they when relaxing at home. In other words, the vibe of nature is as peaceful as that of home. That's why so many people are trying to make their houses open by designing lots of windows. This is because they can catch the early sunshine in the morning after getting up or watch the sunset whenever going home. It is an absolutely good place that helps for unwinding and relaxing after a hard-working day, making you feel so romantic and refreshing. 
Unfortunately, not everyone can afford to have their own houses, especially in big cities, because of the high cost. That's why lots of people tend to choose to live in flats. However, not all apartments have windows or balconies that bring a natural vibe to the room. Furthermore, most of them have been covered by rough concrete walls since they are designed in a state of no windows.
1.2. No sunshine and nature in the room
As a matter of fact, All four directions are facing the wall. This causes the room to receive no natural light, which makes it dark and gloomy. Besides, there is no air circulation between these areas, making it even more uncomfortable and secretive. If you don't have ideas to transform your room, you will be tired and bored when you are in this room. You probably don't want to spend a lot of time in this room, especially when working is often very stressful but not inspired by the room as well. 
2. Why is faux window wall art a solution for your windowless room?
There are many ways to make your windowless room look more alive, but in this article, I will focus on the benefits of artworks and how they can bring new color to your home office.
2.1. Artwork creates a fresh vibe that boosts your mood
Fake window farmhouse canvas has various scenery backgrounds which are incorporated into the window frame to feel genuine and vivid emotions. The most popular are obviously pictures of nature, such as flower fields, mountains, rivers, beaches, etc. It feels like you can bring nature into your living space in a reasonable way.
They will undoubtedly bring benefits to your mentality and add more aesthetic value to your beautiful small area. Hanging a faux window canvas is beyond your expectation for sure. It will make you feel as if you are actually standing at the spot in the picture rather than just looking at it.
2.2. Expand your space 
A faux window also helps you to make your room seem larger and closer more natural, thanks to its diverse design in colors and textures. By tricking the eye, it can create an aesthetic vibe and colorful look in your room.
>>> Click for more information about Product 1 <<<
>>> Click for more information about Product 2 <<<
>>> Click for more information about Product 3 <<<
It feels like just looking through the window, you have seen the whole new sky. This makes space become more shimmering and refreshing. Therefore your room is no longer a stuffy place.
2.3. It reminds me of the good old days
Each print brings different landscapes, beauty and carries a distinct mark. Just like everyone has their own feelings about the artwork in particular. It can be a picture of a meadow, which reminds you of a happy childhood memory that you spent with your parents or your beloved dog in the vast green fields or with a group of friends on the beach.
Those are beautiful recollections, which you definitely won't want to forget. So why not use this beautiful faux window canvas to help you recall those precious experiences that you probably won't want to fade in your memory. Therefore, you should have at least one faux window in the room to make the room shimmer and attractive.
MAYBE YOU ARE INTERESTED: 9 Important Do's And Don'ts In Farmhouse Decor Above Bed You Should Know
3. Top 4 faux window canvas in Hayooo
3.1. Faux window canvas with old barn
Why don't you decorate your room with a picture of a farm full of beautiful childhood memories? The days when you were young and played on your family's farm without worrying about the stresses of life.
These monuments are very serene! Besides, you can make your own mark with your family's name on the canvas. It will definitely make your home office stand out and be more personalized.
3.2. Faux window canvas with farm animal 
If you are an animal lover and still want a farm atmosphere in your home office decor, then a faux window with a cute cow is all you need.
You won't be disappointed with the cuteness of the cow in this artwork. Besides, we also have various other farm animals such as horses, sheep, dogs, etc. All of them are recreated in the realistic countryside, bringing peace and gentleness to you. 
3.3. Faux window canvas with natural scene
Who doesn't marvel at the beauty of nature, right? There is no doubt that nature paintings are quite a well-liked style chosen by several people. Like the artwork in the picture below, it helps you get relaxed, serene, and feel closer to nature.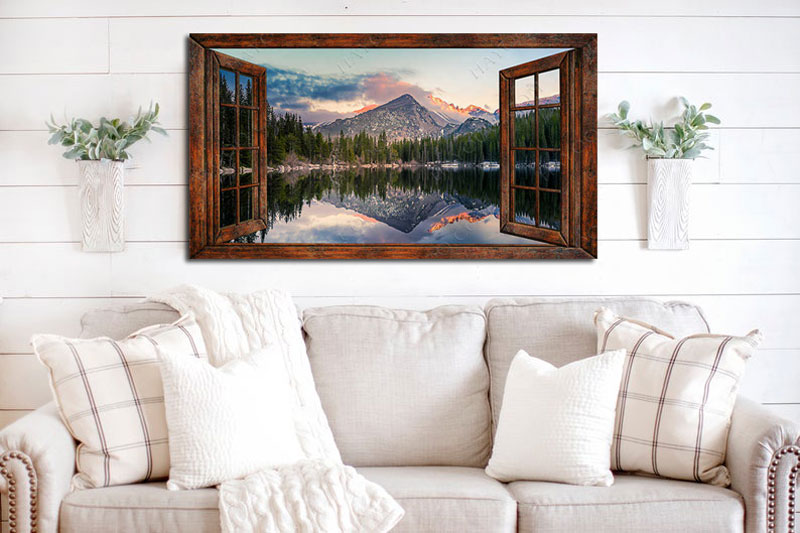 Besides, nature artwork also makes viewers feel joyful and allows them to forget about their concerns. What a precious moment! That's why you should not miss out on this stunning faux window canvas for decor at-home office, where you have to deal with a lot of massive work. 
3.4. Customized couple canvas with faux window 
Besides the bedroom, the office is still another suitable place to hang pictures of you and your partner in order to create a unique look for your room. Imagine, look at the picture, which is personalized by adding your names and a special date or memorable event. Then this picture is hung on the wall.
Indeed, it will be a great source of motivation for you to overcome any difficulties in your daily life because you know, your partner will always be by your side and encourage you. This will make you become more confident and believe in yourself. That sentiment is the driving force that helps you improve yourself, enhance your ability, and cope with the challenges that will come in your future.
Decorating your space with faux windows is one of the easiest ways to help you relax and boost your mood every day. So don't hesitate to pick stunning fake window canvas ideas from Hayooo for your home office decor, make your small or windowless space look great in an instant. Make every time you walk in a  room with more energy and start a productive day.
If you find this post useful, don't forget to share it on social media and leave your email at the box below to get more information about our HOT DEALS in the future.