Adding wall art is a great way to enhance your space, showcase beautiful works and tie the interior design together. It allows you to evoke emotions in the room while expressing your aesthetic and preferences at the same time. However, hanging pictures on the wall seems simple but quite tricky. In this post, we will suggest some ways to arrange wall art for you. With these ideas, you will be able to display your collection of art in a way that shows the most significant impact on your space. 
1. Arrange wall art on the wall in a symmetrical style
Arranging wall prints of the same size and style with symmetrical order is a well-liked style chosen by several people. This is because not only is it straightforward to implement but also highly effective, creating an organized and beautiful look for your room.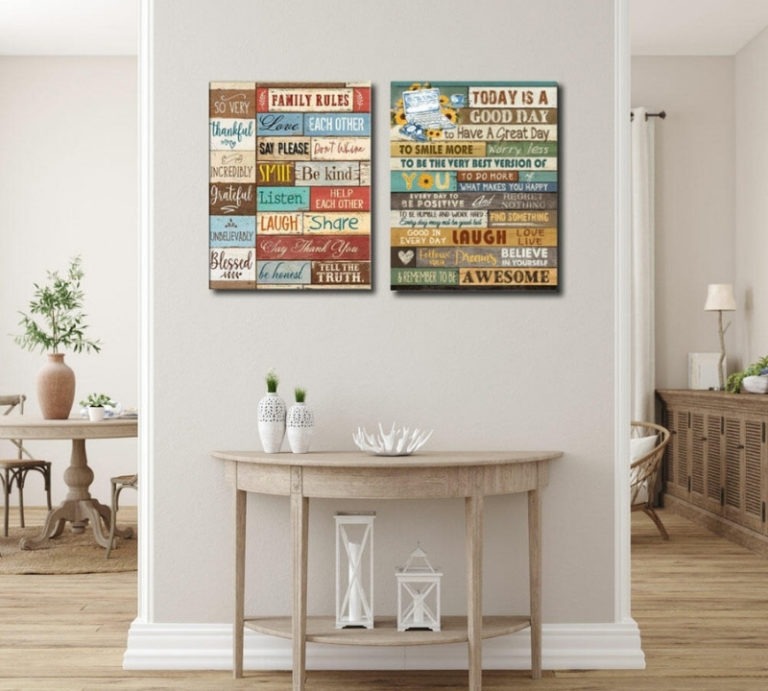 Click for more information about the Product 1 >>>
Click for more information about the Product 2 >>>
Besides, this arrangement is definitely suitable for those who love balance in home decoration and design and allows you to easily completely create an extremely warm space with family photo frames on the wall. Or just simple images with textures like plants and flowers is enough to make a monotonous wall become very attractive and lively.
Click for more information about the Product 1 >>>
Click for more information about the Product 2 >>>
Click for more information about the Product 3 >>>
2. Arrange wall art on the wall in geometric style
Arrange a combination of photos above the geometry of your choice. It can be square, round, rectangular, or oval.
It isn't necessary for it to be symmetrical or consistent in size. All you need to do is arrange the images randomly in a geometric pattern that you love. It's easy, isn't it? but you should remember that you still have to follow a specific framework and connect together not to make the image cluttered.
3. Create a gallery wall
A simple way to add style and personality to any room is by creating a gallery wall.
Limiting yourself to a few frames and placing them in the center of the room, you can still make your own gallery prints from the artworks you love most. A collection of images and frames or unified colors are the ways to link them. Start by placing the most oversized frame in the center and at eye level, then place the smaller ones around.
At the same time, make sure to maintain an equal distance between each frame regardless of its size. 
MAYBE YOU ARE INTERESTED: 6 Steps For The Best Farmhouse Gallery Wall Art
4. Arrange wall art by your own style
There are many ways to arrange wall art to decorate the house, no need to follow any fixed rules. The most important thing is to create its own attraction, making the space lively and eye-catching in the most pleasant way for the viewer. Why don't you try to arrange art by your style?
When you have a group of prints that aren't identical but share at least one comparable aspect, such as a theme or color palette or also look different but when put in one space still can see a connection between them, this is a wonderful option.
You can arrange the sections asymmetrically so that they still achieve a nice balance. For example, try staggering the pictures by hanging one lower than the other.
5. Don't forget to decorate these spaces
 5.1. Hanging pictures on stairs
This is an often-forgotten area of the house. But just hang some of your favorite artworks. Trust me, it won't make you down with the aesthetic look by itself.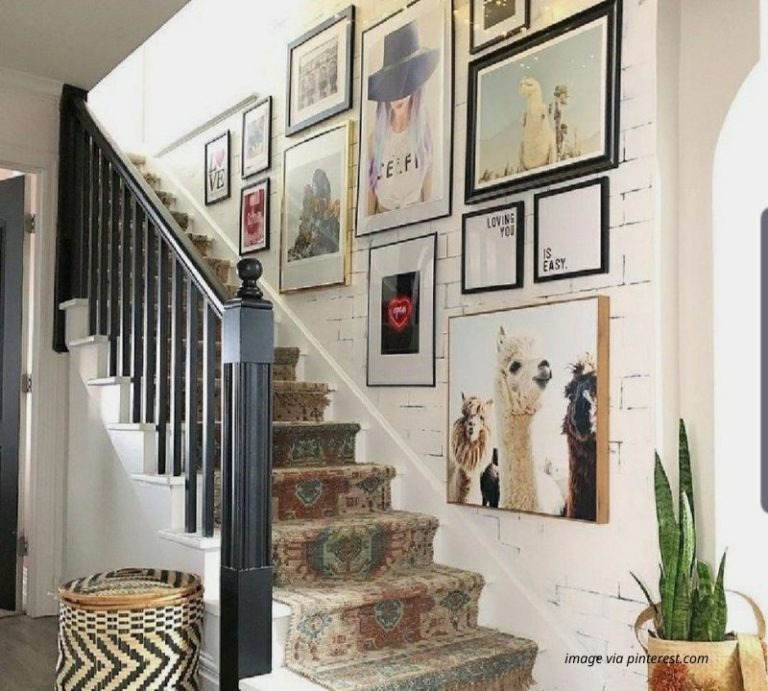 In addition, most of the stairs have a fairly long and wide wall which is an ideal spot to be filled with your favorite pictures. On the contrary, decorating a wall with pictures will turn the space under the stairs into vivid and unique. Moreover, beautiful paintings will create a cozy and unique feeling for the house.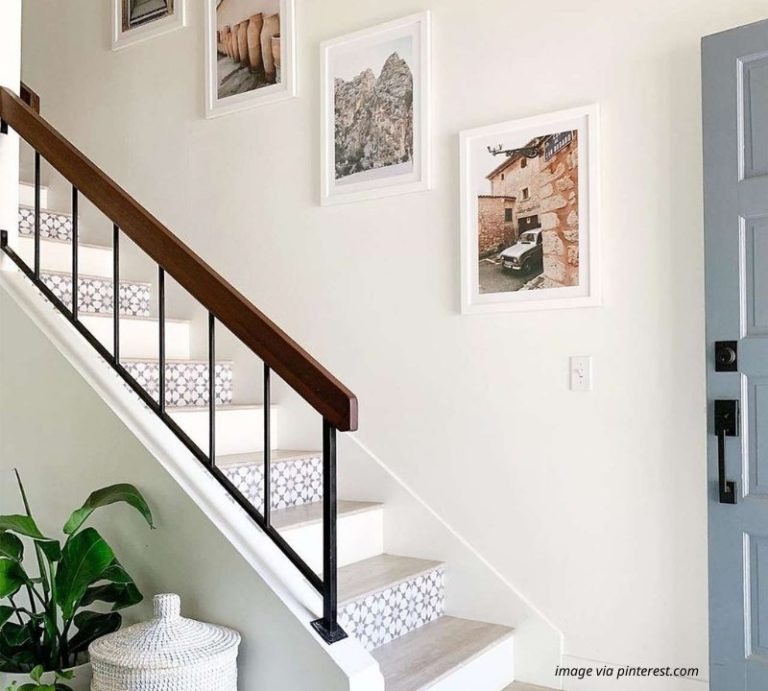 Prints should be hung along the road ascending the stairs, bringing a sense of novelty, originality, and excitement to the viewer.
 5.2 Arrange pictures on the bookshelf
Shelves are a great area to keep bottles or books and can be a place to keep photos of memories as well. 
It would be best if you chose frame-standing designs to keep the frames holding still on the shelves. For those who always want to move things around in the house, this is a workable solution, as it is very easy to change and rearrange.
By overlapping the images, you can create an interesting sequence of effects, giving the room a more intriguing look.
MAYBE YOU ARE INTERESTED: Farmhouse Bathroom Remodel On A Budget
6. Some principles to arrange wall art
Whenever you design or layout an object. There are always specific rules you cannot ignore. Here are some tips on how to make space appear more harmonious while hanging art on the wall.
6.1. Hang artwork at eye level
Placing artwork on the wall at eye level not only makes it easier for guests to enjoy, but also helps your space look designed and organized.
According to experts, the general rule of thumb is to hang prints in the focal point or center about 60 inches from the floor. This guide may not apply if you hang artwork above furniture.
In this situation, it can be 6 to 8 inches above the furniture to keep your decor from appearing too tight. If the artwork is above a sofa or bed, it also should be approximately 2/3 the width of the furniture to make the space look more harmonious and balanced. 
6.2. Leave space between frames
If you're hanging a lot of artworks side by side, make sure to leave enough space between each frame to keep your artwork not looking cluttered. Keep at least 1.5-2.5 inches of space between smaller pieces and 2-3 inches between larger pieces for a balanced and professional look.
Click for more information about the Product 1 >>>
Click for more information about the Product 2 >>>
Click for more information about the Product 3 >>>
6.3. Light
Wall paintings will create outstanding highlights in the house. However, if your space lacks lights, the pictures will become less attractive. And we will not be able to enjoy their beauty fully.
Therefore, combining lamps with wall paintings is a perfect solution. Besides, do not choose lamps that give off too much heat as they will cause damage to the pictures. Instead, it is better to use LED or halogen lights that radiate for soft light.
Should place the lamp in the position right above the picture and adjust the lighting angle to make the painting attractive and impressive, more prominent.
6.4. Test your arrangement ideas before hang
Don't know whether you want a symmetrical or a gallery, or which size of pieces will perform best in each space? Butcher paper is one technique to do this before you are ready to drill holes in the wall.
To get a sense of how it will look, cut the paper to the exact size of your artwork and tape it to the wall. It will also give you a better visual of how your complete wall will look if you're arranging more than one item.
You may easily reposition your cut-outs and try out alternative positions, patterns, and arrangements. Just make sure that you choose low adhesive tape to avoid damaging your wall paint. 
6.5. Make a connection
Finally, the selection of wall paintings along with the layout arrangement also needs to be in sync with the interior design of the house. To create a cohesive space, and harmony in the viewer's vision.
For example, do not use modern hanging paintings with vibrant colors for classic interior design and vice versa.
We hope these ideas for arranging wall art inspire you to create a stunning appearance for your space. If you are interested in this topic, don't forget to follow us to update more information about farmhouse decoration ideas. And enter your email in the "join our VIP list" section to get our HOT DEALS in the future.
You may like these blogs: