Gone are the days when farmhouses were only associated with farmers. The modern farmhouse is home to families and individuals who choose to live in the countryside. With gorgeous terrains and quiet neighborhoods, who wouldn't want to get away from the hustle and bustle of city life?
Imagine waking up every day to the cool, fresh breeze making its way into your home through large windows. It tantalizes your senses and awakens your soul. Imagine making breakfast in a beautiful, cozy modern farmhouse kitchen, surrounded by loved ones. Happy days aren't coming. They're already here!
1. Creating the Perfect Kitchen Space
Renovating your farmhouse kitchen can be a challenge but the results will be an absolute treat. Unlike knowing what you want to do with the bedroom and living room, creating a layout for kitchens is tough.
It's all about the right measures and creating space. From countertops to kitchen cabinets and appliances, you need to make sure everything complements the design of the kitchen.
Now that you have an understanding of what's required, let's take a look at a few tips from experts when designing the perfect farmhouse-style kitchen.
2. Go for Wood Accents
Even if you're going for a modern farmhouse style look, wood and farmhouse style interior is like peanut butter and jelly. Adding accents of wood to the interior doesn't mean you'll end up with a traditional look. You can mix wood accents with stainless steel to create a sophisticated and elegant layout.
There are plenty of hardwoods to choose from that offer durability and don't compromise on aesthetics. Teak, cherry, and oak are some of the most popular choices.
The best thing about incorporating wood is that you can experiment with different patterns and the blueprint of the layout.
3. Mix Up the Designs
One of our favorite designs is the kitchen of Steven Mnuchin, the Treasury Secretary of the U.S. The kitchen showcases the perfect blend of stainless steel and wood accents. See, how well it goes together? It's the perfect fit—like a glove on a hand.
Another great design is Josh Altman's kitchen—a blend of marble, concrete and stainless steel. It's flawless and perfect for the modern farmhouse style!
What makes these kitchens stand out is that they've mixed the designs. Part of the kitchen is stainless steel and the other part is wood or concrete.
4. Warm Hues
Your kitchen should look "welcoming." Harm colors are the perfect way to create a neutral kitchen that looks cozy at the same time. Go for colors like olive green, cherry red, or orange. Make sure to mix them with neutral colors.
Orange and red look good with gray or white, but it all depends on the shades you choose. Orange can go from earthy to a terracotta tone; it depends solely on your preference.
Warm hues make kitchens look cozier and inviting. In fact, reports show that most people associate red with positivity. Have you ever wondered why most food brands, like McDonald's and Burger King, use red in their restaurant theme and logo? It's because red increases appetite.
MAYBE YOU'RE INTERESTED IN: 15+ Ways Make Your Thanksgiving Home Decor Kitchen Cosiest Ever
5. Better Kitchen Cabinets
Depending on what you're going for, stainless steel or wooden cabinets are the most popular choice. If parts of your kitchen are stainless steel, wooden cabinets are great.
If your countertops are a mix of wood and stainless steel, go for stainless steel cabinets. You can go for dividers, deep drawers at the bottom, and even lazy Susan. For the cabinets on top, you can mix them with glass as well. The options are endless! It's best to consult a professional who can help you understand what will look good for your farmhouse.
If you practically live in your kitchen, consider spicing up your walls with art. This farmhouse-inspired kitchen by barn through faux window canvas turns an empty wall into a focal point with rustic artworks.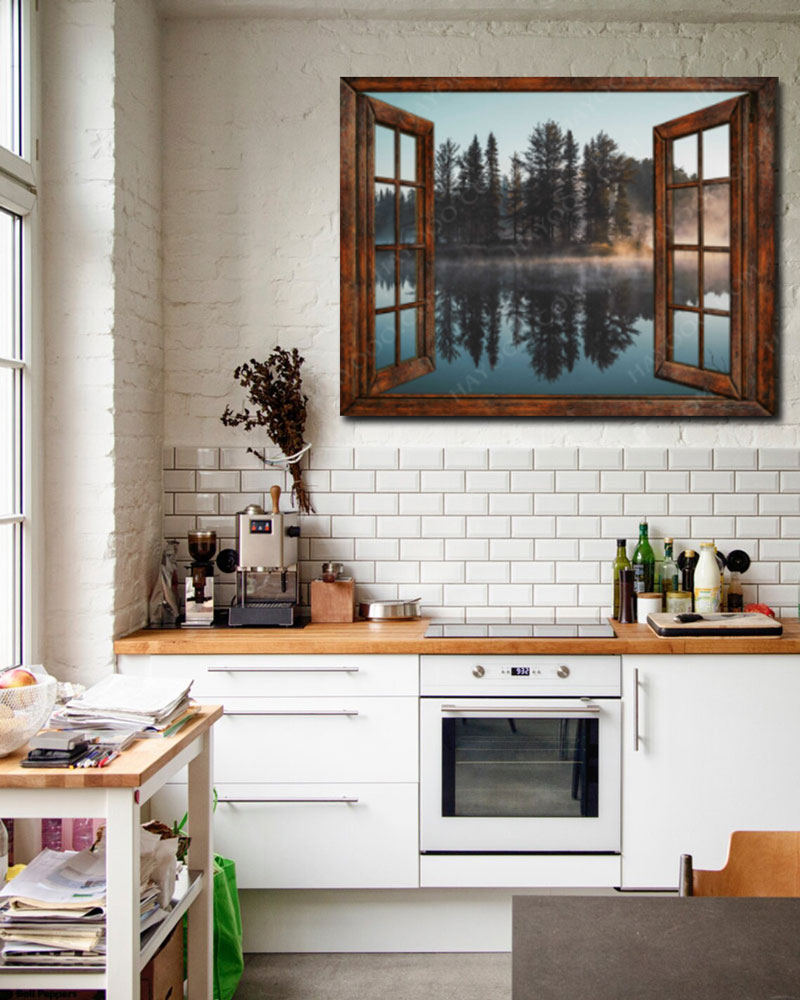 7. Minimalist Sink Design
There is a sink attached to the countertop with minimal decors, this modern farmhouse kitchen is looking sophisticated and clean. This sink might also be a place to arrange flowers, thanks to a spacious worktop corner. 
We recommend you should create extra storage below the sink for tools and other essentials by hanging pleated curtains from rods. Using marble sinks with exposed bricks, terra cotta tiles, and pendant lamps to bring a country feel.
8. Antiques and Accessories
In a modern kitchen, display antique vases, a collection of mason jars, or large wooden bowls throughout your kitchen for a unique look. Hit thrift shops and buy plain white dishes, then hang a collection on a wall or display them in glass-front cabinets.
9. A Hanging Herb Garden
Having new spices helpful is fundamental when cooking, so a hanging spice garden isn't just sleek however useful. Also, it makes for a great DIY project. All you require are towel racks, snares, and coordinating pots.
READ MORE: 12 Stunning Ideas For Vintage Farmhouse Kitchen Decor
10. Menu Recipe Card Board
Imagine a scenario in which you realize when is the day for your #1 dish. The menu formula cardboard hangs out in the standard-setting of the kitchen. Take a wood board, add a letter every day in the standing request, and against it, place cuts for simplicity of substitution. It brings the significance of setting up every feast, and the energy of planning most loved dishes is past any portrayal.
11. Creative Kitchen Decor with Cups and Shelves
A straightforward method to adorn your kitchen is to adhere to an exacting shading plan for everything from furniture to walls to frills. Here, the blend of white and pastels is tastefully satisfying, to such an extent that a couple of racking units are all you require.
12. Modern Farmhouse Lighting
Lighting with exposed wires is like an old-school hack that ensures beauty in your home. Despite all this, it is not expensive at all and you can easily install it in your homes and make sure to update it with the changing trends. The significance of exposed wires is that the light bulbs hang from the cords which are wrapped around a brass pole. It adds a personal touch to your kitchen and adds a lot of beauty at the same time.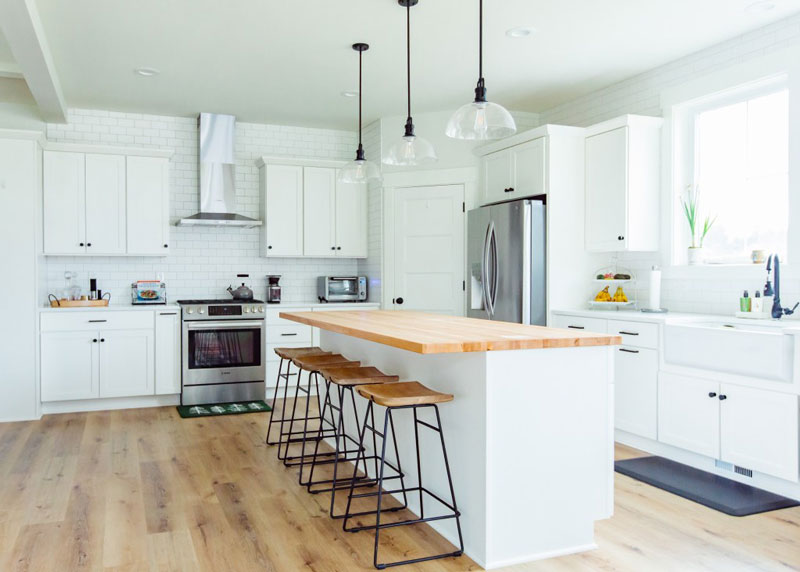 If you love modern farmhouse kitchen decorating, then don't miss out on our other articles on this wonderful interior style! Leave your email at the "Join Our VIP List" box to receive the earliest blog post notifications.