The Christmas holidays have a significant warmth as you gather with the family to enjoy and share memorial moments in the past. Red truck Christmas decor is designed to act as the perfect childhood reminder accessory. 
There are various Christmas decor ideas you can do but sometimes the simple things like red trucks have the biggest effect. It can bring a nostalgic mood and bring back memories of sitting in the Christmas red pickup truck with your family.
1. Red Truck Meaning In Christmas
1.1. Symbol of Red Color
Among Christians, red represents the blood of Jesus when he died on the cross. Moreover, red also symbolizes the color of holly berries – pagan symbolism during the winter solstice celebrations in ancient Rome.
On Christmas, red is also used as an apple color on the paradise tree to pray for good luck or the color of a pickup truck to remind people of their childhood.
Pine trees, Santa Claus, and snowflakes are iconic images of the Christmas season. However, another of the impressive images often present on Christmas is that of a bright vintage red truck carrying decorations.
"Everywhere I went growing up, I'd see imagery of vintage red pick-up trucks on Christmas items," says Dochterman.
The red truck icon is nostalgic and reminiscent of delightful childhood trips in the snow to get a Christmas tree with his father. We think a lot of them wish they could have that memory, even if someone didn't do that as kids. It can be said that the red truck represents an idyllic Christmas time, even just in imaginations.
While it is not entirely clear where the red Christmas truck image originated from, no one can deny it is one of the beautiful symbols of Christmas. Hayooo hopes to bring the red truck image to life this holiday!
The display of these truck decorations might connect people together in a memorable time of the holiday season.
2.1. Metal Red Truck
Dress up your home in the Christmas season with this lovely metal red truck décor. A retro truck is on its way home from the tree farm and carrying a pine tree illuminates beautifully under the road light. We're sure that it is a charming rustic addition to a winter mantel, table, or shelf. 
We love the way the red trucks are reminiscent of the adorable cars that are often used for delivering old-school Christmas trees. These vintage metal trucks are loved by all due to their impressive realistic details and are great for Christmas home and office accents, seasonal displays, and to give as a gift.
2.2. Red Truck Christmas Decor Canvas Wall Art
The holiday season is a time to enjoy your life. Preparing for early Christmas is a way to joy and cheer for the upcoming holiday. There are plenty of ideas to make your home feel festive, personalized Christmas farmhouse wall art could add long-lasting Christmas charm into your home with this holiday-themed color.
>>> Click for more information about the product 1 <<<
>>> Click for more information about the product 2 <<<
>>> Click for more information about the product 3 <<<
A combination of a vintage red truck uniquely covered in snow and a wreath neatly attached to the front grill is the perfect Christmas piece of art. Red truck Christmas wall art on your wall will make everyone feel like they are presenting their childhood home during this rest time of year. It's one of those sweet, memorable, and meaningful gifts that everyone will appreciate.
>>> Click for more information about the product 1 <<<
>>> Click for more information about the product 2 <<<
>>> Click for more information about the product 3 <<<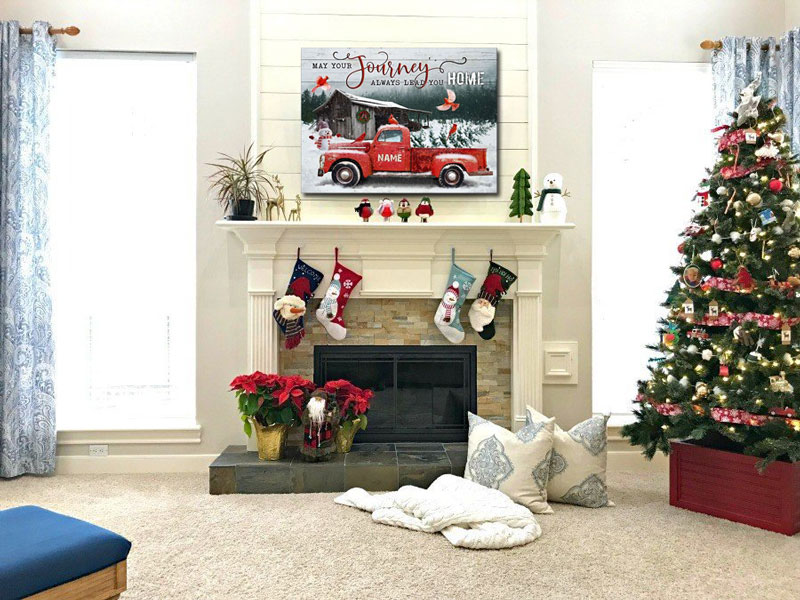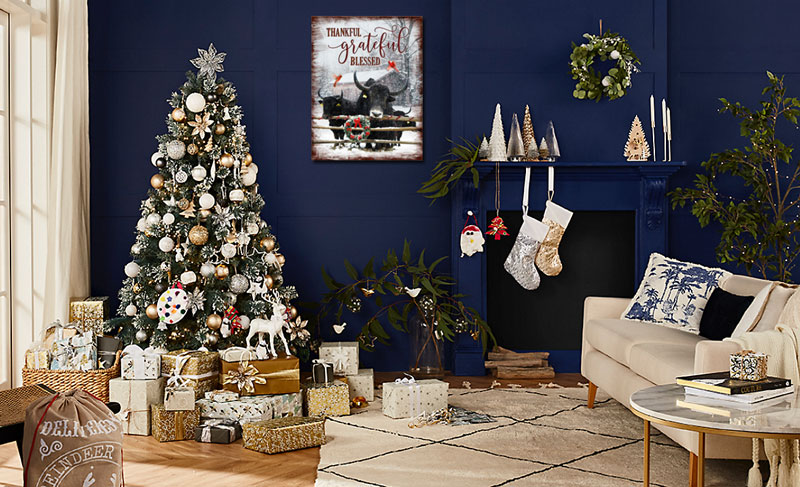 2.3. Red Truck Blanket
Another way to decorate your festive home with a customized decoration is red truck blankets. Sub-zero cold air in winter drives you to love curled up in a warm blanket at home more, so shopping for a few throw blankets featuring a striking red truck shape will help keep your home warm and lovely.
2.4. Red Truck Rug
Stunning mats are themed perfectly to greet Christmas in style. The piece comes with a "Merry Christmas" message imprinted on the bottom and a red Christmas truck which should offer great inspiration for the holidays.
2.5. Red Truck Stockings
Christmas is the time when everyone expresses love and exchanges gifts and messages. The best way for doing that is by using stockings in decorating your home. No matter what kind of socks it is, new stockings offer the opportunity to give your mantel or bed a fresh and festive look. 
If you want your home to go with an old-school vibe but no less outstanding, choose socks with a red old-truck image. This stocking idea will ensure your fireplace and bed are expertly dressed up for the holidays. Oh, don't forget to check out the family's favorite gifts to tuck inside!
2.6. Red Truck Themed Mug
This festive-themed coffee mug is the perfect novelty item that can be used as decoration for your home during the holidays. It's not only made using durable porcelain but also features an imprint of memorable childhood through a vintage red Christmas-themed truck image.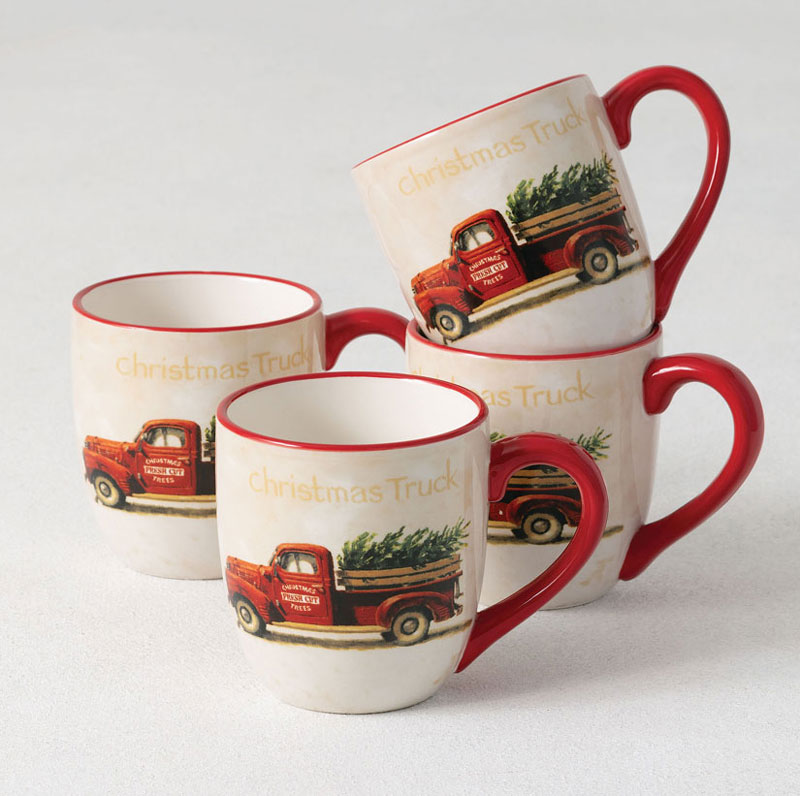 2.7. Festive Pillow on Christmas
Make your sofa extra dashing with a collection of Christmas pillow ideas. What a unique way to warm up your home with this rustic red truck Christmas decor. This is an excellent present for anyone who loves spending all day on a chair to watch movies or read books or simply as a gift idea to cherish memories together.
2.8. Red Truck Ornaments For Christmas Tree Decoration
Relive the old Christmas days with nostalgia all thanks to these beautiful Christmas red truck items. You could use red truck ornaments for Christmas tree decorations to inspire a breathtaking Christmas spirit. This unique vintage red Christmas truck with some faux snow hanging from the back for a stunning pine tree look.
Seasonal decorations during the holidays make memories more special and meaningful, not just with the idea but with your thoughts and efforts behind it. Make your feel comfortable by using items that are personalized and reminiscent of familiarity such as the image of the red truck on Christmas trips!
If you need more Christmas ideas in this upcoming holiday, check out our amazing collections to make your home more special than ever before.