With the holidays approaching and Thanksgiving coming in a few weeks, everyone is busy with their home decoration. We know that many people out there may find it difficult to set the mood for the holiday celebration. That's why we came up with this blog post. Our rustic Thanksgiving decor ideas and tips will help you infuse your rooms with the colors and textures of Thanksgiving.
1. Rustic Thanksgiving Decor Ideas For Your Home
Thanksgiving decor should feel as natural as possible. Moreover, it needs to embrace the beautiful and warm colors of fall. Here are some rustic Thanksgiving decor ideas we have picked out to make this special day shine!
1.1 Fall Window 
For a stunning fall window box, let's start by placing 1 or 2 large frilly ornamental kale or cabbage plants toward the front of the planter. Then you can set 2 or 3 mums behind the kale.
Following that, add potting soil to secure the plants and conceal exposed soil with green moss. For a finishing touch, you should nestle an assortment of small pumpkins and gourds on each end. And boom… what a lovely fall window!
1.2 Cozy Outdoor Seating
Why don't you give guests a place to sit and slip on shoes with outdoor seating surrounded by moody Thanksgiving accents? Here, start with pillows and a wool blanket on a modern farmhouse bench. We recommend you look for weather-resistant outdoor fabrics when outfitting your fall front porch. Pink, white, and yellow mums planted in metal buckets and rattan baskets will add a splash of color.
DISCOVER: MORE THANKSGIVING & FALL DECOR
1.3 Thanksgiving Bell Jar
Have you ever thought of using a bell jar to capture the Thanksgiving vibe? What a creative idea! To begin with, you may line the dish with moss, add a couple of little gourds and branches of leaves, and top with a bell jar. For a more gorgeous effect, it's possible to arrange a few objects around the base of the dish.
1.4 Thanksgiving Gallery Wall
A Thanksgiving gallery wall will instantly blow the holiday vibe into your house. You can set the gallery wall with just a few seasonal pieces such as nestle pumpkins, mums and artwork.
1.5 Squash Sunflower Vase
It's easier than it looks! Take a spaghetti squash and hollow it out. Then, you should fill the inside space with floral foam in order to poke the flowers into. In case you don't know how to combine the flowers, we think you should go with goldenrod, sunflowers, and alstroemeria.
1.6 Indoor Thanksgiving Wreaths
People often hang seasonal wreaths on the front door to welcome the guests coming to their house. But how about hanging Thanksgiving wreaths in your windows to reap the benefits of the Thanksgiving feels both inside and out?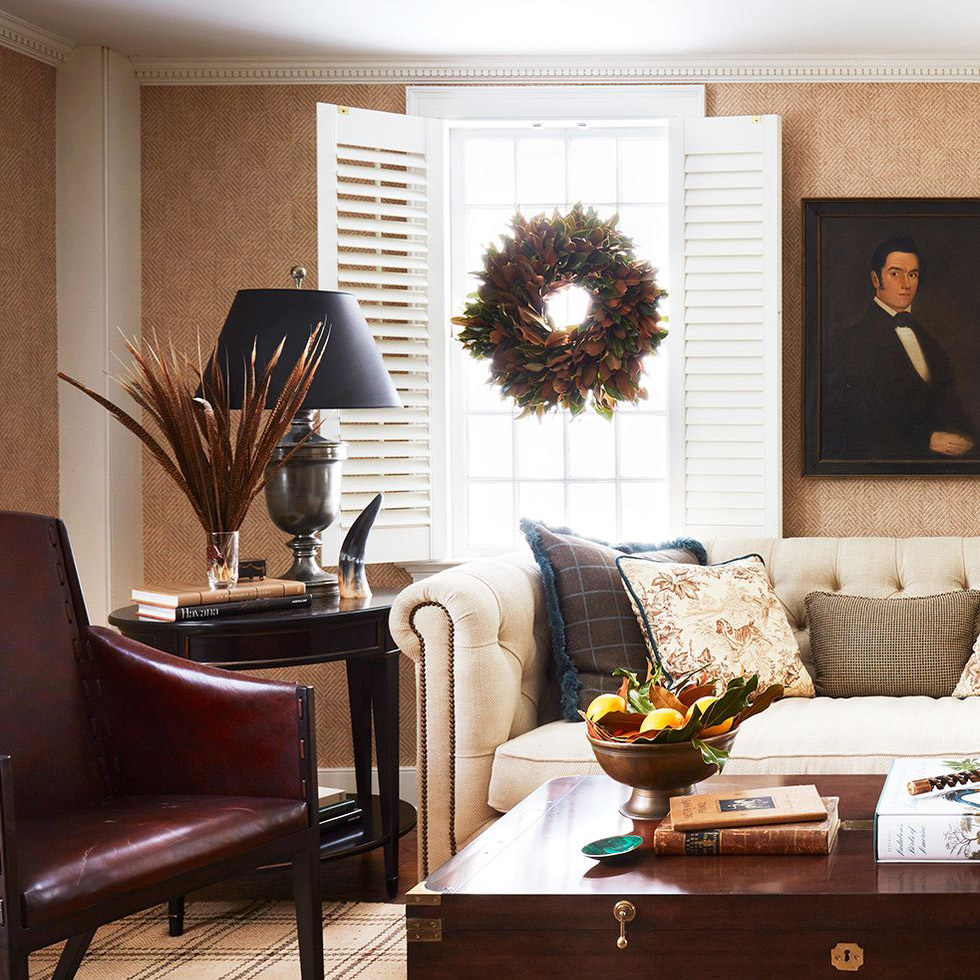 1.7 Thanksgiving Tree
Who says trees are only for decorating at Christmas time? Why not nestle this stunning evergreen in a corner of your home and fill it with pumpkins, pinecones, and dried flowers? This is a great way to prepare for the big Christmas season that looms right across the nook.
2. Tips For Thanksgiving House Decorations
In addition to some rustic Thanksgiving decor ideas we recommended above, we also collected a couple of Thanksgiving decor tips to get your home in the holiday spirit. 
2.1 Accessorize Your Entrance
A nicely-decorated front door will give your guests plenty of holiday cheer before they even step inside. Why do we emphasize this? Because a lot of people tend to spend their time decorating the house's interior and completely forget about their entryway.
2.2 Try Color Blocking
You may ask what is color blocking? That's simply the use of contrasting blocks. You can easily bring this effect to your home by arranging branches of fall leaves by hue. Place light-colored leaves so that they will land on one side of the vase. Next up, you set up deeper-colored leaves in a way they can fall to the other side of the vase. That's all!
2.3 Expand The Palette
Red, yellow, orange, and brown are Thanksgiving color favorites, but greens and purples have their place too. You can add small green and purple details like flowering cabbage. It will bring dimension and unexpected color to your Thanksgiving displays. Pair it with more rustic Thanksgiving decor for a special twist.
2.4 Embellish Your House With Canvas
2.4.1 Thanksgiving Wall Art With Quotes
Thanksgiving wall art featuring meaningful quotes such as "Bless Our Home And All Who Enter" is an excellent decorating item. Whether you hang it in your living room, or lean it against an area of your deck alongside pumpkins and cornstalks, it will be a beautiful addition to your decorations.
2.4.2 Gnomes Thanksgiving Wall Art 
Do you know Gnomes are believed to be household spirits responsible for the care and prosperity of the family? So why don't you hang a piece of Gnome artwork on the wall or place one over the mantelpiece?
Click here for Product #1 info >>>
Click here for Product #2 info >>>
2.4.3 Faux Window Thanksgiving Wall Art
Are you looking for a unique and trendy Thanksgiving decoration? If yes, faux window Thanksgiving canvas is an excellent addition for your indoor theme as well as perfect for the holiday season.
Click here for Product #1 info >>>
Click here for Product #2 info >>>
2.4.4 Sunflowers And Pumpkins Thanksgiving Wall Art
We bet you will fall in love with these sunflowers and pumpkins Thanksgiving wall art at your first sight! The vintage background and the stunning colors are just beyond perfection. No matter what your house style is, this canvas will embellish the overall look.
2.5 Use Leaf-patterned Decorations
For a modern twist on traditional pumpkin patterns, let's turn into an elegant botanical pattern – leaf. It will bring texture and an element of nature to your rustic Thanksgiving decor.
It is true that Thanksgiving is all about sharing a festive meal with family and friends you love. So don't overlook your Thanksgiving table decor! We suggest you should include kitchen accessories featuring leafy design such as leaf-patterned napkins.
Thanksgiving is right around the corner, which means now is the perfect time to start getting your home ready for the holiday season. We hope after reading this blog post, you can take your Thanksgiving decorations to another level. We bet people will definitely be green with envy when they come to see your house. 
If you want us to write more about rustic Thanksgiving decor ideas and tips, just leave a comment below. And don't forget to enter your name and email in the " Join our VIP list" box to access our special excluded offers.  
Liked this article? Try these next: