Thanksgiving is just weeks away. Are you hosting family and friends this year and nervous that your home, especially your guest bathroom, won't be ready? No need to worry! We've gathered some simple thanksgiving bathroom decor updates that will bring new life to the space.
1. Thanksgiving Bathroom Decor Ideas To Update The Guest Bathrooms
1.1 Pumpkin Soaps And Soap Dispensers
This is a relatively fun way to bring both the smells and sights of Thanksgiving into your guest bathroom. You could take this to the next level by adding some pumpkin spice scented shower soaps.
1.2 Faux Window Artwork
The blank wall in your bathroom can also be changed for the holiday. Help your guests out with a nice and soothing view thanks to this faux window canvas. In fact, faux window wall art can fit the theme of every season so you can keep it all year long. It's the best bang for the buck!
1.3 Cozy Throw Blanket & Towel
For guests sleeping overnight, prepare a cozy throw blanket nearby so that they can wrap themselves in after toweling off. Also, it would be perfect to add a brown or orange color scheme to the bathroom.
You could keep this exclusive to the hand towels if you want to extend the decorating budget as far as possible. Remember for the Thanksgiving season, the cozier and plusher the better!
1.4 Thanksgiving Wall Art
It is true that the scene in the Thanksgiving wall art can remind people of holidays past and build a festive ambiance. If you're not really good at decorating things, just hang a Thanksgiving canvas and enjoy the seasonal view it magically brings.
Here are Product #1, Product #2 and Product #3 info, respectively.
1.5 Nature In The Bathroom
If you have some shelving or hooks in your bathroom, another fun approach to add the feel of Thanksgiving can be to add a faux fall leaf strand around these wall features. You could even go an extra step and add some mini pumpkins to your shelving, the back of your toilet and the vanity.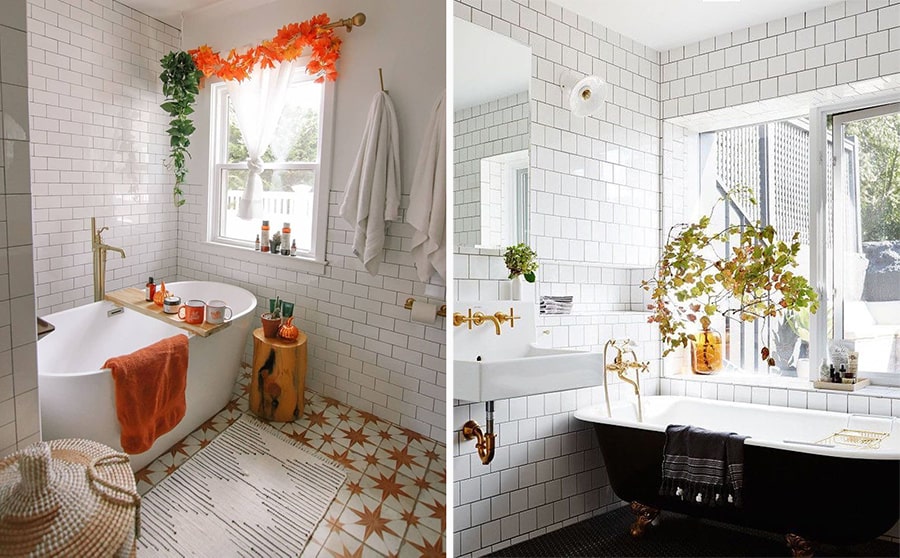 In case you're not into artificial things like a faux garland, take some autumn branches from outside and stick them in a glass vase to decorate one corner of your guest bathroom.
1.6 Funny Bathroom Wall Art
If there is a festive shower curtain and some small pumpkins decked on the shelves, let's hang a funny bathroom wall art on the wall. Sometimes you don't need to stuff too many Thanksgiving decorative things in a small bathroom.
Click here to discover Product #1 >>>
Click here to discover Product #2 >>>
1.7 Pine Cones 
Pine cones in a glass jar, coupled with fall-scented candles, can also bring the Thanksgiving spirit to your bathroom. If you are crafty or want to add a personal touch, spray the pine cones with a gold glitter flake.
Or you can deck the wall with pinecone lodge towel bars and bathroom. Then hang a fall-colored towel to complete the Thanksgiving look. Just as easy as it looks!
1.8 Thanksgiving-themed Shower Curtains
Replacing the all-year-round curtain with a more special one will instantly transform the whole vibe of your guest bathroom. We mean it's like a big Thanksgiving splash! Try to match other decorative accessories with the curtain, too. 
1.9 Toilet Paper Pumpkins
You can utilize toilet paper rolls in your guest bathroom and make a set of pumpkins in under 30 minutes! All you need is, of course, toilet paper, cinnamon sticks, green leaves or fall leaves and twine.
1.10 Pumpkin Bath Mat
You can make a small touch of Thanksgiving in the guest bathroom with a lovely pumpkin mat like this. It's OK to lay more than a bath mat in the room as long as they go well together and in relation to the bathroom theme. 
DISCOVER: MORE BATHROOM DECOR
1.11 Candle Chandelier
We often set the candles as the centerpiece of our Thanksgiving tables. So why don't we apply this way for the bathroom? Simply hung chandeliers with candles on them for cozy light. To make it more special, you can prepare seasonal scented candles such as sweet cinnamon pumpkin or autumn woods.
1.12 Wood & Wicker Materials
Are you wondering how to give your small bathroom a Thanksgiving makeover just in time for welcoming guests? This year we recommend focusing on a more muted fall palette. That includes natural materials like wood, wicker, and white pumpkins.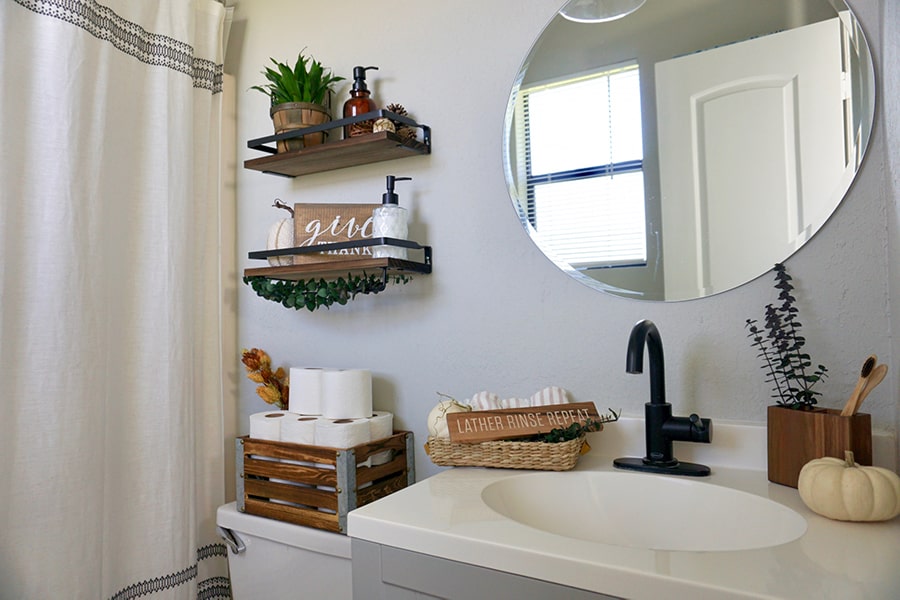 1.13 Thanksgiving Wreath
It is said that hanging a floral wreath is the easiest way to bring the festive spirit into your home. So instead of spending hours thinking about how to update the guest bathroom, why not go for a wreath with seasonal flowers? 
2. Tips For Great Bathroom Experience To Treat Overnight Guests
We all want to treat our guests to a five-star hotel bathroom experience. It is true that your guests will likely be spending a decent amount of time showering, freshening up and relieving themselves in the bathroom after the big meal. 
In order to get your bathroom in tip-top shape before your guests arrive, we've got some essential tips to follow.
2.1 Cleanliness Is A Must
First and foremost, make sure the entire room is clean. If you have the time, you can do it on your own. But in case you're busy preparing the rest of the house, it would be a good idea to call in a professional cleaning service to do the dirty work.
2.2 Stock Up Essential Things 
Stock up on cotton swabs, toilet paper, toothpaste and extra toothbrushes. It will be a little bit awkward if your guests are in the room and then find out that there are no paper rolls left.
And don't forget to remind your guests to throw anything besides toilet paper into the trash. These other items can clog up your plumbing. But how can we remind them in a polite way? Don't worry, there's always a way. Bathroom rule canvases will solve the problem. 
2.3 Dirty Things Should Go Away
Replace every old and dirty thing like shower curtains with new ones. Moreover, you may want to swap out that old bath mat with a new plush model. 
2.4 Everything Is In The Best Condition
Is there a leaky shower head or broken fixtures? If yes, let's have them repaired or replaced before your guests arrive. After that, consider placing a strainer in the drain. This will help prevent clogs that could cause major problems with everyone staying over.
So that's what we want to share with you in today's blog post. If you want us to write more about Thanksgiving decor ideas or any upcoming Holidays, just leave a comment below. And don't forget to enter your name and email in the " Join our VIP list" box to access our special excluded offers.  
Just in case you missed these: