Your entryway needs unique Thanksgiving decor ideas that can take your home from just fine to totally festive in no time. So simple! Here are our best thanksgiving entryway decor theme ideas you can apply at your entryway now.
1. When is Thanksgiving 2022?
Another year is drawing to a close! We're about to enter the long fall-winter break with halloween and thanksgiving. Oh wait! Halloween occurs October 31th, so When Is Thanksgiving 2022? If you're like us, also like to plan out the entire Thanksgiving week to make sure that all home decor & cooking for Thanksgiving will be done in time. To begin, to make a schedule, you need to know Thanksgiving in 2022?
Thanksgiving depends on the year, maybe early on 22nd or late on 28th in November. This year, Thanksgiving will take place on Thursday, November 24, 2022. Therefore, Thanksgiving is just a few months away now you know when to mark your calendar, keep reading for some amazing ideas about setting the thanksgiving entryway decor .
2. Welcome To Our Best Thanksgiving Entryway Decor
In order to have the special Thanksgiving ever! Choose from the type of theme ideas below to decorate your entryway on Thanksgiving. Over all, we hope you enjoy the perfect holiday and feel comfortable with your family and friends.
2.1. Rustic Thanksgiving Entryway Decor
We're in love with these touches of rustic and western pieces that would leave any rustic lover's heart happy! This rustic thanksgiving entryway decor is not only priced low, but it is absolutely adorable. You can buy these cheap metal buckets or reuse old ones and add pumpkins or fall leaves! It would be cool to have in a rustic thanksgiving lobby.
Brown rustic wood shelf or table can be used to display your thanksgiving decoration like candles, a welcome board, gifts for guests, or some wall art canvas.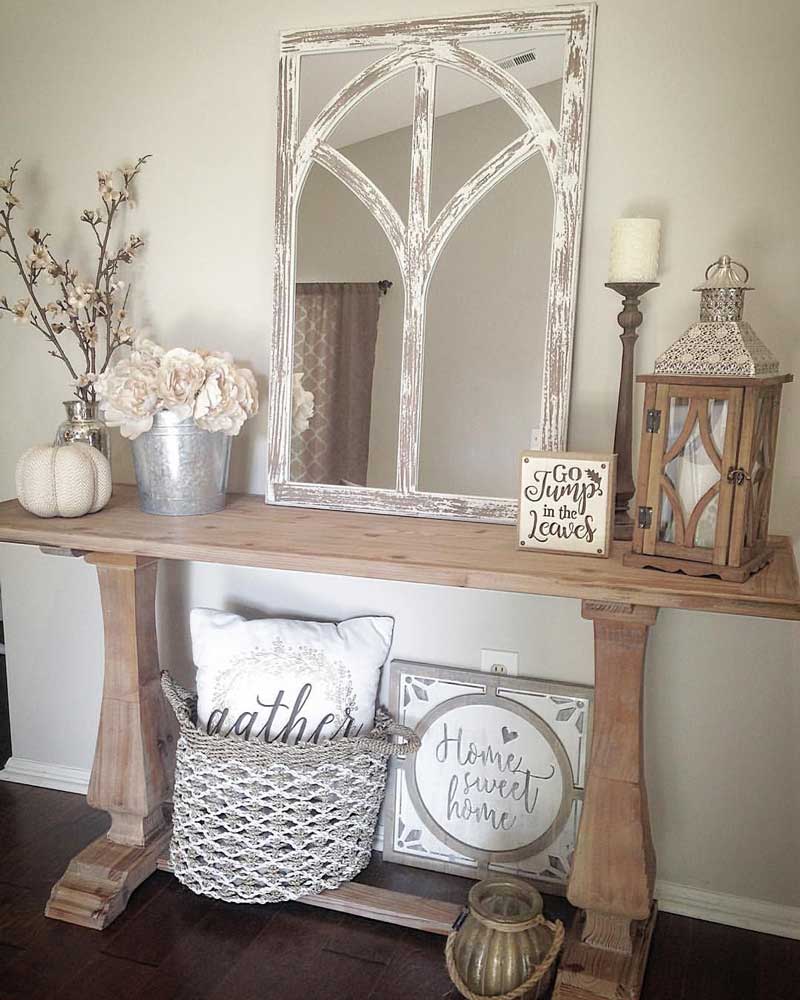 MAYBE YOU LIKE: 20+ Most Trending Autumn Decor Ideas For Farmhouse Room In 2022
2.2. Fall & Thanksgiving Entryway
One of our favorite activities that comes with the start of fall and winter, is looking for affordable and lovely item decorations. Thanksgiving also happens around this time so we thought you'd want to find decorating ideas that work for both occasions. Right?
The entryway seems the face of the house, the first place that your guest or friend sees when visiting. Therefore, why don't make it special for the holiday to greet everyone warmly when they come to your house or attend intimate parties. Embroidered pumpkins add a touch of the fall to the neutral lover. It is not expensive and popular on amazon or etsy. You can place it on the wood shelf or chair. 
It is nice to welcome a new season, and your guests, with a festive doormat. A fall color soft mat with script lettering is all you need in the front door for thanksgiving. Fall leaves, nuts, berries and dry twigs come together to create a highlight that will fill your lobby with seasonal warmth. 
A dry leave wreath with fall-inspired adornments is a gorgeous way to celebrate the sign of fall all the way through the Thanksgiving holiday in your home.
2.3. Farmhouse Entryway For Thanksgiving
We are getting ready for thanksgiving and entryway decor is happening. A beautiful thanksgiving or fall banner that will remind us of all our blessings, as well as colourful pumpkins is being available in the lobby to welcome our guests. You are looking for entryway decor ideas for your farmhouse in fall & thanksgiving? It was super easy. You can do it too with these great decorating ideas. 
READ MORE: 9 Incredible Ideas For Rustic Bathroom Wall Decor
A simple customized chalkboard can add unique to your home. Draped over a pickup truck canvas or fall nature scene in our lobby wall, this artwork can show thankfulness or memories about your childhood.
We are sure you would have fun with these gorgeous finds for your farmhouse. The quality is so impressive with the barn door accent of this cabinet that really makes this piece pop. 
The lobby has an entire aisle dedicated to show off your farmhouse style. This buffalo check cloth or tablecloth is highly recommended since it stands out from the others. Black and white buffalo check rugs are fun and festive without going overboard on color. It is also enough to welcome thanksgiving by farmhouse style and formal enough for a home. 
2.4. Modern & Chic Entryway in Thanksgiving 2022
Simple, clean and neutral, these sophisticated thanksgiving decor items would look so fabulous in any modern home. This huge fall natural canvas would look amazing in any modern space. We bet you would be impressed by the quality and stunning textures when you receive it in person. If you are a fan of collecting artwork, this piece is a must-have for your entryway.
Modern & Chic Entryway in Thanksgiving 2022
Modern & Chic Entryway in Thanksgiving 2022
Modern entryways on Thanksgiving can feel cozy with faux soft cotton flower vases or dry twigs that are stunning and surprisingly realistic. Keep your shelf or cabinet in the entryway chic and cozy for holiday with some candles and luxury rose gold wine glasses.
2.5. Halloween & Thanksgiving Decor For Entryway
This year, Halloween and Thanksgiving are a month apart, but if you don't want to spend a lot of money to decorate your entryway in two different styles, you can try items that can blend the two holidays.
Of course, these painted or sculpted pumpkins are indispensable. This is an opportunity for you, your family and your kids to work together. These pumpkins don't go out of style even on Thanksgiving.
The corn rings that you harvest can also be used to hang at the entrance door as a welcome and remembrance of a past harvest.
We hope you were inspired by our best thanksgiving entryway decor ideas. These decor themes are all of style from farmhouse to modern so you can use them every year to decorate your home for the holidays. Let's start planning and decorating for Thanksgiving now.