No matter what Thanksgiving may look like for you this year, a gift for your family and friends is a great way to show your appreciation. In case you have no idea of perfect Thanksgiving home decor gifts, we've rounded up a list that we know you'll love.
1. Thanksgiving Home Decor Gifts Ideas For Family
1.1 Warm Tone Rug
Cooler weather is on the way for Thanksgiving. Yes, this is the cooling-off season we may say. Why not make your home feel welcoming and cozy? Let's surprise your family with this beige rug. 
1.2 Fall-vibed Diffuser
Create a welcoming ambience throughout your home during Thanksgiving Day with this vintage diffuser. You can choose whatever aromas of autumn, from cinnamon and nutmeg to pumpkin and vanilla.
1.3 Thanksgiving Wall Art With Family Quotes
Thanksgiving wall art featuring meaningful quotes such as "Bless Our Home And All Who Enter" is an excellent decorating item. Whether your family hangs it in the living room, or lean it against an area of the deck alongside pumpkins and cornstalks, it will be a beautiful addition to your decorations.
Click here for Product #1 info >>>
Click here for Product #2 info >>>
1.4 Thanksgiving Wall Art With Faux Windows
Are your family members looking for a unique and trendy Thanksgiving decoration? If yes, let's surprise them with a faux window Thanksgiving canvas. This is an excellent expansion for the indoor house theme.
Click here for Product #1 info >>>
Click here for Product #2 info >>>
1.5 Turkey Jars
Turkeys are the stars of Thanksgiving, so it's obviously right to give them a prime spot on your family dinner table. Fill a collection of decorative turkey jars with wheat stalks or just place a few on the table or maybe over the fireplace so as to make your setup a bit more festive.
1.6 Personalized Wooden Cake Stand
Put your mom's homemade Apple-Cinnamon Layer Cake or Pumpkin Cake on full display with a rustic wooden pedestal. You can have the stand engraved with "Give Thanks" or "Blessed" which makes the gift more meaningful on this occasion.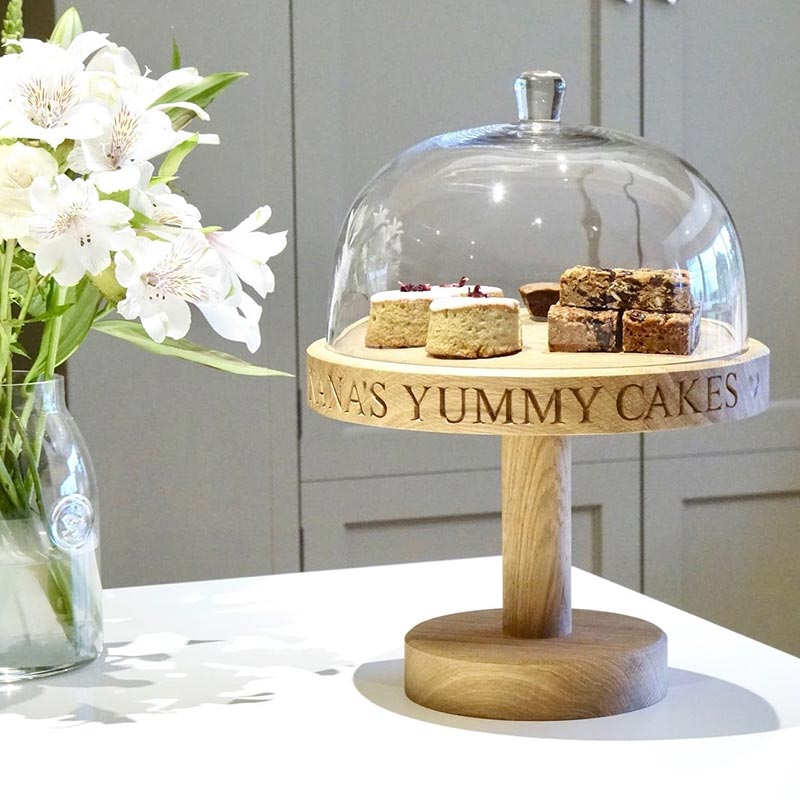 Another way you can take advantage of it is showcasing Thanksgiving decorations by placing them atop this stand. How cool!
1.7 Pumpkin Salt & Pepper Shaker Set
To get the seasonal vibe, you should give this cute pumpkin salt & pepper shaker set to your family as a gift. Don't overlook the kitchen decor because it's also a part of your home. And you know what, Thanksgiving is all about food that we eat by seating at the table together and friendly talks.
1.8 Pumpkin Embroidered Table Runner
This is such a focal point for your Thanksgiving table. With a neutral tone, it goes well with any decorations. Your family can lay it above another table cloth, which doubles the beauty for sure. 
1.9 Thanksgiving Tablecloth
Just like a table runner, Thanksgiving tablecloth brings the same vibe. But in case your family owns a square or round table, it would be better to go with a Thanksgiving tablecloth. 
1.10 Thanksgiving Doormat
They say the doormat is second only to the front door wreath when it comes to the first impression of your family's inviting guests. So a new thanksgiving doormat to present your family will satisfy them. 
1.11 Pumpkin Tabletop Sign
Your family love pumpkin pie? So this table top sign is just a perfect match. Not only is it a gorgeous decor in the kitchen but also a proud statement "My family makes the greatest pumpkin pie" with all the guests coming to the Thanksgiving dinner.
1.12 Vintage White Tin Truck
It's just a normal vintage white tin truck but carrying all the thanks and all the blessings. Your family can load signature vegetables of the season onto the truck bed such as pumpkins and acorns.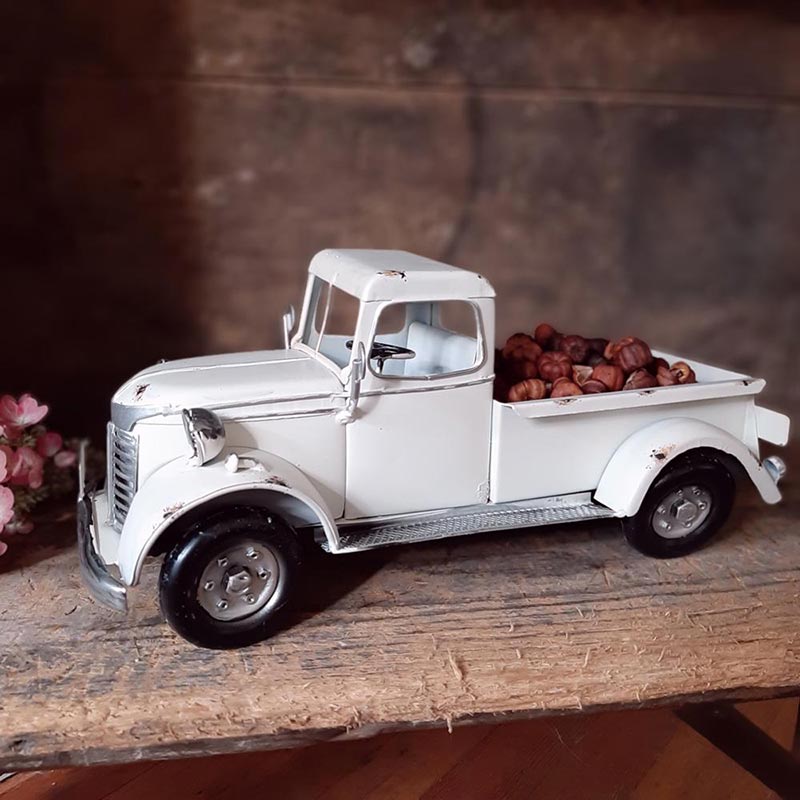 1.13 Thanksgiving Felt Letter Board
Your family members can change up the messages on this board every week. Let's find some Thanksgiving sayings like "Thankful, Grateful & Blessed" or "Give Thanks In Everything", just to name a few.
1.14 Thanksgiving Wreath
New season, new wreath. That means you should buy or even make one by yourself and then give it to your family. There are thousands of beautiful fall wreath ideas out there. You can choose one or simply jump right into the new season with a wreath of autumn leaves.
1.15 Whimsical Planter
Small details like black metal banding and rustic finish of this whimsical planter add an authentic touch and therefore make it the perfect way to display bright fall blooms. Your family can place it on the front porch with some pumpkins and mums around to enhance the overall look. 
1.16 Felted Mint Blue Acorns
This is just perfect for your Thanksgiving home table decoration since they liven up the festive spirit and bring the magic of Mother Nature into your home as well. These acorns are more useful than you think because your family can save them up for the Easter Day's decorations.
1.17 Give Thanks Banner
Warmly welcome guests to your home for Thanksgiving with this Give Thanks banner. Written in copper foil block letters, this banner is a thoughtful reminder of the blessings we have during this busy holiday season.
1.18 Wooden Pumpkins Decor
This is the ideal addition to your family's Thanksgiving decorations as well as great for Halloween. Place the pumpkins on your front door, your porch, garden, or bring it inside for your table, hallway or even mantle!
2. Thanksgiving Home Decorations For Friends
2.1 Thanksgiving Flowers Basket
It is said that if you don't know what to give as a gift, then flowers will be a safe option. Stop by the shop and choose a basket of Thanksgiving flowers. That comfortable feeling that comes from their aroma is something instantly makes your friend's home feel cozier.
2.2 Wine-scented Candles
At Thanksgiving dinner, a bottle of wine only lasts an hour tops. But guess what, a wine-scented candle, however, lasts up to 80 hours when lit. So it would be a good idea when coming to your friend's dinner with this intriguing gift. 
2.3 Truck, Dogs & Barn Canvas
Your friends will surely fall in love with this Thanksgiving wall art at their first sight! Moreover the canvas they present them is one-of-a-kind because you are able to personalize the name, the pickup color and many other details. Just jump right into the product link below and you will see. 
Click here for Product #1 info >>>
Click here for Product #2 info >>>
2.4 Farmhouse Thanksgiving Canvas Prints
In case your friends are into still-life artwork, then you don't want to miss out one these stunning farmhouse Thanksgiving canvas prints. With vibrant colors and meticulous detail, they will bring a sense of the festive vibe into your friend's home.
2.5 Wooden Wine Rack
How about helping your friend display all of the wine they are gifted with a gorgeous rack. This decorative item is not only practical during the seasonal occasion but also can be used throughout the year. 
2.6 Cozy Fleece Blanket
You'll love this fleece blanket as a cozy gift for your friend. It may help them soften up any spot in their home and can be wisely used as a unique home decor. They can spread it out on the sofa to make their seating less boring. 
Here is the Product #1 and Product #2 info, respectively.
2.7 Thanksgiving Mason Jars 
Surprise your friends with this couple of Thanksgiving Mason jars. Additionally, mason jars are usually grouped and displayed as the centerpiece. Simple yet stylish!
2.8 Let us Give Thanks Engraved Block
We are often afraid of giving decorations to our friends that don't suit their home styles. But this "Let us Give Thanks Engraved Block" is an exception. It's such a perfect gift to your friend as it can be displayed anywhere in the house and match with any decorative items.
2.9 Cornucopia Wall Basket
Today, the cornucopia is widely used for Thanksgiving decorations. It's often stuffed with autumn vegetables and displayed above the mantelpiece or dining table. But what if we get a little bit creative and turn it into a wall basket? Your friend will be over the moon when receiving this Thanksgiving home decor gift.
2.10 Ceramic Vase
If you're looking for a unique way to gift flowers, place them in a fall color vase that resembles the holiday figure such as a pumpkin vase or something like that. Once Thanksgiving is over, they can move it to their office or library.
2.11 Titania Serving Platter
This serving platter sticks to the giving theme, with a pretty pattern that your friend can enjoy all year. It can be placed on the living room table, over the mantelpiece or anywhere in your house as a staggering stylistic layout.
2.12 Pine Cones Wind Chime
The comforting sounds of fall and Thanksgiving include the rustling of dried leaves and the crackling of a fire on a crisp, cool night. This sculptural wind chime is a great accent to hang from the ceiling of your friend's front porch. 
Festive enough for Thanksgiving but charming enough for all-season use, your friend will want to keep them up long after the last leaves fall.
If you want us to write more about indoor Thanksgiving home decor ideas, just leave a comment below. And don't forget to enter your name and email in the " Join our VIP list" box to access our special excluded offers.
Like this article? Try one of these next: