All the Christmas magic has gone and "what's next?" is how we all feel when the winter blues begin to set in. That's why in today's blog post, we're going to share some of our favorite winter living room decor items and inspirations. Your house will no longer feel empty after putting away all the Christmas decor. So let's get cozy for the winter!
Maybe You're Interested In: 
1. Winter Decor Ideas For Your Living Room
1.1 Mini Evergreen Trees
It is undeniable that some simple and non-decorated mini evergreen trees are the perfect decorative accent for winter! You can place them literally anywhere in your home, especially in the living room space.
1.2 Winter Farmhouse Wall Art
Farmhouse canvases are the perfect winter decoration for the home. If you have them left over from Christmas, then leave them up during winter. You can hang them on the wall behind the sofa, over the mantel or anywhere in the living room.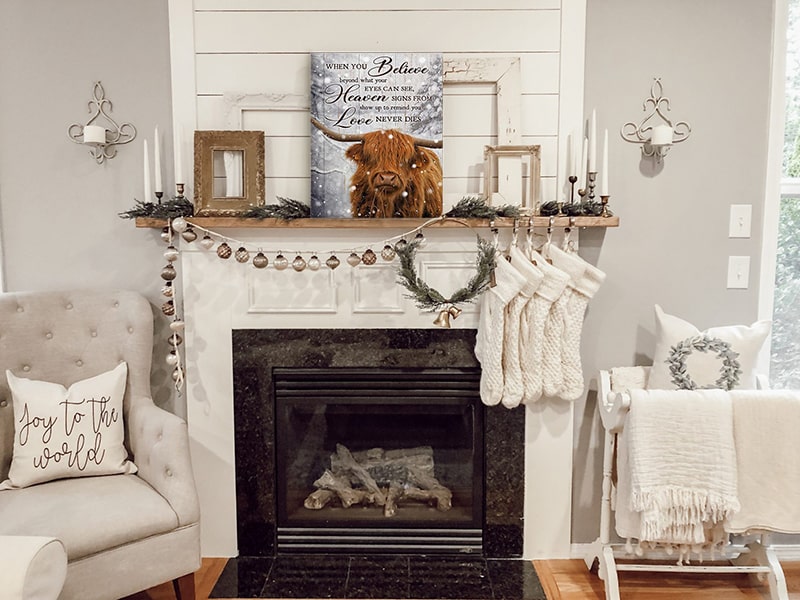 1.3 Chunky Knit Blankets & Pillows
Winter is the perfect time to display those cozy knit pillows and chunky blankets. Imagine wrapping yourself up in a cozy warm blanket and watching the snowflakes falling through the window. So sweet and cozy! 
1.4 Winter Birch Candles
Want to add some oomph to an empty space? Create a cluster of birch candlestick holders and place them on your living room table or side table. Their cozy light will make your farmhouse feel welcoming and inviting.
1.5 Utilize Natural Accents
Winter is a good time for you to hibernate inside your cozy home sweet home. But if it's too cold and you can't go outside even though you'd want to, you can bring some natural elements inside like pinecones or birch branches.
1.6 Faux Fur Accessories
Nothing suits the winter atmosphere more than the white fluffy rug. This material will create a warm feeling under your feet. Layering lots of faux fur pillows and throws sounds like a perfect idea too.
1.7 Winter Centerpiece
Decorate your living room table with a winter centerpiece like this one. A rustic, wooden tray is filled with mercury glass candlesticks, a planter filled with faux greenery, pine cones in a small ceramic basket, and white pillar candles for a wintery, peaceful, and beautiful vignette.
2. Rustic Winter Living Room Inspiration
2.1 Winter Perfection
These pom-pom & jingle bell garlands with the soft tones and warm wood are a calm respite after a bustling holiday season. It feels more Winter than expressly Christmas.
Click here to discover Product #1 and Product #2
2.2 Farmhouse Winter Living Room
Winter decor doesn't have to be over the top at all.  A few small changes and you have a fresh blank slate for the season. You really don't need to go all out, but by adding a few new touches, the room feels very different.
RELATED: 15+ Awesome Sunflower Kitchen Decor Ideas To Liven Up Your Space
2.3 Winterize all the way
The nice thing about decorating for winter is the use of bright and fresh winter colors like white and and icy shades of blue. These colors create such a cheery and light space.
2.4 Cozy Winter Haven
This simple white curtain is a great way to add just a hint of pattern around the window and also tie in with the gray fabric on the chairs. It will let so much beautiful sunlight flood your living room during the day, which makes the whole space feel light and happy through this gloomy winter.
2.5 Minimalist Twist
With a few accessories, you can still create a comfy, cozy room that is welcoming and so comfortable you will never want to leave it. With the cozy rug, fur throws and pillows, all make for a warm winter look that you can enjoy over the winter months while relaxing on the sofa, sipping a cup of coffee with the fire going.
2.6 Simple Winter Living Room
As you head into winter, less is more. That's the rule. Let's say goodbye to red – a classic Christmas color by simply removing all traces of it. This will instantly transform your space into a cozy winter vibe.
"The winter decor in the living room is full of simple items that make a big statement."
2.7 Rustic Winter Living Room
To winterize your space, you can add some cozy plaid pillows and a cable knit pillow for cozy texture to the couch. For the centerpiece, a round tray filled with garland and some mercury glass candles are all you need for a simple coffee table centerpiece.
3. Cozy Winter Living Room Decor Ideas 
3.1 Snuggle In The Coziness
Looking at this rustic living room, we think you are ready to snuggle in and enjoy winter! After the "fullness" of Christmas, a little bit of a more simple look on your space will be a good idea. You'll love the buffalo check which certainly levels up the whole look. 
3.2 Green And White For Winter
This bright, cheerful and cozy living room will guard you through the long cold winter days. Let's enjoy several days full of sunshine too after so many rainy days and weeks.
3.3 Neutral Winter Home Decor
Winter and spring decor can totally live together in harmony. The living room below is an example. Let's incorporate wool, faux fur, sweater knit, mohair, velvet and any other soft, warm throw pillows and blankets to curl up with by the fire. It's the perfect nod to winter!
3.4 After Christmas Living Room Decor
When packing up the Christmas decor, it's a good idea to keep out some of the less Christmas-y winter decor. Things like greenery, twinkle lights and plenty of candles.
3.5 Bright Winter Living Room
This living room looks so warm and soft. It enchants you to snuggle up on the sofa with your family members and read a book! So nice to have a cozy space to retreat when it's chilly outside.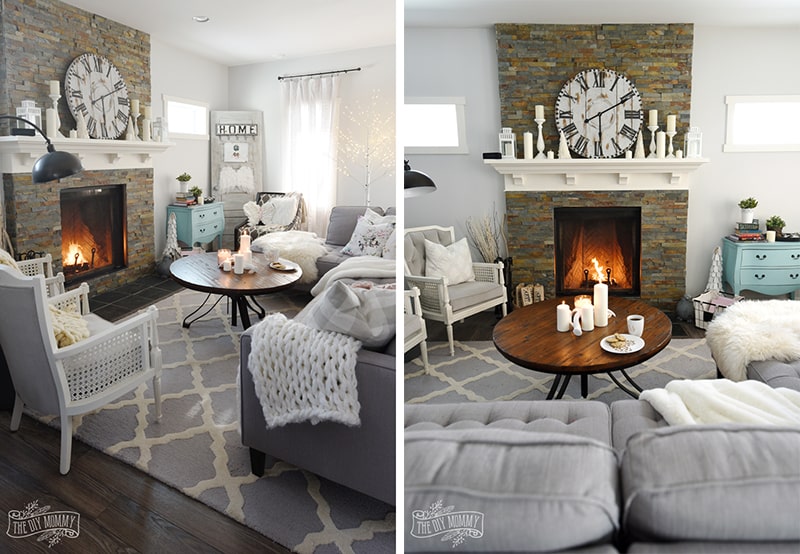 3.6 Winter Wonderland With Twinkling Lights
You can still go overboard even though the Holidays have gone. Why not generate a festive outdoor atmosphere in the heart and soul of your home? It's OK to cling to this once-in-year decor!
3.7 Minimal Winter Living Room
Let's keep my home decor simple, natural and minimal by incorporating a lot of black and white, wood tones, jute and wicker for the winter season. A cozy knit blanket, thrifted pottery and pine cones will round out the decor for your farmhouse living room.
So that's what we want to share with you in today's blog post. If you want us to write more about farmhouse Christmas decor ideas, just leave a comment below. And don't forget to enter your name and email in the " Join our VIP list" box to access our special excluded offers. Wishing you a happy-cozy Winter!