What is the trending fall home decor in 2022
? We think that regardless of autumn decor ideas for farmhouses, the theme of all these home decor item trends this year is creating a space where we can relax, recharge, feel comfortable and warm.
Because of going on pandemic-wise in 2022, it's better to spend more time at home. Therefore we might as well make our home look beautiful this fall and enjoy time for our family. 
1.Trending Autumn Color Palette
Autumn is always the season with the most diverse color palettes from warm to cold. Autumn color palettes always delight us when admiring all angles and the dramatic change of nature and trees. Looking up at the foliage that is gradually changing color, from green to yellow-orange, and then turns earthy brown when it leaves the branches brings a lot of emotions.
When it comes to farmhouse style, the typical colors of this style are milky white, cream, wood brown, and pastel colors. Therefore, when it turns to autumn, if you want to refresh your home, just add bold autumn color palette items or furniture to have a satisfactory fall farmhouse space.
Small accessories like a new pillowcase, throw blanket, pumpkin, or corn be popular and easy to find items this fall. However, you should not add too many outstanding items in a room because it can be distracting and not beautiful. Instead, arrange these accessories in a reasonable way, with bold and light and a clear layout.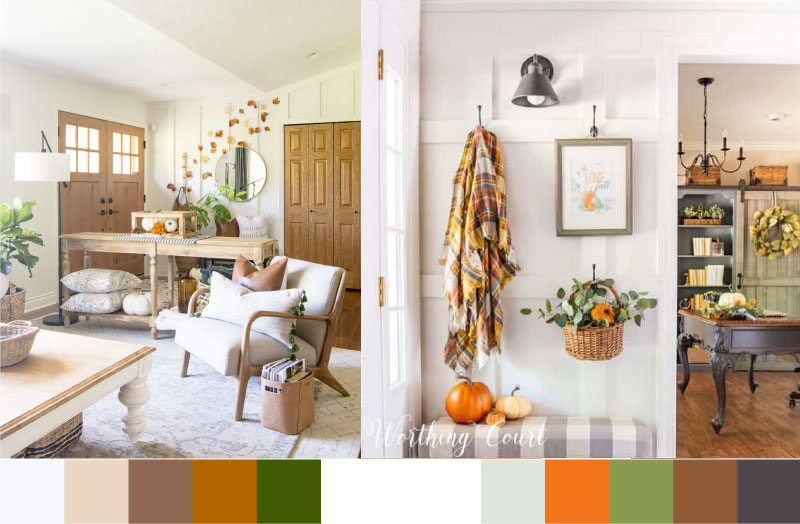 MAYBE YOU LIKE: All Of Me Loves All Of You – 2022 On-Trend Happy Anniversary Quote
2.Fall Decorating Items For Farmhouse Room
Browse this gallery for autumn decor ideas, best fall color combinations, and items to cover your home in warmth all year round.
2.1.Add Colorful Painted Pumpkin For Halloween
Give your farmhouse home an autumnal air with fresh colorful painted pumpkin arrangements. You can show off your creative side with colorful arrangements with pumpkins, paint, and seasonal flowers. These arrangements can serve as centerpieces for your upcoming fall gathering or upcoming Halloween festival.
Pumpkins are appropriate for both fall and Halloween displays so we may utilize them as home decorations in upcoming times. If you're looking to connect to family members closer together, consider painting pumpkins. It's the perfect project for your family to enjoy and a fun way to show off their creativity. 
Don't leave your farmhouse walls empty this fall harvest season. This simple yet beautiful pumpkin truck wall art is an ideal addition to any home or room. Nothing unique and impressive in autumn home decor like a pickup truck filled with pumpkins. 
2.3.Fill Autumn Feeling With Fallen Leaves
It's not early to start thinking about autumn decor ideas for your home! Besides preparing for your favorite fun activities in the fall, you need to have a decorated perfect home first. And, there's no easier way to spruce up the inside and outside of your farmhouse home than with a few DIY leaf crafts.
The only autumn is a great time to collect dried leaves and turn them into amazing decor items. During this time of the year, leaves have beautiful colors and they would really be lovely as pieces of decorations for the home. Well, we cannot miss these creative handmade leaves, they are not hard to make so you can easily make one for your own fall decor. Let's explore this!
READ MORE: 10+ Amazing Living Room Furniture Layout Ideas in 2022
2.4.Cover The Sofa With Warm Blankets
Are you ready to slow down and spend more time at home? Unlike hot summers, autumn is a cool and chilly season. We all have a little passion inside of us for spending time at home and watching movies all night. So, we bet you cannot resist the allure of these soft yet warm throw blankets.
There's nothing better than changing into your pajamas, lighting a scented candle from heaven, turning on a relaxing movie, pouring a glass of red wine, and curling up on the couch with the softest blanket on a fall night. Trending blankets in 2022 are the more comfortable the better, so we recommend choosing one that's made from cotton, bliss, fuzzy, fleece which are the most comfortable blanket materials in our experience. 
To make your home warmer in the last months of the year, we have a few color throw blanket ideas for you and your sofa. There are a wide variety of colors to choose from but it is perfect to get bold burnt orange, grey, earthy brown, wine red hues, they can make your room impressive in autumn.
2.5. Can't-Miss Dried Corn Wreath
You don't have to spend a lot of money or be a professional home designer to make your home look the most perfect in the fall. As long as you are enthusiastic and creative, you can turn these corns into a beautiful wreath for your farmhouse wall. 
You can easily get corn from supplies or your farm. Do not forget to drape this garland outdoors to dry them. Then, twist eye hooks into the tops of corn cobs, then string the corn along with a piece of sturdy twine, alternating cobs with husks looped over the twine and glued together. And TADA you got a wonderful dried corn wreath for your autumn farmhouse.
2.6.Light Up Your Farmhouse With Candles Instead Of Lightings
A romantic fall night idea for couples with these simple warm candle decorating, most candles are easy to purchase locally or online shop.
One of the simplest fall candle decorating ideas is to use candles you already have in your house and arrange them with candle rings. Find something such as fallen leaves or acorns to match your fall decor.
2.7.Add Some Acorn Accents
Acorns are natural treasures in the warm colors of autumn and offer a pleasant and warm feeling. You can add acorns to jars and beautify them by twinkling lights, candles, wooden pieces, or fall leaves,… 
Glasses, acorns, tea, and candles arranged around the dinner table are creative and charming fall decorating ideas.
2.8.Redrawing Your Farmhouse Chalkboard
Autumn marks the start of the holiday entertaining season making it a great time to get your beloved home setting updated with new farmhouse chalkboard wall decor. Redrawing chalkboard and adding some fall accessories around. 
What better way to greet your beloved autumn season than with a board simply stating, "hello fall."  Another idea, the farmhouse chalkboard draws the eye and shows a warm feeling that can be set in front of the white shiplap wall or above the fireplace. Cute mini orange pumpkins and rustic pine cones mingle with more greenery in the pretty harvest-friendly garland that graces your home gorgeous.
2.9.The Orange Rugs Are A Great Accent
Styling for your fall home can be really impressive and warm. Change out your old rug into a fall color rug to anchor your home with a seasonal color such as an orange one, we are sure instantly your room feels richer and bolder.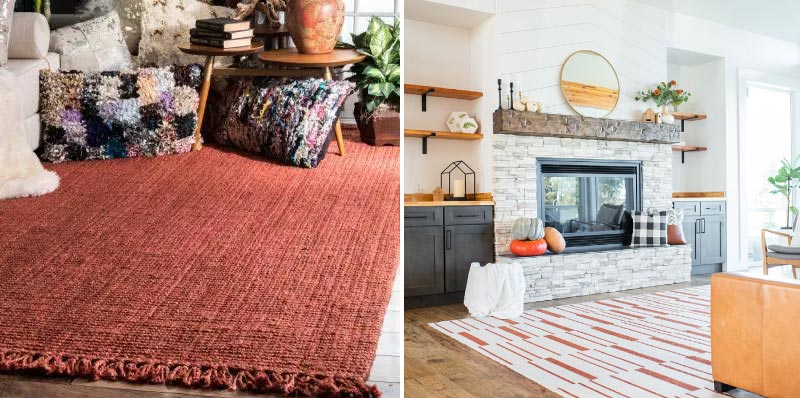 We're not sure if you'll want to go outside this fall, so we've created the ultimate nature canvases to see them even at home. This is a customized canvas wall art, you can replace the background with any photo you want. The fields, the forests, the roads in autumn are always so beautiful and now you can fully admire them through this fake window canvas.
As the leaves start to fall, it's time to start preparing the house for autumn and the Holiday season. We collect a list of autumn decor ideas for farmhouses to help inspire you this season. We hope you love it and enjoy the time to prepare for the fall of 2022.