Are you sometimes confused about putting on your bathroom wall to blow a rustic style into it? Or do you want to incorporate a natural theme into your bathroom but aren't sure where to begin? Check out some rustic bathroom wall decor ideas below to freshen up your room. It makes your room look unique and filled with a style of your own. Hope you can find some intriguing inspirations. 
1. Rustic Bathroom Wall Tiles
A wallcovering has a significant impact on a room's general appearance. The materials and colors you select might assist you in achieving the aesthetic you desire for your home. The fact may go the same with rustic design. If you want to decorate a rustic bathroom wall decor, you can choose some materials with a sense of nature.
For example, you can select stone wall tiles that help to create a comfortable and warm space for the bathroom. However, if you love this design but don't want to feel too "heavy", you can opt for stone paving for one wall and the other walls using brighter other materials as well as colors. Wood will be a good option for you. There are various designs and colors. You can pick a hue that matches your style, whether it's dark or light. This rustic style brings out the art of cozy natural textures and surroundings. With rustic wall covering helps you feel closer to nature and adds space in the bathroom to look more luxurious. 
2. Rustic Bathroom Wall Panels
Suppose you are unsure about the rustic wall coverings above or don't want to spend extra money for your bathroom decoration by using rustic wall tiles. Or improve your bathroom without changing the fixtures or the flooring. Then, wall panels are born for you.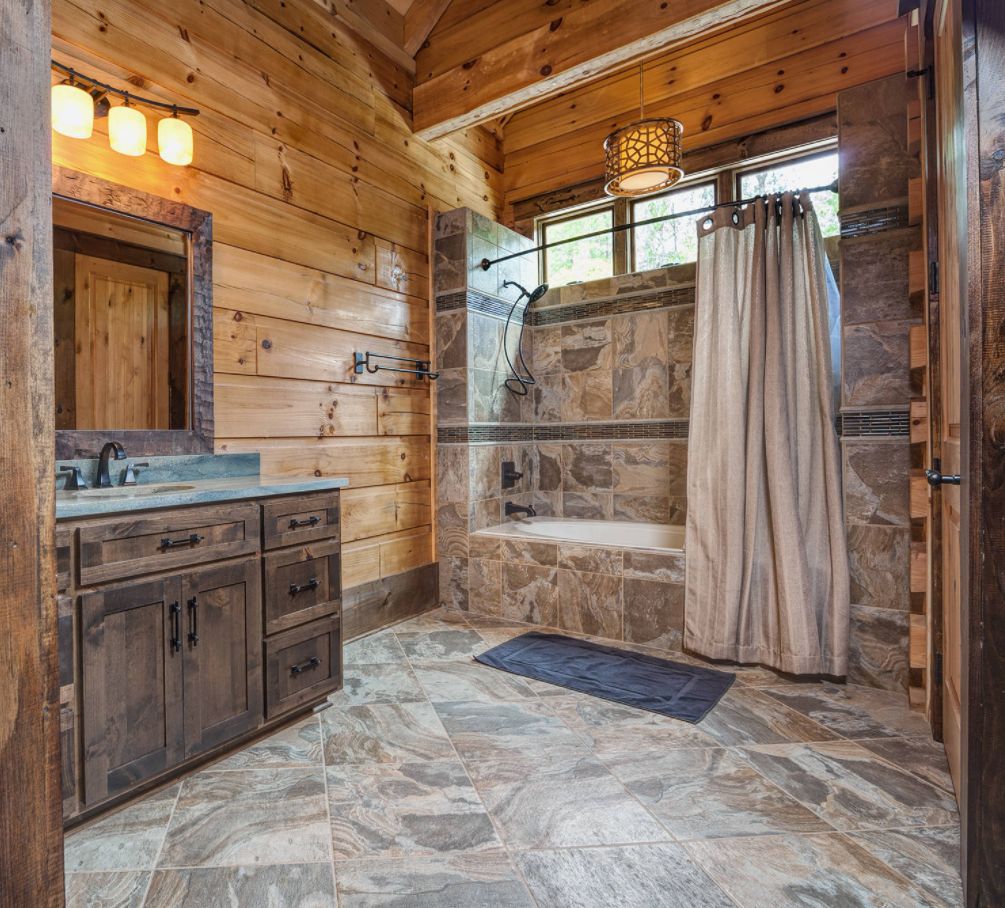 It is not only affordable but also brings a rustic theme to your bathroom. There are various designs for you to pick out depending on your favorite color, maybe dark or light. But watch out! to avoid moss reproduction, keep your wall panels free of water splashes and maintain a dry environment. And keep your bathroom as dry as possible.
3. Rustic Bathroom Art
The next suggestion to decorate the bathroom wall often left blank is to use some pieces of bathroom canvas artwork. Similar to the decor in the living room or bedroom. To make the bathroom look more natural and warmer but no longer boring, try to add some bathroom canvas wall art. The bathroom will become livelier and colorful instead of monotonous and tedious like its original look with empty walls.
WATCH: MORE BATHROOM CANVAS WALL ART HERE.
Wall paintings provide a large aesthetic impact without taking up a lot of space. Hang canvas art with encouraging quotes in your bathroom to lift up your mood and motivate you to have an effective day. Make every day you wake up a new day to be joyful and meaningful!
4. Wooden Wall Shelves
The bathroom usually doesn't have much space. That's why a popular way to expand the storage area and decorate the room without taking up too much space is to use some wall shelves. You can use them to arrange items such as spare toilet paper, some decorations,… As a result, the bathroom will look cleaner and tidier.
Besides, you can add some tiny plants that act as decorative items, as well as an air purifier to ventilate your bathroom. Thanks to this small detail, it can make space look fresher, cleaner, bring relaxation, and unwind yourself when you look at this plant. 
5. Rustic Bathroom Mirror 
Mirrors, in particular, can brighten any space. It creates luminosity and dimension, offering the deception of more space and hence making your room visually expand. Thus, if the room is small, this way will help extend the room outwardly.
That's why using mirrors is one of the ordinary and effective ways of interior decoration. In addition, wood-framed vanity mirrors will add some roughed-up charm and rustic-themed in your bathroom. Thus, making it become a focal point of the room. 
6. Rustic Wall Signs
For the bathroom, we can distinguish its presence from other rooms by bathroom signs. Just hanging a bathroom sign on the bathroom door will make a room look more stylish and eye-catching.
Additionally, a bathroom rules sign is also a perfect option as it's a good reminder for your kids, your guests, or whoever enters this place to wash their hands clean after going out. Finally, we should be more serious about keeping our hands cleaner to protect ourselves from bacteria, viruses, …especially while we are amid the pandemic.
7. Rustic Wooden Towel Rack
People usually tend to skip small details, but just one small point can bring intriguing results that you can not predict. That incredible thing is a bathroom towel rack. It is good to hang up some hand towels or wet items to make the bathroom look tidy.
Besides, the great towel rack is not only suitable for the bathroom but also works well in the kitchen.
8. Mason Jar Organizer Set
Mason jar organizers are a great way to arrange your bathroom. They're an excellent way to keep your counters clean.
You can put your personal items such as toothpaste, toothbrushes,..on the mason jar organizers to make the bathroom look more organized because they're mounted directly on the wall. fantastic candle holders or plant small flowers can also be made from these if you want to  create a special atmosphere in your bathroom
9. Rustic Bathroom Light
Last but not least, utilizing natural light is an excellent approach to bring in fresh air and create a pleasant environment in space. It makes the bathroom look not too dark but still comfortable.
With a rustic bathroom, lighting may be an excellent complement to your country-style bathroom, not just for lighting but also for bringing parts of the outside things into your bathroom. Plus, it will add warmth and a rustic tone to your space.
Hopefully, the options provided here give you some fantastic ideas for rustic bathroom wall decor. Don't forget to click and follow our website to get more helpful information and ideas that you'll love.
Check out our latest blog posts to get more farmhouse decorating ideas and tips for your home: