The idea of decorating your home with sunflower wall decor is like the sun and reminds us that every day is a bright day. 
Not only is the sunflower beautiful, but it also inspires humans to live and become the happiest flower among others. They give positive energy to those around them. In addition, such beautiful flowers also mean happiness and luck. It will brighten your home and make it fun every day.
Furthermore, sunflowers can be the perfect source of inspiration to upgrade your home. You can find many ideas for your home decoration with our suggestions below.
Let's dive on to.
1. Sunflower Wall Decor Wreaths
Add some farmhouse style to your home on a budget with some DIY ideas. There are many sunflower handcrafts you can make yourself, one of which is the simplest one to do is the sunflower wreath. This DIY sunflower idea is perfect for summer or early autumn decoration.
Sunflower wreath suits for hanging above your fireplace. Place it on your front door or a living room wall. It is also perfect for decorating parlors, bedrooms, offices, dining rooms, birthdays, and others. Vibrant sunflower blooms will brighten your front door and bring an enjoyable ambiance all year round.
2. Sunflower Farmhouse Basket Wall
We found the inside entrance to your home and the living room to be a great place to set up a basket of sunflowers to welcome people to your home. The walls or doors of your house can also be decorated with a basket of sunflowers that adorn the empty walls. 
You can combine them with other flowers for example mums in the autumn and the beautiful look is ready. The amazing accents could be if you take the sunflowers and place them in the center, stand out with their vibrant golden hue. 
3. Sunflower Canvas Wall Decor
Do you want to bring Sunflower artwork into your home decor? There are many ways to do that but one quick affordable method would be by using canvas paintings. It provides you with an instant cheerful canvas across one or more walls. And we can show you the sunflower canvas collections below.
The family room or living room is an entertaining area decorated with sunflower prints. Because of its large size, this would be a great room to include accent wall decorations and other beautiful interiors. Either above the fireplace, behind the sofa, or wherever you want to be the room's main focus, hang a large and impressive picture of sunflowers on the wall.
In addition, sunflower canvas paintings can be hung in the bedroom, kitchen, bathroom, and especially the workspace to inspire people whenever they see them.
MAYBE YOU CAN BE INTERESTED IN: 
4. Sunflower Wallpaper 
Sunflower wallpaper can utilize the refreshing warmth of summer and the freshness of spring in your home. It uses brilliant splashes of colors that will suit your taste and a sunflower pattern that will look good in most rooms. We will ensure that all the attention in the room gravitates toward it.
Sunflowers' giant floral patterns will cover all the walls of your home. You will even feel like you are sitting in a sunflower field. This wallpaper is easy to install; just soak it, stick it on a smooth surface, and then you have a piece of art right in your home. This mural will beautify any space and cooperate with different furniture arrangements, both modern or country.
Sunflowers are both delicate and casual and are often found in vast fields, sparkling in bright sunlight. Even though it is a popular flower, these do not make it any less special. It can bring a happy and fresh feeling to your room, catch the attention of anyone the first time you see it. That's why having a sunflower garden indoors gives us so much motivation.
5. A Painted Sunflowers Wall Decor
Great artwork painted in the living room, bedroom, kitchen, or bathroom – places where sunflowers will look very shining. Painted wall art, for example, is a perfect idea for those who love bright colors and alive interiors. Sunflower pictures painted on the wall would make a nice finishing touch for your home.
Let's take a look at some ideas that will give you creative inspiration!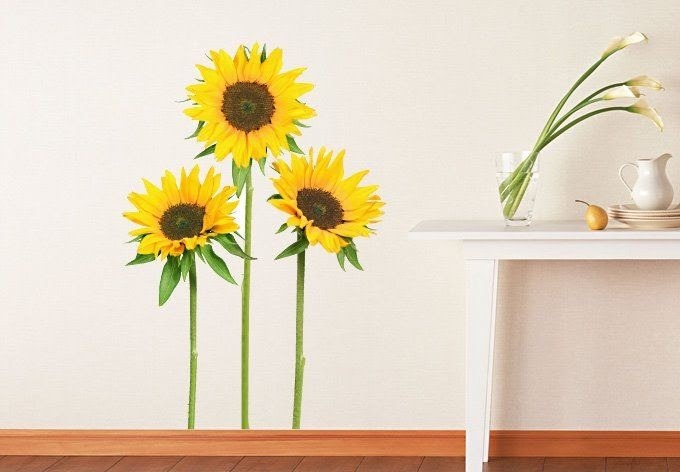 6. Sunflower Gallery Wall Picture 
If you want to breathe new life into a tired old living room, the great idea is to start with an impressive sunflower gallery. This set of beautiful flower-shaped products is assembled from many frames to create a unique and creative picture. 
Related: 7 Indispensable Furniture Items In Farmhouse Living Room Ideas
7. Sunflower Blanket/ Sunflower Tapestry
Sunflower bedroom decor ideas are realized with a wonderful, fantastic blanket or tapestry. When it comes to flowering blankets or tapestry, a large and bright sunflower is an incredible creation. Besides, you can also combine many small sunflowers and hang them on the head of the bed, creating an inspiring space. 
These beautiful tapestry wall hangings celebrate the beauty of the sunflower in a way that no other art form can quite match. The cotton threads' warmth combines with the sunflower yellows' richness to create a wonderful tapestry that any sunflower lover will adore.
8. Sunflower Stickers Wall Art 
If you do not want to decorate your wall with large wallpaper or paintings, you can think of sunflower stickers. It comes in a full range of sizes from small to super large. These stickers can add a fun and colorful touch to any room. Furthermore, if you get bored, you can remove the sticker and replace the other one without any difficulty.
9. Sunflower Clocks – Sunflower Wall Decor Ideas
Hanging a sunflower clock on a bland wall can create a focal point for a guest when entering your room. It can be a great classic way to see the time.
Sunflowers' colors are usually vibrant and strong, so there's the perfect combination of three colors that will suit any room decoration, including yellow, beige, and deep brown. You can combine these three shades of color to create original autumn sunflower decorations for your bedroom, living room, or kitchen to look trendy and impressive.
10. Sunflower Lights Wire 
Sunflowers are popular right now. Sunflower lights wire, with real sunflowers and small bulbs, incorporated in the design will help carry for you a great bedroom.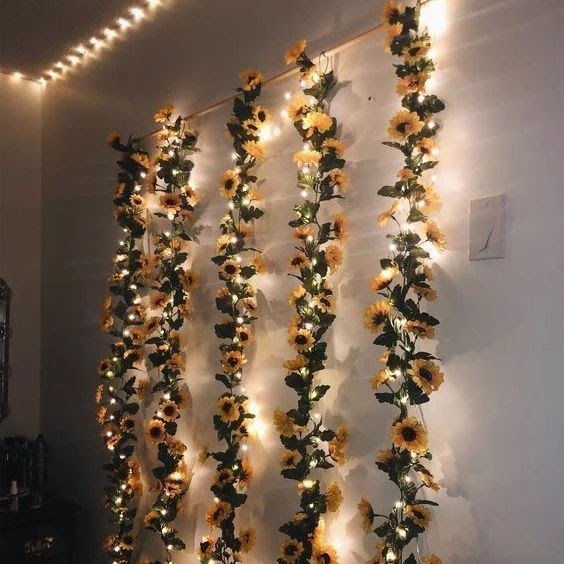 Your sun wall decor to the smaller wall spaces in your room with a grouping of lights. When enough space is available, including a mirror or wall clock in the grouping adds an extra touch to the room. Just make sure the home decor accessories have the same style and feel, whether casual, country, traditional.
Hopefully, the ten above sunflower wall decor ideas will help you have an aesthetic, impressive, and unique house. Do not forget to leave some good ideas that you have for everyone to refer to.