If you are unsure which farmhouse decorations to buy to complete your living room, check out our helpful article right away.
Today we want to share the indispensable farmhouse decorating ideas that are found in the typical farmhouse and modern farmhouse style homes. Many decorations come from real objects used on the farm, but if you didn't grow up on a farm, you might not know which essential interior to choosing for your living room. Don't worry, we are here!
1. Wooden table
One of the most important pieces of furniture in a farmhouse living room is a wooden table. It works in all kinds of interiors because they are practical and simple. In fact, the definition of a wooden table is simply a table with four corner legs and skirting, it doesn't get much simpler than that. There are many different types of wooden table shapes such as a round table, square table, a rectangular table, or any other shapes, you can choose the style you love and suit your living room.
MAYBE YOU INTEREST: "Every Day Is A New Beginning Take a Deep Breath and Start Again" – Inspirational Canvas For Home Decor In 2021
2. Vintage chair and couch – Farmhouse Decorations
A slipper chair and a vintage sofa are around the table to make for the greatest place of relaxation in the home. In addition, to give it that farmhouse vibe, look for something made of reclaimed or vintage material such as wood, linen fabric, or rattan. No matter what sort of room you set it in, you will get a touch taste of classic and charming farmhouse style.
3. Farmhouse canvas wall art
Canvas wall art fills the artist's soul as we see old barn through rustic windows, windmills, mason jars, and cows in canvas artwork. We are sure that hanging some farmhouse canvas pictures in your space after finding the perfect wall art you love will drive your living room unique and impressive like never before.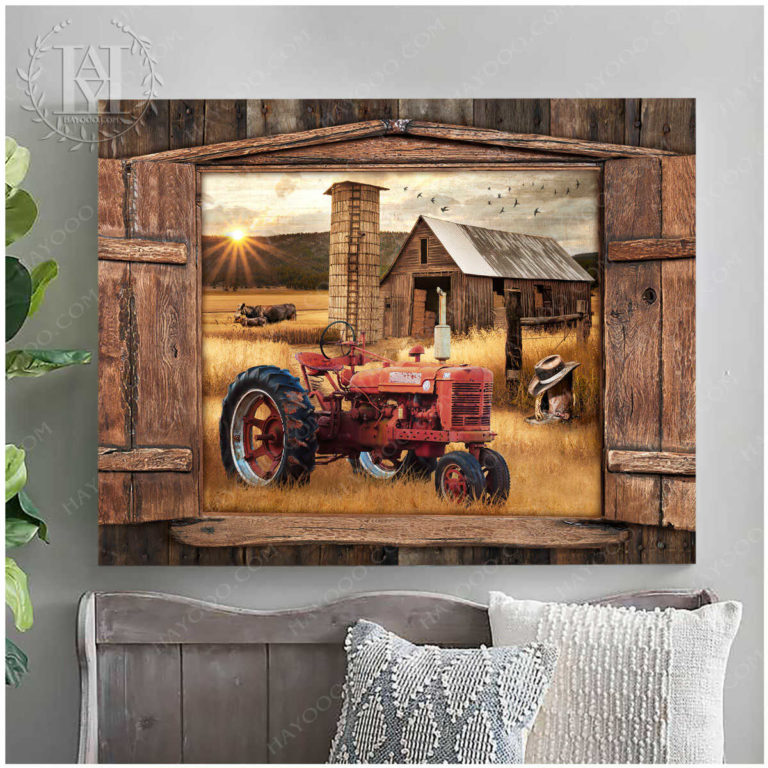 WATCH: YOU CAN FIND MORE FARMHOUSE CANVAS WALL ART HERE!
4. Farmhouse rug decoration
Using rugs is a great way to decorate the farmhouse living room. The color of rugs also depends on wall paint and interior color. Some people have one mistake in the living room when using a rug that is too small. That makes the carpet appear obscured by the furniture above it. Remember that the carpet should be large enough to include all furniture on it. Or you can choose a highlight color rug to ornament your living room.
5. Country lighting/lamp
Farmhouse style is not only a charming decoration but also cozy and chic. If you're keen on farmhouse decor but aren't sure where to start out, check out your lights. To nail your farmhouse lighting ideas, choose materials: wood, metal, and glass, and don't forget the bulbs. A strange shape or antique bulb can really make your farmhouse lighting ideas pop and provide them an impressive point.
MAYBE YOU INTEREST: 6 Steps For The Best Farmhouse Gallery Wall Art
6. Barn-door
Barn doors have become very popular in farmhouse-style over the last few years. They're really great for several reasons. Barn doors can save plenty of floor space, rather than needing clearance to open a door the way you normally would. It is often an excellent option for little rooms where every inch of floor space counts.
7. Farmhouse fireplace
When starting drawing up plans to decorate your farmhouse living room, we knew you really wanted a fireplace. There are real fireplaces if you are living in a country that has a cold winter, but there are also some nice faux versions available. You can refer to some fireplaces here.
We hope these farmhouse decorations inspired you to complete your amazing living room. If you are interested in this topic, don't forget to follow us to update more information about farmhouse decoration ideas for your home.
MAYBE YOU INTEREST: