Farmhouse decor has been a popular trend over the last few years. This blog will show you reasons why farmhouse style is so popular and its different types of decoration.
Scrolling through Instagram, Pinterest, or Facebook groups, your feed is surely flooded with shots of rustic furniture, reclaimed wood, barn doors, or vintage items because the number of people going for farmhouse decorating ideas has been on the rise recently. Here we will sum up its highlight characteristics, the reasons why people adore this "idealized version of the farm-life" and the 7 most popular farmhouse design styles.
What is farmhouse style?
A farmhouse decor, as mentioned before, is inspired by farmhouse-style homes, which can be found in rural or agricultural areas. Its main materials often come from local suppliers, this is also the reason why this style embraces rustic and friendly beauty. However, over the years, homeowners gradually evolved and transformed this style by adding more modern touch and practical furniture or decoration items. This interesting combination (with the right mixing and complementation, of course), creates the special charm for this new-yet-old design style.
Highlight characteristics
Although each homeowner has their own idea with this decor style, we can find some elements to be common in a farmhouse design. The main characteristics of decor are simple, functional, and rustic furniture.
Firstly, the simplicity of farmhouses comes from a neutral color palette and the basic material of the furniture. Besides, this kind of color theme can emphasize the rustiness of materials that build up a farmhouse, such as wooden ceiling beams, brick walls, or floor shiplap… Additionally, this style makes functionality and practically become its priorities while decorating items are placed second. To accentuate its country charm, rustic elements are essential with collected things from thrift or antique stores. With those characteristics, you need to add in some suitable furniture as well as decor items such as a barn door, wool blankets, shiplap, brick fireplace, or farm flowers to bring a country look for your dream home.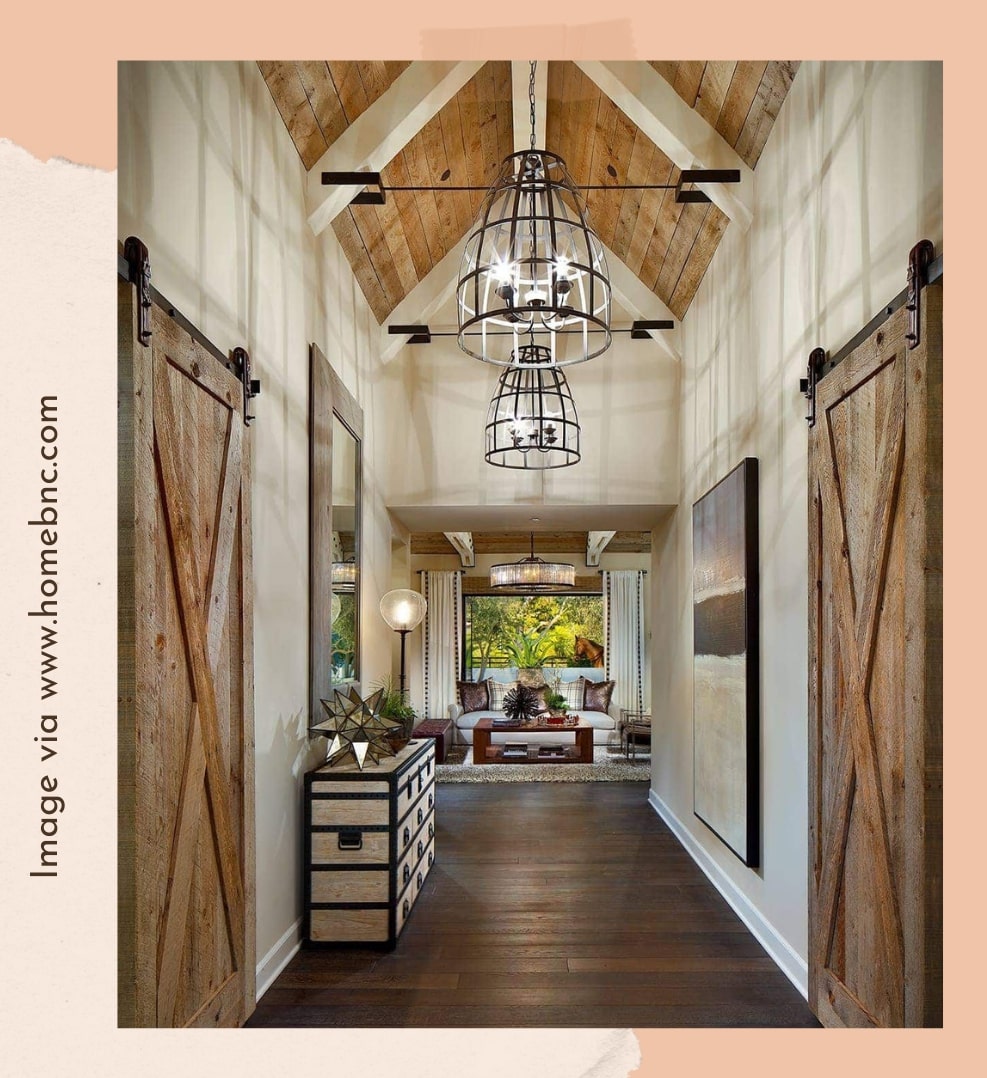 Reasons why farmhouse style is so popular
We have already noticed the rise and mainstream popularity of farmhouse decor ideas. However, the country-home style is not new at all. Why can it become a trend? While diving into the appeal of this style, you will get your own answers?
1. It brings to farmhouse a warm and cozy feeling
Have you ever been gone for a while and looked forward to returning home so much? It is quite easy to understand because we often seek comfort to find our inner peace, express and act freely. There's no place like home, right?
For many reasons, people choose to apply this style to their home, where they want to spend their spare time. But there is no denying the most attractive point of the farmhouse is its warm and cozy feeling. The rustic interior of the house gives us the feeling of soothing, inviting, and homey. It's unpretentious and approachable, which is the atmosphere most people want to create in a home for family members as well as their guests. No matter you're family, or friend, or stranger, the home is like a call "ya'll come in". Every individual can feel comfortable, become a part of the home and equally feel happiness.
In other words, it needs to feel at ease in a farmhouse. It's no coincidence that when people feel suffocated by the bustle and hustle of city life, they tend to travel back to the countryside to refresh their minds. Whether you have ever lived or visited a farm, it's a deep sense of comfort. So what is better than bringing the countryside into your home by farmhouse design?
2. You can have farmhouse style homes anywhere
Despite what you may think, you don't have to live on 100 acres of farm, own a herd of cattle, a couple of hens, or plant farm flowers to embrace the beauty of the house. Farmhouses have expanded beyond rural pastures; now, it may be on the coast, in urban cities and suburban neighborhoods. It's adaptable and can appear anywhere, as long as its owner wants to create a country charm for his or her house.
Since there are no restricted rules of this decoration concept, you can apply it in your own way. A country-style inspiration is flexible so take what you love about the farmhouse decor ideas and make your home awesome depending on your taste and ease no matter where you are.
3. It's easy to update
In the past, the traditional farmhouse was built up based on red bricks, dark natural wood, and farm animals. However, when this style has revived recently, it attaches a more modern touch. The most special update of this design is the neutral color palette, which is more feminine and calming. In 2020, the industrial flavor has shown us how gorgeous a farmhouse can be with the mix of traditional elegance with bold and beautiful colors. So with a little update through the years, you can renew your home.
Besides, whenever you want to renovate or redecorate your house, a farmhouse design makes it easier. For example, you can add some bright colors and pumpkins in your home to create a fall theme, holiday touch items for farmhouse Christmas decor, or a burlap wreath and some winter decoration items for the farmhouse after Christmas.
4. It's affordable
When decorating a home, budget is one of the most important factors we need to consider. With a limited budget, farmhouse-style homes can work well. You can find thousands of affordable decor items at Amazon, Etsy, or Wayfair. Besides, you can try some DIY projects which have detailed tutorials on Youtube. You can also utilize what you have already owned in your house to incorporate.
Because farmhouse decor ideas are all about rustic and country charm, hand-me-down items are a great way to add more antique beauty. Vintage items from thrifting stores can be super affordable but bring some special highlights to your home as well.
5. It's everywhere
Thanks to its characteristics, farmhouses are becoming a trend. Whether on local and online stores, or social media, it is easy to come by this design style. We are all exposed to these kinds of items regularly. No need to buy expensive items and can collect anything to create country charm – this style is perfect for homeowners which enjoy the decoration process. And for a good reason, this style is going everywhere, bringing a relaxed spirit and easy to replicate on your own.
6. It's forgiving
Many of you have heard about wabi-sabi, a Japanese term that represents an entire world view of how imperfections can equal perfection. This word is linked with farmhouse style somehow because this family-friendly and soothing style embrace the perfect imperfection. Let the natural rustic materials tell their own story and add a sense of history to your home, creating warmth and charm.
7. It reminds us about the good old days
When America was young, most Americans lived on the farm. The farmhouse we see today is getting the inspiration of the farm life, which we had spent our memorial childhood in. Many of us are wanting to turn back to these good old days, living the natural way, taste, and feel an all-natural comfortable lifestyle.
Embracing farmhouse style in your home can make it easier to incorporate antique, vintage items, or time-worn pieces that add so much charm to a simpler life. This feeling is what the country decor can bring to its owners and their guests. You can consider finding some vintage wall art at Hayooo shop to amp up antique accents to any room in your home with farmhouse wall decor as well.
8. It plays well with other design styles
You love decorating your home with farmhouse decor ideas. On the other side, you also adore contemporary artwork or mid-century sideboards, so how can you bring them all to a house? Don't worry, it will work! One of the charms of farmhouse-style homes is that they can play well with other design choices and styles. It's versatile and can take on different influences when mixing with a modern, industrial, rustic, classic, or traditional accent. You're free to choose from some furniture or decoration items for this decor style.
7 popular farmhouse styles
The farmhouse is known to be adaptable and can play well with other design options. When combining with some typical elements, it may bring you different feelings. These are 7 popular farmhouse decor ideas you can apply to your home.
Modern farmhouse decor is a blend of rustic and contemporary beauty of farmhouse design, which is considered the most well-known style recently. This style brings the feeling of freshness, new, clean and sophisticated. In this style, bright white theme work with dark stained wood to create an interesting contrast. Instead of utilizing antiques or rusticity, modern farmhouse plans prefer the modern touch through the white wall, shiplap, metal decoration items, or even some geometric lines (which don't seem typical, but they definitely are).
2. Rustic Farmhouse
Rustic farmhouse utilizes ruggedness and handcrafted elements which sets it apart from other farmhouse-style homes. In these farmhouse decor ideas, you can see lots of soft colors like cream, light brown, and light green. Lots of reclaimed and unstained wood are used to add weight to this look. Some typical essentials in antique farmhouse-style homes are open shelving, vintage accents in a mason jar or galvanized metal, and chicken wire too.
3. French or Country Farmhouse
French-inspired farmhouse appreciates the simplicity and the desire for decoration. In this style, the main tone is cream-to-white palettes with some pastel colors. You won't see a ton of rustic wood, instead, you'll see old worn frames that are gold or distressed-painted. You can use some special materials like marble countertops, backsplashes, or table tops; with zinc, galvanized metals, ironwork, off-white cotton fabrics, and cotton ticking stripe… will create a perfect look for French or Country style.
Well-edited is the most important characteristic of this style because it is a perfect marriage between two distinct looks. Home designers need to have the attitude that "place-for-everything-and-everything-in-its-place". The feeling this style can bring to us is uniqueness and organic minimalism. It prefers a simple form of furniture and color palette, with little decoration. While combining the two styles gives a space the retro aura, the Scandinavian elements carry the space back to modern times, truly creating a perfect mix of old feeling and new style.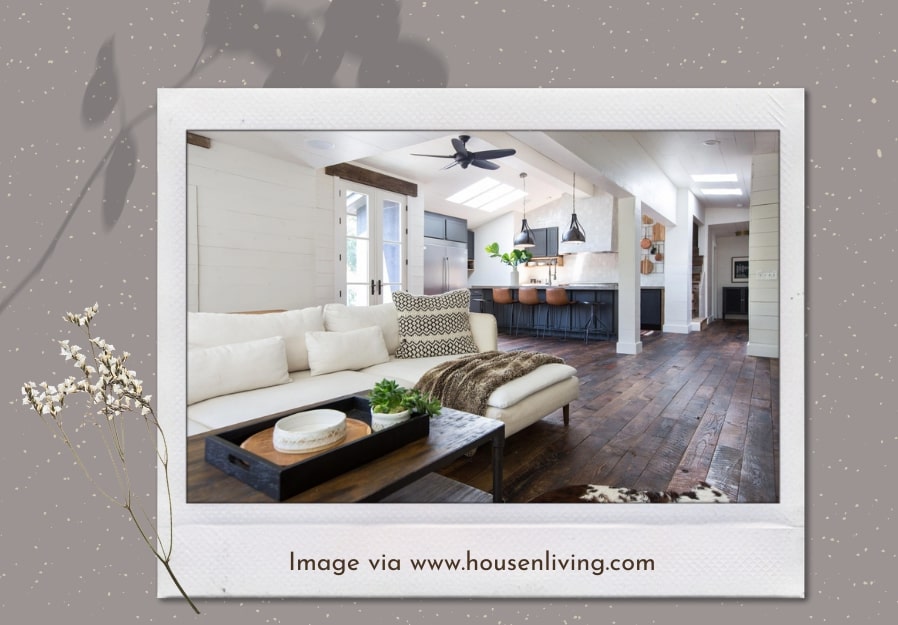 5. Coastal Farmhouse
Coastal farmhouse, which can be best described as "where the country road meets the shoreline", is very similar to a contemporary farmhouse. However, it is added a bit more decoration, especially nautical or oceanic references. Classic details millwork (doors, molding, and wall paneling) are used in the bright white and cool medium blue palette. Organic elements in the decor and artwork referencing sea life add more coastal accent to this design.
6. Industrial Farmhouse
Industrial farmhouse-style homes combine comfortable and welcoming farmhouse style with edgy factory lines. Don't put anything too fussy or fancy in an industrial farmhouse. This style will just fit with a warm palette that comes from rustic stained woods, with lots of black accents set against off-whites. About decorating, you can use industrial lighting, modern stainless steel appliances, industrial metal cart, and vintage industrial furniture to complete the look for your home.
7. Bohemian Farmhouse
Bohemian farmhouse (which is also called a Boho farmhouse) is a twist on this style when combining the welcoming vibe of traditional style with the bright and spirited accent of Bohemian decor. You can see Moroccan/Bohemian/Aztec/Native American patterns in the mix with old baskets, hats, throws, or old guitars. In this style, weathered wood is a key feature. Bright colors such as blue and orange with houseplants and a dreamcatcher will be perfect if you adore Bohemian farmhouse and wish to bring it to your home.
What farmhouse style are you? If you want to explore more ideas about farmhouse decorations, check out our blog here. Or if you don't want to miss our exclusive offers for only VIP customers, leave your email in the VIP register box at the bottom of this page. And welcome to the party!

May you like these blogs: