It's that time of year again—time to put up your Christmas things. So if you're on the hunt for the perfect house decorations, then consider this roundup of essential indoor Christmas decor by room. We bet these recommendations will give a festive flair to your space!
1. When Can Christmas Decorations Put Up & Come Down?
1.1 When to put up
Even though people often debate about the right time to do this, there's no right or wrong answer. It may depend on traditions and beliefs.
1.1.1 Once upon a time
During the Victorian period, people traditionally decked out Christmas trees much later in December, often on the afternoon of Christmas Eve. Today, there are a few that follow the older tradition of setting up the tree on Christmas Eve.
1.1.2 Straight after Halloween
For some, Christmas decorations usually go up as soon as Halloween ends on 31st October, and so Christmas lovers embrace 1st November as the start of the festive season and begin decorating their home at this time.
1.1.3 Straight after Thanksgiving or earlier
Kimberly Brown, living in Pennsyltucky, said that "Usually the day after Thanksgiving or sometime that weekend, I start to decorate my house. I think that's fairly typical, at least here."
DISCOVER: MORE CHRISTMAS DECOR
But there are some people in her neighborhood who start Christmas decorating as early as October. She thinks that is a little bit excessive. "I have also seen some Christmas lights and decorations on the outside of a few houses in my neighborhood in the past few weeks before Thanksgiving Day, but those are outliers. The norm seems to be shortly after Thanksgiving" said she.
1.1.4 The 1st December
Many decorate their home for Christmas and put up the tree as soon as it hits the first day of December. Normally, the tree survives for at least four weeks with proper care. Therefore, people say if you purchase and deck out the tree earlier than 1st December, the beauty won't last long until Christmas Day. 
1.2 When to take down
Once Christmas Day and Twixmas* passes, attention often turns to tidying the house and packing up the tree, including decorations (such as wreaths, lights, and garlands) and cards. So when is the best time to take your Christmas tree down?
*Twixmas is the relaxed period between Christmas and New Year (27th-30th December)
1.2.1 Twelfth Night
Dating back to the 4th century, Christian tradition marks Twelfth Night, the end of Christmas, and the Eve of the Epiphany (Christian feast day), as the time to take down your Christmas tree and pack away your decorations again.
Twelfth Night falls on either 5th or 6th January 2022. And be careful! Leaving your decorations up after this date is thought to bring bad luck.
1.2.2 New Year's Eve
There is another tradition that you should take your Christmas tree down on New Year's Eve (31st December) before midnight. For the superstitious types, it is thought you may have bad luck in the New Year if you keep your tree up longer than this period.
1.2.3 What other people say…
Monica Anne, in Hamilton, Ontario, didn't take the tree apart and store it in the basement since her husband Wayne died of Parkinson's Disease. She just left it staying up in the living room. The thing is she redecorated the tree as a Valentine's Day tree, St. Patrick's Day tree, Easter egg tree, May Day tree, Canada Day tree, Thanksgiving Day.
Katie Bekei enjoyed her decor a lot and even left them on longer. "Winter can be a gloomy time, especially in January and February, so I tend to leave the decorations until the mood strikes me, or till enough sunlight comes out on a regular basis."
As for when you should take them down, there's no hard or fast rule about it. Take them down when you're ready, or just do it in stages so it's not that much of a shock, especially if you love Christmas.
2. Indoor Christmas Decor Checklist By Room 
2.1 Christmas Living Room Decorations
2.1.1 Christmas tree
The Christmas tree is the focal point of Christmas decorations in the home. It's where everyone gathers on Christmas morning to see what Santa brought. Here is a list of decorations we've rounded up to make your tree more festive this year:
Ornaments

Ornament Hooks

Tinsel Garland

Tree skirt 

Snow Blanket

Tree flocking

Candy Canes

Tree Topper
A tip for you: If you have decided to flock your tree this year, set up outside or in a space that is large enough to allow you to easily move around the tree. Work from top to bottom, coating small sections at the time to ensure a more natural-looking appearance.
2.1.2 Christmas Canvas Prints
2.1.2.1 Christmas Canvas With Meaningful Quotes
It's the most wonderful time of the year. So to get in the spirit, why don't you hang a Christmas canvas with meaningful quotes? It will double as great Christmas wishes to send to your family and fill your heart with joy.
Here are Product #1, Product #2, Product #3 and Product #4 info, respectively
2.1.2.2 Faux Window Christmas Canvas
Who doesn't love the beauty of winter through your windows? Sometimes, though, it's nightmarish on sub-zero mornings. This is when a faux window Christmas canvas can save your mood during those days.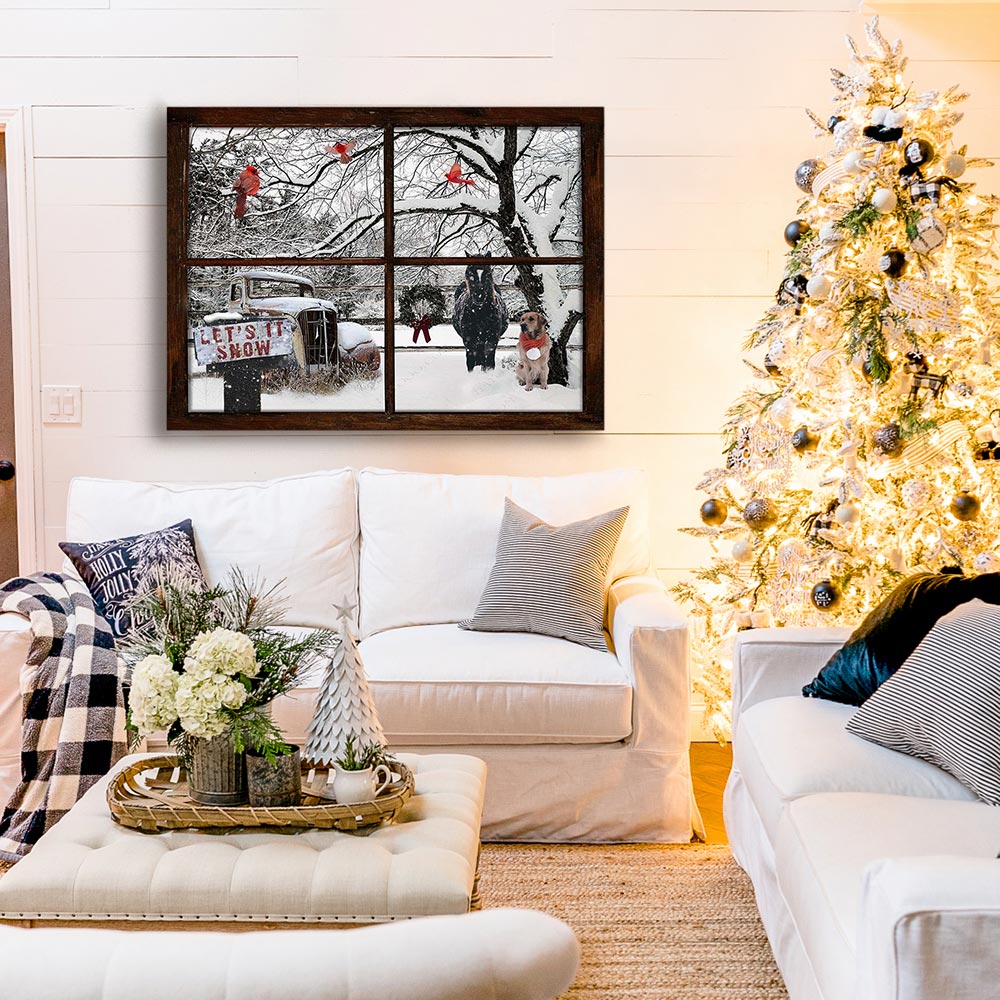 Click here for Product #1 info >>>
Click here for Product #2 info >>>
Click here for Product #1 info >>>
Click here for Product #2 info >>>
2.1.2.3 Christmas Canvas With Red Pickups
Red pickup trucks are always associated with Christmas Day. It is true that everywhere you went growing up, you'd see imagery of vintage red pick-up trucks on Christmas items.
The truck scenes are nostalgic and bring to mind a delightful trip in the snow to get a Christmas tree. So it sort of represents an idyllic time, even if it's in our imaginations.
Click here for Product #1 info >>>
Click here for Product #2 info >>>
2.1.2.4 Night Scene Christmas Canvas
Christmas Eve is the most important moment of the festive season. That's why it would be a great idea to hang a night scene Christmas wall art in the living room over the fireplace or maybe near the Christmas tree. The excitement really peaks when the night comes. 
Click here for Product #1 info >>>
Click here for Product #2 info >>>
2.1.3 Christmas Teardrop Swag
Decorative Christmas teardrops are a perfect alternative to a long garland or a traditional wreath. If you are sick of hanging the same wreaths all over your windows and mantelpiece, let's go for Christmas teardrops. They bring the similar vibe but are way more creative.
2.1.4 Nature accents
Elements like evergreen, cranberry, and pinecones are the perfect natural elements to add to your Christmas decor. If you're lucky enough to live in a rural community, then you can find these decorative items outside for free! 
2.1.5 Santa Claus And Reindeer Figurines
Every home should own at least one Santa Claus figure. Santa Claus is a central figure for kids who celebrate Christmas. And of course, Santa doesn't work alone.
He has reindeer to help pull his sleigh and get him around the world to deliver presents! Don't leave Santa alone and purchase a few reindeer figurines to accompany him!
2.1.6 Stockings
The tradition of hanging stockings on the fireplace mantel before Christmas is a tradition as old as time. Kids, even some adults, love waking up on Christmas day to find little goodies stuffed inside the stocks. This is definitely a must-have traditional Christmas decoration!
2.2 Christmas Kitchen Decorations
2.2.1 Christmas Centerpiece
The Christmas centerpiece is definitely an important decoration if you are hosting a Christmas dinner. Your guests will admire the thought you put into crafting or selecting the perfect centerpiece that ties the table together.
2.2.2 Christmas Tableware
Christmas is the time to have fun with your kitchen essentials, including tableware. Let's change your normal tableware into holiday plates and accessories. It's a simple way to get into the Christmas spirit. 
2.2.3 Christmas Towels & Oven Mitts
Consider a set of red patterned kitchen towels and oven mitts to complement your holiday dishes and coffee mugs. It's sure to make preparing and serving your holiday food more enjoyable.
2.2.4 Christmas Tiered Stands
Put your favorite Christmas decorations on full display by placing them atop these tiered stands. Or if you've run out of ornament space on your tree, place the leftovers here. How cool!
2.2.5 Kitchen themed Ornaments
You can hang little kitchen-themed ornaments on your cabinet handles to add a Christmas spirit touch. It also sounds intriguing to deck out your kitchen island with a pretty combination of these festive trimmings.
2.3 Christmas Bathroom Decorations
2.3.1 Christmas Bath Towel
Add warmth to your bathroom floor with a vibrant towel that embodies the holiday season. Go for festive bath towel designs in holiday patterns, ranging from red and white stripes to snowflakes.
2.3.2 Christmas Shower Curtain
We bet a Christmas shower curtain is a great holiday mood-setter. If you're looking to keep things simple, try one with Christmas patterns and colors. 
2.3.3 Christmas Candles
Who said Christmas candles are only meant for your living room? Yellow Christmas lights from candles will create a cozy holiday ambiance while you are relaxing in a warm bath.
2.3.4 Christmas Tissue Dispenser
Instead of the usual tissue dispenser, you should blow a Christmas vibe into your chill space. After the holidays, you can keep it for the next year. 
If you want us to write more about indoor Christmas decor ideas, just leave a comment below. And don't forget to enter your name and email in the " Join our VIP list" box to access our special excluded offers.  
Like this article? Try one of these next: