Christmas will be here before you know it and one of the most enjoyable ways to exercise your creativity is by decorating your mantel. Ready to get started?
Whether you're aiming for a festive idea or want to dress up your holiday mantel in a rustic way, you're sure to find a favorite among this collection of gorgeous images. These Christmas fireplace ideas are chock-full of the inspiration you need to make your mantel shine this winter.
Maybe You're Interested In:
1. Farmhouse Christmas Fireplace Ideas
1.1 Green Meets Black, Gold & White
Skip the garland and stick to framed photos of your favorite holiday sayings — and then take your mantel one step further with rustic name tags on your stockings.
If you get tired of hanging wreaths over the mantel when it comes to Christmas fireplace decor, then we have another option for you. Why don't you choose a farmhouse Christmas wall art to spruce up this space? Let's go different this year.
Click here for Product #1 Info >>>
Click here for Product #2 Info >>>
Click here for Product #1 Info >>>
Click here for Product #2 Info >>>
1.3 Simple-yet-rustic Feel For Farmhouse Christmas Mantel
If you've chosen a Christmas tree theme you really love, it's a natural choice to carry that same look over to your fireplace. So what if you want to keep your tree simple (literally nothing on it)? Let's decorate your fireplace with minimal style.
1.4 Christmas Village Mantel
Make your own farmhouse Christmas village using inexpensive paper chipboard! Display your finished village with cut pine branches, pinecones, and a classic evergreen wreath. 
Or you can go unique with some homemade gingerbread houses, animals, and cut out sugar cookie trees.
Pro tip: Attach a small cookie scrap with icing to the back of each cutout to create a "kickstand" to prop it up.
1.5 Forest Mantel
A combination of fresh and faux greenery beautifully contrasts woodsy pieces like reclaimed and driftwood trees, rustic vases, and more forest-inspired finds.
1.6 Red And Green– The Never-go-wrong-with Combination
Classic Christmas colors are celebrated in this cozy mantel. Fiery poinsettia blooms fill the firebox with color while a twinkling pine garland wraps the mantle above with woodsy texture. Sweater-style stockings dangle from iron reindeer and alternate in color.
RELATED: 21 Festive And Trendy Christmas Living Room Decor Ideas
1.7 Wood Wonderland
Sometimes nature offers plenty of festive charm all on its own. One fun way to give your fireplace a natural Christmas theme is to display round birch logs of different lengths on their ends inside the firebox. 
Surround them with Christmas greenery and have baskets of kindling and more greenery nearby. Hang simple embroidered stockings from the mantel for a beautiful display.
1.8 Cozy And Nostalgic Christmas Mantel
These vintage Christmas prints in antique frames are the main focus of this mantel. Each of the prints depicts a moment of the holiday season that instantly makes you feel nostalgic.
To top off this look, a white pom wreath heats up the whole Christmas mantle and has a little pop of red that goes with the Christmas print.
1.9 Vintage Christmas Mantel
Vintage can go a long way when it comes to decorating. Bottlebrush trees, postcards, and plenty of greenery make its mark on this Christmas mantle. And a festive display of trees, stockings, and garlands doesn't have to be overwhelming—just stick to a simple color palette.
1.10 White On White
Bring in natural elements to your Christmas decor with a DIY orange garland. Shades of ivory in the stockings, little trees and other decor gives this farmhouse mantel a light and bright feel. 
Add fresh cedar greenery for lots of texture and dimension. The thick knit stockings are lovely, too!
2. Modern Christmas Fireplace Ideas
2.1 Colorful Christmas Mantel
Modern Christmas mantel ideas aren't limited to red and green. Depending on the rest of your room's decor, try experimenting with pinks, oranges, and blues. Step out of your safe zone and transform your neutral mantel into a cute and cheerful Christmas nook by adding bright garland, a range of rainbow bottlebrush trees.
2.2 Opt For Holiday Artwork
If you love the idea of changing up your decor as the season progresses, why not fill the blank space above your fireplace with a large Holiday canvas to greet your holiday guests? And when the season is over, you can put it down and prepare for a new one.
Click here for Product #1 Info >>>
Click here for Product #2 Info >>>
Click here for Product #1 Info >>>
Click here for Product #2 Info >>>
2.3 Timeless Christmas Decor
Glossy magnolia leaves, burlap stockings and vibrant holly berries trim this mantle with classic Christmas appeal. The foraged evergreen and magnolia branches provide a striking, symmetrical base for the glamorous mercury glass vases and faux antlers that line the mantle.
2.4 The Harmony Of Jars
If you're decorating your fireplace for Christmas but you don't plan to use it for a fire, you can use a chalkboard panel to draw your own fire. This gives a fun and modern feel to your fireplace, and it works well with simple and modern Christmas decorations like jars of candy, greenery, and matching stockings.
2.5 The Perfect Neutral Palette
Reclaimed wood makes a statement on this homey mantel. Topped with silver reindeer and sprigs of fresh green, this mantlescape is simple, yet stylish. Wreaths will also be a good option to feature with these wood boards.
2.6 Pinecones Everywhere
Combine crushed velvets, rich patterns and deep crimson colors to create a timeless look you'll enjoy for years to come. Instead of using an evergreen garland, you can make a pinecone line featuring some classic ornaments.
2.7 Red Theme Never Gets Old
If you really want to bring the cheer this year, go with plenty of vibrant red decor. And what's more? Buffalo check decor feels just right for the occasion.
3. Unique Christmas Mantel Ideas
3.1 Play with an Unexpected Color
For a bright and airy look that suits any modern space, lean on greenery and a singular unexpected color—like peach.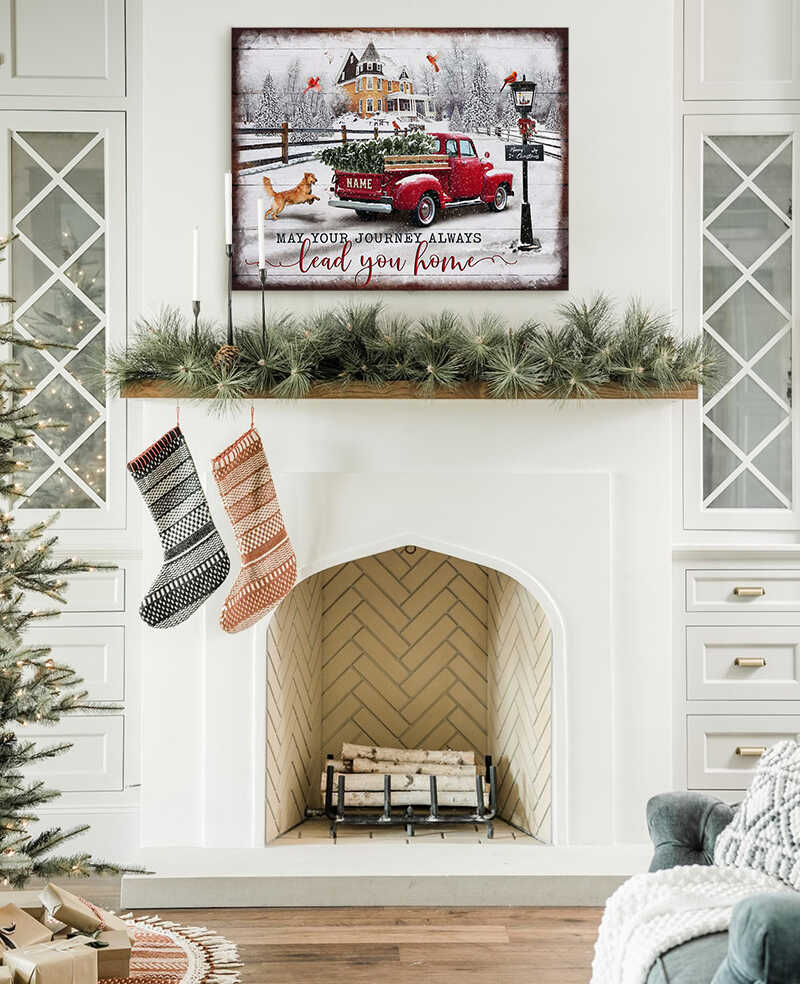 3.2 Use What You Have
Here's a creative idea we haven't seen before: Turn old book pages or newspaper pages into a unique textured garland for your Christmas mantel. Using books is another way to fill that empty space on your mantel. For example, in the picture below, books with the bindings facing inward match the natural hues of the brick.
3.3 Beach Vibe For Christmas
Hurricane candle holders and glass cloches flank the brick veneer fireplace—and don't detract from the lush garland or nautical wreath.
3.4 Cozy Sweater Mantel
A fun fabric (like a festive Christmas sweater craft) is the key to this simple mantel decor. A large star and tiny trees are covered in a neutral fair isle print. Pops of red and green keep the display from being boring.
3.5 The Main Rustic Character
It is common to hang a festive Christmas wreath as the main focus for a mantelpiece. This year, let's go a little bit more rustic with this oversized woven basket! Every guest will give you a big WOW when entering your living room.
3.6 Rustic Wooden Stockings
To give your mantel a vintage look while taking a break from standard stockings, make these wooden stockings instead. The ribbons make them look even more delightful.
3.7 Hang Stockings From A Special Arrangement
Rather than drill holes into your mantel, DIY a special arrangement of frosted Christmas greenery and affix hooks onto the side from which to hang your stockings.
3.8 Incorporate Chunky Knits
Your favorite sweater isn't the only chunky knit you should rely on this winter. Yarn trees, giant knit stockings, and other textiles make for a dreamy scene
3.9 Penguin Parade Mantel
Transform your living room into a polar oasis with a black, white, and gold scheme brimming with upscale wintry accents. A flock of stoic penguins huddled in front of the hearth adds a bit of whimsy to the otherwise elegant mantel.
3.10 Organic Elegance
Earth tones and natural elements create a cozy and relaxing setting. Get the same look by combining natural textures like burlap, wood and evergreens.
So that's what we want to share with you in today's blog post. If you want us to write more about farmhouse Christmas decor ideas, just leave a comment below. And don't forget to enter your name and email in the " Join our VIP list" box to access our special excluded offers.