It's hard to deny that the kitchen is the heart of everyone's home. You'll be spending lots of time, especially in this festive season – Christmas, from baking holiday cookies and meals to catching up with loved ones around the island. 
That's why in today's blog post, we've listed out some intriguing kitchen Christmas decor ideas and inspiration to make your space merry!
Maybe You're Interested In: 
1. Modern kitchen christmas decor ideas
1.1 Holidays Knock On The Window
The easiest way to sprinkle your kitchen window with a festive vibe is to set up a garland. You can feature your favorite decorative items on, such as ornaments or dried citrus wheels. Moreover, a couple of DIY pine trees on the window ledge will perfect the overall look.
1.2 Vintage Corner For Your Kitchen
Bring back the feel of yesteryear with simple additions to the kitchen. Fresh-cut sprigs of greenery and dried orange slices work well as a charming addition to the corner. Farmhouse artwork is an easy accessory for an old-fashioned feel.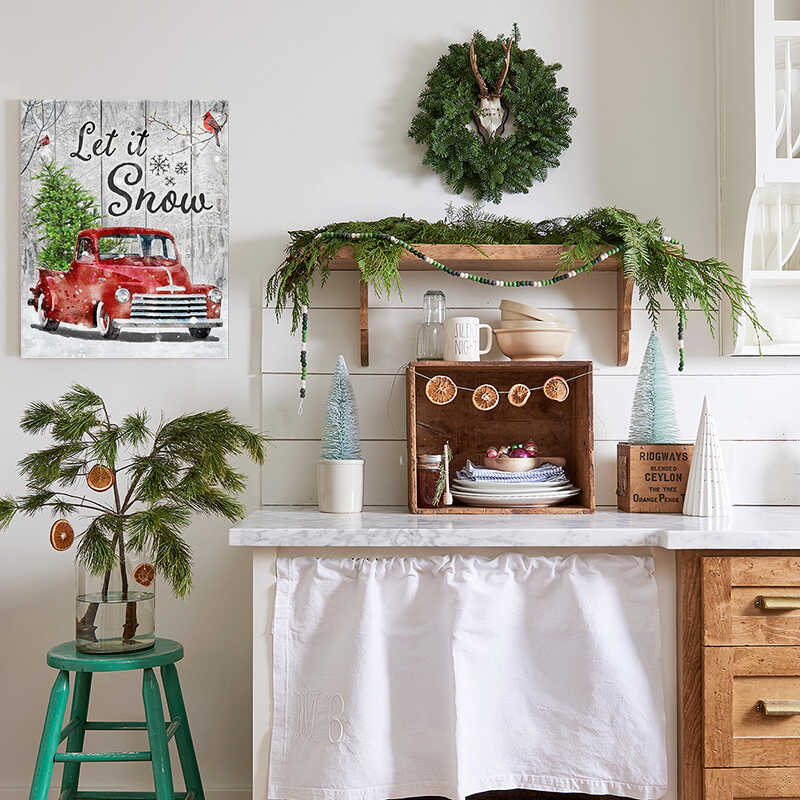 1.3 A Sense Of Calmness & Brightness
If you gravitate toward an open and airy space like the modern kitchen below, we've got you. A pair of runners with muted reds. Classic swags of greenery. All make for understated and sophisticated holiday touches in this calm and bright cooking space.
Have you ever gotten sick of doing the dishes? Yes, we do. So why don't we hang something beautiful and relaxing at the same time? Sounds great, right? Featuring amazing nature scenery, faux window wall art helps you immerse your soul into this masterpiece.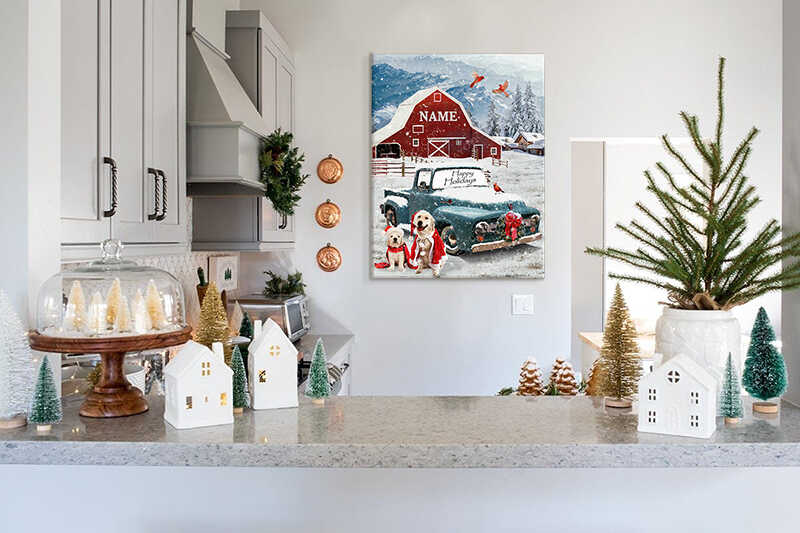 1.5 Get Your Window Crowned
Framed by greenery and crowned by a plaid-adorned wreath, the new picture window provides views of a sweet country road and dairy farm in the distance. A stack of plaid napkins on the island coordinates with tartan touches throughout this farmhouse.
1.6 Unusual Color Combination
We love the combination of green, white and red in this farmhouse kitchen. It is even more stunning thanks to this rustic wall art which acts like a focal point in the space. That's why you'll never get tired of your boring wall any longer!
1.7 The Cabinets Need Attention Too!
The built-in painted wood cupboard provides an ideal spot to display collections as well as a blank slate to layer on holiday accents. Here, we got white some vintage framed artwork and picnic baskets above.
Wide plaid ribbon looped through fresh wreaths adds a graphic touch to plain white cabinet fronts. Or you can use linen ribbons to transform the cabinet doors into a group of gifts for this holiday.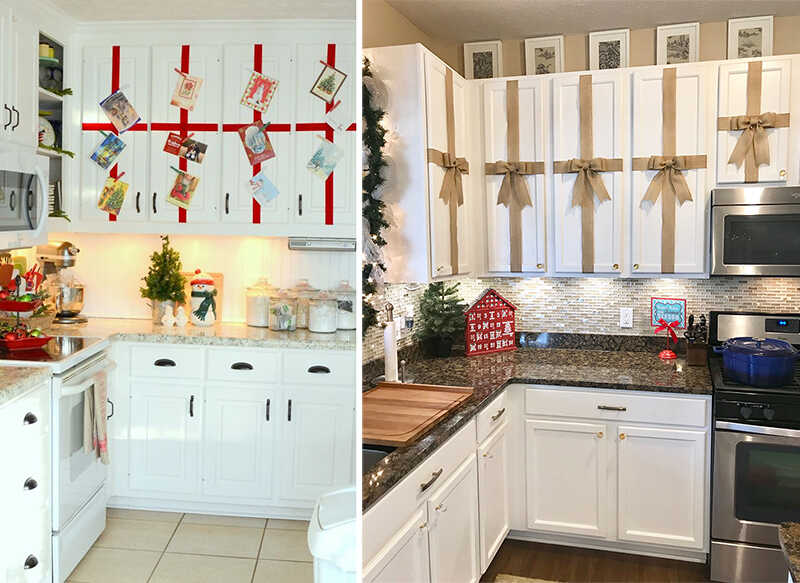 1.8 "I'm In Love With Gingerbread" Kitchen Decor
Take advantage of the space above the cabinets to create your own woodland wonderland. Swap out regular wall art with some holiday-themed wooden or metal signs. Rustic wood slice chargers create a stylish foundation for a gingerbread display or floral centerpiece.
1.9 Wreaths On The Back
You hang wreaths on your exterior windows, so copy that same look inside. These wreaths lend cheer to an equally vibrant array of vintage bar chairs. Let's get all dressed up!
2. Rustic Christmas Kitchen Decor Inspirations
2.1 Breakfast Nook Christmas Kitchen
In this breakfast nook, a vintage mantelpiece provides a base for an easy arrangement of faux garland. The wood kitchen table gets topped with a festive table centerpiece. Last but not least, don't forget to pull out your favorite rustic wall art this season. 
DISCOVER: MORE FARMHOUSE DECOR
2.2 Be A Minimalist
Many people enjoy going glittery, going festive in their space but the truth is, it's just not your style. Don't worry! Let's use greenery and vintage touches to keep things simple and cohesive! 
Let's pick up a few vintage zinc buckets for the shop. They are the perfect Christmas tree holder. Yeah, you don't want to waste these rustic decorative pieces.
Pro Tip: Simply place a large glass milk jug inside the bucket. The jar holds the tree upright and keeps it hydrated.
2.3 Showcase Vintage Collectibles
Pull out all the vintage collectibles to cheer up a rustic Christmas kitchen space. From red and white tins to sentimental vintage pieces, like felt stockings, these "Happy Holidays" accessories are sure to brighten any room.
2.4 Rustic and Woodsy Christmas Kitchen
A simple pinecone wreath and red-and-white dish towel are all this kitchen needs to bring the Christmas cheer. And then, Loose sprigs of greenery, pairing with a collection of toy deer and bottlebrush trees, acts as a kitchen table centerpiece
2.5 Charming Vintage Christmas Kitchen
Christmas decor is not always about the red and green theme. What if you just want to keep the farmhouse spirit – neutral colors? Try to incorporate small Holidays details like the ideas below: festive stars, red berries, candy canes and a charming garland from copper-hued cookie cutters.
2.6 Style Your Pantry
What better way to decorate your kitchen than with the man in red himself? Pop little Santa figurines throughout your kitchen for a fun and festive look this year. You'll love how the Santa mug collection looks in this space. It makes you giddy with delight for sure.
2.7 Country Christmas Kitchen
Extend the charm of a country kitchen with a nature-inspired wreath decked with a variety of leafy greens and fruit. A red striped linen bow adds the look of vintage French vibe.
2.8 Monochrome Green Everywhere
This farmhouse's owner paired a mint-hued paint (a mix of Mint Chocolate Chip and Hancock Green) with neutral accents to keep the kitchen looking sophisticated. Simple garlands and potted paperwhites add to the seasonal feel without competing with the kitchen's beauty.
3. Festive Kitchen Christmas Decorating Ideas
3.1 Sled Up, Mood Up
Sick of hanging wreaths or garlands above your head. So have you ever thought of suspending a sled from the ceiling? If you can… it will look incredibly amazing for sure!
3.2 Have Fun With Candy Cane Stripes 
Stripes will never go out of style—especially when they're candy cane stripes! Why not pop this pattern throughout your kitchen for a fun and festive look this year? Betcha won't be disappointed!
Looking for striped dishes? You can look through here
3.3 Christmas Gingham Kitchen
Do you want to get the Christmas treatment with curtains made with repurposed gingham tablecloths, fresh greenery, and a seasonal rug? This cheerful, retro yellow-and-white kitchen below is an example. 
3.4 Showcase Your Potholders
Christmas is the time to have fun with your kitchen essentials, including potholders. Go for festive potholder designs in holiday patterns, ranging from red and white stripes to snowflakes.
3.5 Christmas Tree In The Kitchen 
For most, the Christmas tree sits in the living room. But that doesn't mean you can't have one in the kitchen as well! You can simply go with a small tree, dressed up with some mini kitchen accessories. That's cute for sure.
Or you can be a little bit extra this year. You know what we mean! A super big Christmas tree in the cooking area will double the festive spirit, even though you've got a somewhat similar one in the living room.
3.6 Fresh Greenery Christmas Kitchen
Easy touches of fresh greenery with garland, wreaths, and mini trees "Christmas up" this clean space without going overboard.
3.7 Amazing Marshmallow Wreath
How cool is it! If you think all you can do with marshmallows is eating it, you should change your mind from now on. This unique and creative wreath can be easily DIY.
But the thing is you had better carefully preserve it from the high temperature. Or else the heat may melt the marshmallows on your beautiful wreath into one big misshapen blob.
3.8 Here Comes The Festive Touch
Wreaths and mini lighted trees make this kitchen a cozy space to cook up delicious holiday treats. A poinsettia, red ribbon, and red towels add a festive touch to this space.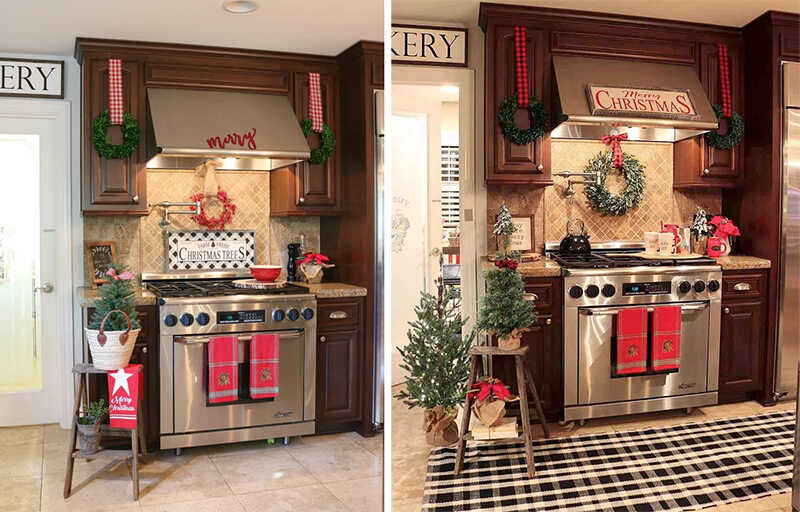 So that's what we want to share with you in today's blog post. If you want us to write more about farmhouse Christmas decor ideas, just leave a comment below. And don't forget to enter your name and email in the " Join our VIP list" box to access our special excluded offers.