Bring the beach into your home this holiday season with our coastal Christmas decorating ideas and inspiration. To inspire you, we've put together a list of 20 beach-themed Christmas decorating ideas below.
1. How to Decorate Christmas Inspired By the Beach?
There are several ways to give your house a trendy Christmas vibe this year. Start with coastal hues like turquoise, teal, and light blue, which may be mixed and matched with greens, reds, and other classic Christmas colors in your decor!
2. Coastal Christmas Decor Ideas
Here are some suggestions for making your coastal house seem like a wonderful Christmas!
2.1. Shell Christmas Tree
The conical tree shape of various sizes creates an attractive focal point in the living room. Stylized Christmas trees are covered with seashells and topped with sea stars. The navy blue color adds a peaceful beach look to your room.
You can make a gorgeous seaside Christmas tree with starfish, seashell decorations, and a gold ribbon.
On the top of the tree, the delicate starfishes replicate classic stars while invoking a beach setting.
2.2. Shell Encircled Candles
Christmas candles need not be red and green to be festive. Our candles decoration idea will bring your guests to the beauty and peacefulness of a beach. Light your candles and enjoy the soothing and natural feeling of the sea that candles give you.
2.3. Snowy Scene Wall Art
Wall art of a snow-covered forest landscape will bring a refreshing winter atmosphere to your coastal room.
2.4. Breezy Welcome
A marine wreath in blue and white colors will be a new idea for the traditional pine wreath that you usually hang on the front door annually. Details like white branches, bubbly ornaments, blue starfish, and sea fans of this wreath will freshen up your Christmas mood this year.
2.5. Spirited Staircase
You should have Christmas decoration ideas for your stairs. Colorful burlap, tinsel, seashell, and star details, and fresh wall art serve as a festive Christmas sign for the coastal style.
Related: 100+ Amazing Christmas Wall Decor Ideas
2.6. A Coastal Christmas Entryway
The doorway is the first thing people notice when they enter your house. Add some wonderful coastal Christmas flair to your décor to boost your guests' delight and enthusiasm.
2.7. Fishing Vibe
Vintage coastal décor for Christmas? Why not? Collect various seashore goods and mix them creatively to make a kitschy look for your holiday.
Fill your lantern with natural materials such as pine cones and pine fallen trees, add some seashells or a starfish. A few blue Christmas balls will make your lantern more sparkly.
2.8. Coastal Christmas mantels
The fireplace is cozy but also takes on cool shades by arranging marine elements and colors creatively. The traditional reds of Christmas are replaced in the coastal room by snowy white and brilliant blue hues.
2.9. Seasonal Centerpiece
Replicate the silhouette of Christmas trees with cone-shaped seashells. Just combining tiny starfishes with microscopic shells, you may make a little tree farm for decorating your table.
2.10. Christmas Wall Countdown
Your children will enjoy using this lovely advent calendar to count the days till Christmas. The coastal advent calendar will bring a different feeling to your Christmas home. Therefore, it will attract and amaze your guests.
2.11. Sea Themed Garland
Make a crafty garland out of seaside treasures by stringing the shells together with twine. For a coastal Christmas feel, mix in faux or fresh evergreens.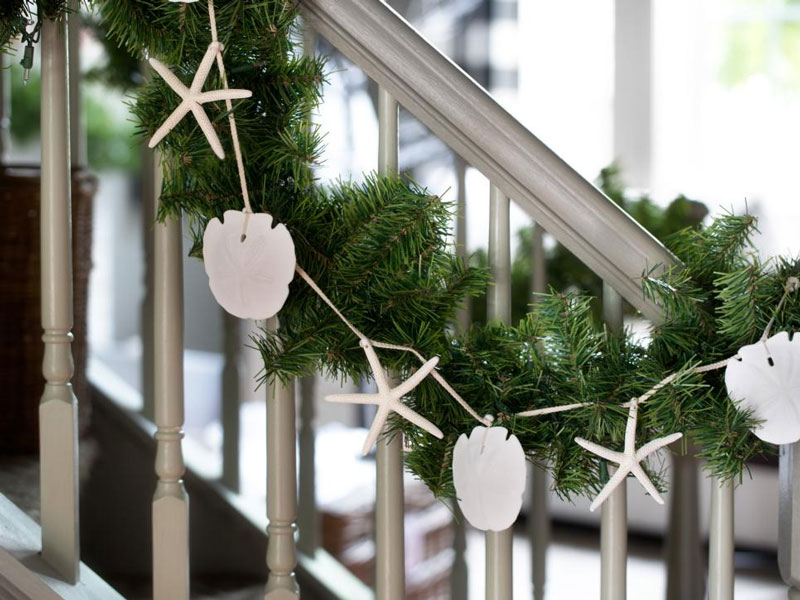 Maybe you're interested in 29 Best White Christmas Decor This Year
3. DIY Ideas For Coastal Room
Make your own beach-themed Christmas decorations for a simple way to add a little coastal flair to your holiday décor.
3.1. Beach In The Sphere
The transparent crystal ball is placed in a thin layer of sand and decorated with small seashells. You can hang them up with ribbons.
3.2. Creative Marine Christmas Ornaments
Oyster shells and souvenir starfishes may be used to make these beautiful and simple coastal Christmas decorations. To enhance the inherent beauty of these shells, just coat them with clear polish. Then use hot glue and metal ornament hooks to hang these ornaments up.
3.3. Driftwood Christmas
With a few basic driftwood Christmas trees, you'll create a winter scene. You can also embellish these plants with splashes of white paint.
Driftwood trees on canvas will make an excellent addition to your marine décor. They may be hung on a tree or incorporated into your seaside decorations in any way you like!
3.4. Beachy Snowman Craft
Snowman without snow? This is an incredible idea for someone who wants to bring the warmth of the beach into this Christmas. Sand the spheres, then use the seashells to make the details of this sand snowman. Add a small straw hat and you've got a simple and fun craft decoration for this winter.
3.5. Christmas Pillow
Make this adorable Christmas pillow! It's a nice decorated accessory with a glitter crab, some fun words, and a Santa cap. It's a fun and whimsy project to rock.