Right after Halloween ended, people often bust out Christmas. Have you made up your mind about choosing which concept to decorate your home this year? If not, you can style the space with fresh, crisp white Christmas decor. Just follow our lead. We've listed out a bunch of intriguing ideas. 
Maybe you're interested in:
1.1 Rustic Style White Christmas Decoration For The Entrance Hall
Things should get lighter and brighter when you come inside. You can go a little extra by painting your walls white to match the theme. It would be intriguing to add more flocked garland and alpine trees nearby. Also, a fluffy layer of snow for the alpine forest floor will perfect the whole look.
1.2 Artistic White Christmas Entryway Decor With Farmhouse Artwork
If you are wondering which item is the most meaningful to the decor in this special season, Christmas wall art may be the best candidate for sure. Hang a piece of farmhouse artwork right at the entryway to welcome your guests and best friends when they're coming over to visit you.  
1.3 Farmhouse Christmas Entryway Decor In White
We would love to introduce this sideboard with a white frame in our entryway decor items! A white flocked wreath hung on the board. Some Christmas sayings are written on that wooden piece. What to choose? It's all up to you. It's always so much fun to decorate for the holidays.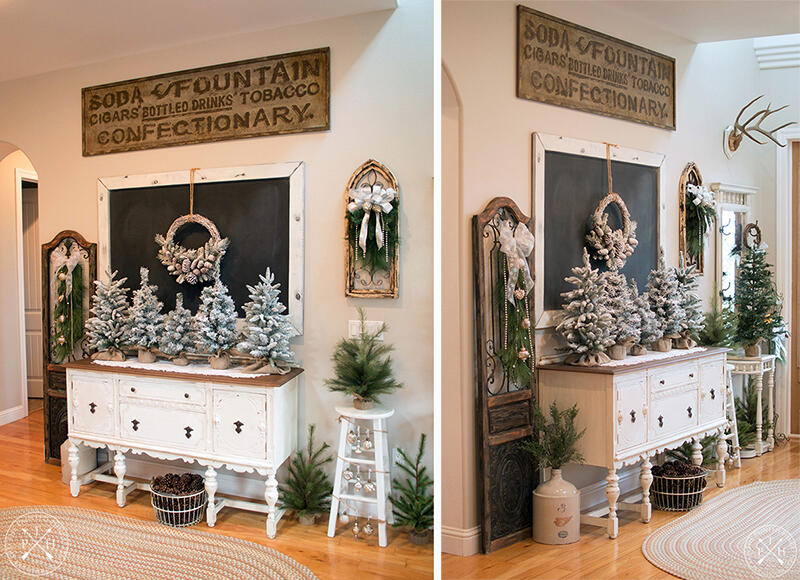 1.4 White Christmas Living Room Decor
1.5 White Christmas Tree Decor
Many people say that a flocked tree is a game-changer when decorating a Christmas tree. Why so? Because the ornaments, regardless of colors, just pop on the white background, and the texture is really amazing. You can go with ornaments in soft shades of blush, copper, white and soft gray – as the inspiration from Ae home style life's blog below. There are no boundaries in which ornament sizes should be used. Go with your guts!
String lights are one of our favorite Christmas decors finds. They look like real candles but are actually LED lights that clip right to the branches. And when the night comes, you can turn them on to create a warm and festive spirit. How cool!
Instead of flocking your Christmas tree with snow spray paint, it still looks gorgeous with only white metal ornaments and warm-yellow LED lights. Don't forget the white tree skirt! Such a best combo!
If you have no idea where to buy these inexpensive flocked trees, you can go to find them here on Walmart's website. The thing is they sell out every year so make sure to order them early.
1.6 White Christmas Mantel Decor
White mantel decor all started with these white stockings. They are just like the spirit of the snowy season. After that, you will like the vintage look of farmhouse Christmas wall art placed above the mantelpiece. 
Another element that we believe is a must for a Christmas mantel is a garland. In case you need to add extra texture, natural elements such as pine cones should be considered.
How about a strand of the bead garland? That's also a perfect choice. We bet you don't want to miss out on this. Remember this tip: Layering different elements is the best way to add interest and extra texture to your mantel.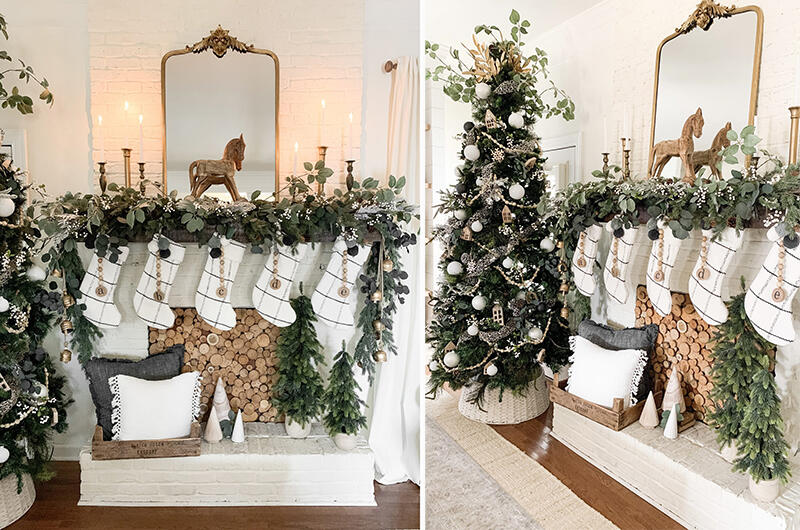 1.7 All-white Christmas Kitchen Decor
Let's start with the most important decor in the kitchen. We mean the dining table! White tablecloth and chair cloth covers are great accents to finish off an all-white Christmas kitchen theme. Then you can adorn the room with more decorative patterns such as gingham pillows, but they should be in neutral colors in order not to break the white theme.
A wood bowl of ornaments on the counter will be a good option to blow the festive vibe into your cooking area. Not only is it pretty and sparkly but also easy to move out of the way when it's time to serve food.
1.8 White Christmas Farmhouse Decor For Staircase
This year, you should put some extra work into decorating the staircase. We have some inspirations for you below. All the garland and swags, featuring suitable accessories, are put together and tied onto the staircase.
2. Outdoor White Christmas Decorations
2.1 White Christmas Yard Decorations
2.1.1 Lighted Christmas Package Set
Place these lighted Christmas packages in the yard and they'll glisten in the snow. If you're afraid that they'll be damaged if put under snow, you can embellish your porch with this posh addition instead.
2.1.2 Pathway Christmas Trees
Add a classy touch to your pathway with these snow-flocked trees adorned with artificial pine cones and berries. Place them intentionally from your gate to the front door – just like a path to heaven on a snowy Christmas night.
2.1.3 Bring The Inside Out 
Some may think it's ridiculous to bring the inside out to decorate your garden. No, it's pretty fun instead. Start with grabbing an old wooden chair and spruce it up alongside some shrubbery. Adorn the chair with a Christmas wreath, a tray holding silver ornaments, and warm fairy lights. 
2.2 White Christmas Porch Decorations
Flocked wreaths and garlands will make your porch look really snowy. Let's embellish them with some faux seeded Eucalyptus. You can add touches of this all over your home this year. A light pink satin ribbon completes the look.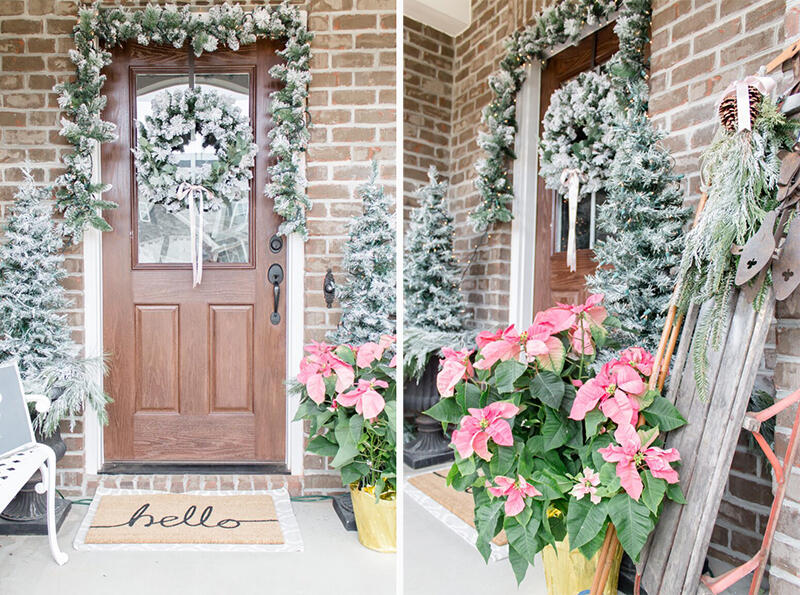 What if you add an old sled, vintage ice skates, or old ski poles on the porch too? This idea is just too good to be refused. The good thing about these items is that they can stay up for a while after Christmas for winter decor.
The gingham pattern really fits the white Christmas theme. So you can utilize this pattern in choosing suitable decorative pieces. For example, a black-and-white gingham mat is just a perfect match with these white flocked trees. 
2.3 White Christmas Mailbox Decor
The mailbox decor is just like the first impression of your house. People can link the mailbox theme to your indoor decorations, therefore, don't overlook this small box! And you know what… with our inspirations, mailbox decor becomes super easy.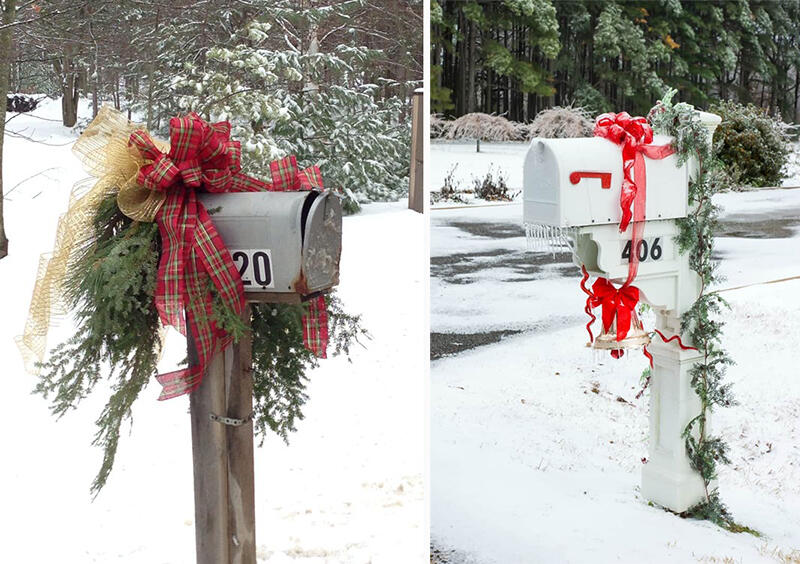 So that's what we want to share with you in today's blog post. If you want us to write more about Christmas decor ideas, just leave a comment below. And don't forget to enter your name and email in the "Join our VIP list" box to access our special excluded offers.