The kitchen is your family gathering place at the end of the day. Therefore, having a comfortable and cozy kitchen is everyone's dream. Farmhouse kitchen wall decor is a great way to bring aesthetics into your space. Our ideas and designs will add character and charm to your home's heart.
1. Add Space To Your Kitchen With Open Shelving
Open kitchen shelving ideas are a must-have in a farmhouse-style kitchen. It can keep clutter at bay if you have a small kitchen. This feature offers your kitchen a more spacious appearance and provides a place to exhibit kitchen decorations and intriguing things.
2. Opt For Farmhouse Clock
You can instantly identify what time it is and add elegance to your kitchen by hanging a vintage wall clock on your kitchen wall. It may stand alone as a clock, or you can add a floating shelf under it with some rustic decor objects (two simple flower vases and a candle). You may use this rustic kitchen wall decor concept. It's incredible.
Canvas painting is an excellent way to upgrade your kitchen. Consider Hayooo's farmhouse wall art collection if you're looking for the right finishing touch for your kitchen. Here are top farmhouse kitchen wall decor canvases:
Country scene wall art evokes feelings of escape from the city's hustle and bustle.
Farmhouse windmill wall art has the potential to evoke memories from the past.
Related: Awesome Sunflower Kitchen Decor Theme To Have Great Meals
4. Create Rustic Gallery Wall
Create a rustic kitchen gallery wall to set the tone and showcase the rustic vibe of the area. What kinds of things can be shown on a gallery wall? Cutting boards wall art might be made out of different types and sizes of cutting boards.
Metal letters and monograms are ideal for adding a rustic touch to a gallery wall. You can mix and match rustic signs in a variety of sizes and styles for a sophisticated aesthetic. Large-scale cutlery decor is a beautiful signal that it's a kitchen.
Kitchen items of various types may also be utilized for gallery walls, giving the design a kitchen-like appearance.
5. Farmhouse Kitchen Wall Decor With Plants
Make a feature of your kitchen wall by displaying plants and decorations on the open shelf. This is an excellent way to add natural character and a pop of color. Of course, you can employ farmhouse kitchen lighting ideas to draw attention to your lovely pieces at night as well.
You may also decorate your open white shelf with flowers and vintage trinkets to give natural color and character to your kitchen wall. Make the most of this opportunity to showcase your uniqueness fashionably and beautifully.
6. Go For Rustic Window Wall Accent
Consider incorporating a window into your kitchen wall to add a visual element to a previously blank wall. A window frame complements wooden features and adds a rustic charm to your kitchen space.
Additionally, you can use faux window wall art. It is a work of art and brings the beauty of nature within.
7. Decorate With Basket Art
For this farmhouse kitchen wall decor, you need to find several baskets to do yourself. You can buy three or more baskets of varied sizes, shapes, and designs on Etsy. Then arrange them to add an extra touch to your kitchen.
8. Opt For Wine Rack
With a rustic wine rack, you can both store wine and add elegance to your farmhouse kitchen wall decor. You may hang your gorgeous bottles of wine on the wall in your kitchen. The wine rack should have a compartment to store your attractive glasses.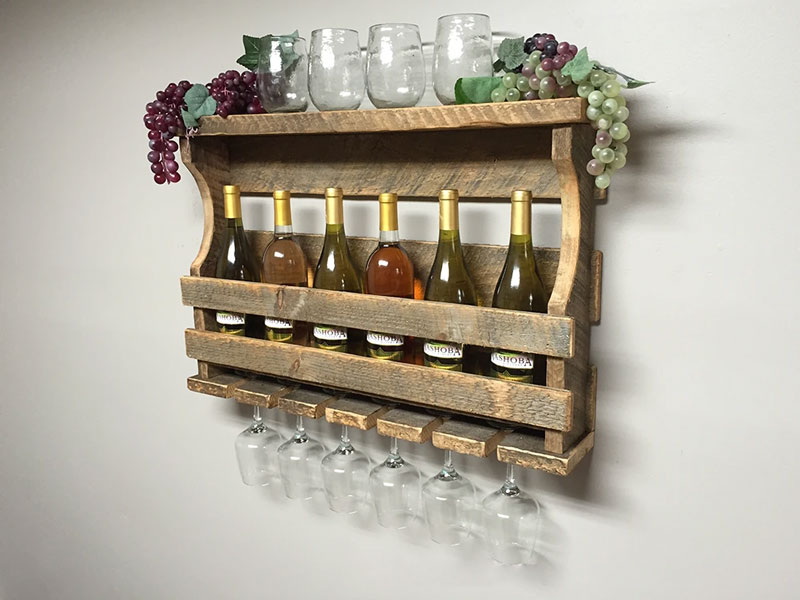 9. Hang Collections Of Kitchen Appliances
Kitchen equipment can do more than make your dishes. They might also make intriguing wall decor! Just be sure to clean it well after each usage.
Authentic cookware is essential for achieving a country kitchen vibe. A cluster of copper pots hung on a wall adds visual interest and texture. This is a beautiful design feature that adds visual intrigue and a rustic feel to any room.
9.2. Plates
A shelf of plates on the wall to display china will give a dash of color to farmhouse kitchen wall decor. Let's add flair to the wall with your favorite patterns. Choose brighter hues for a more contemporary look. Stick to neutrals and natural materials for a more basic rustic aesthetic.
9.3. Functional Wall Art
A disorganized kitchen makes you go out of your way to get stuff. If you always spend minutes looking for an egg beater of a can opener, hang it up to make functional wall art. Hanging the accessories allows you to grab them quickly, even on a busy morning.
10. Go For Brick Kitchen Wall
A rustic room looks more authentic with brick or stone walls. An appealing brick wall allows you to keep kitchen items in place. You can create a striking contrast between the brick and hanging, rug, chalkboard, or curtains.
11. Use Wooden Cabinet
Installing a wooden display cabinet is an easy method to get the farmhouse look. An off-white wooden cabinet will give it a more contemporary appearance. Through the glass doors, people can see lovely ornaments and pottery.
Begin to plan and select some of all objects. And avoid a frenzy of decorating with numerous interiors and accessories. We hope you have fun with your favorite farmhouse kitchen wall decor from our ideas.