When it comes to farmhouse decoration, the first thing that springs to people's minds is decorating their living room, bedroom, kitchen, etc. This tends to lead to neglect of the bathroom, where many spend the first minute of their day. So maybe you should consider changing its look with a couple of farmhouse-style features to fit with the rest of the house or update its boring look. Whatever choice you make,  we've come up with a few ideas to help you make a farmhouse bathroom remodel that won't break the bank.
Make a specific plan before transformation the farmhouse bathroom
1. Make a budget
Surely you would not want to spend too much money on a bathroom transformation, right? Before going forward with farmhouse bathroom remodel, please first set up a budget and schedule that outlines the exact work that has to be done for the project. It will save you time and money while also controlling the work's development.
2. Renovate the furniture
The next thing you need to pay attention to is the furniture in the bathroom. Should it be replaced or recreated? If you feel annoyed or don't like it when using it, release furniture. Reducing the cost of maintaining your bathroom layout can help you save money. Special electrical and water setup may need professional advice, which may be costly.
So as long as you have a clear idea of what you want, trying to stick with the current layout will help you make a farmhouse bathroom remodel on budget-friendly.
3. Color scheme
A wall with a color scheme that matches the theme will instantly change the whole look of your room. That's why when redecorating, the most difficult decision is usually deciding on which color scheme to use. Dynamism, in particular, is enhanced by color.
Fortunately, farmhouse designs make it a breeze! To capture the entire farmhouse vibe, white, neutral, and gray shades are trendy in most farmhouse designs.
4. Ventilation
Ventilation is vital in a humid room like a bathroom. Humidity Causes mold on the floor, wall surface, making the room quickly deteriorate and lose its beauty. That's why a humid place like a bathroom needs good ventilation to help the room dry and deodorize.
Decide accessories for a farmhouse bathroom remodel
After you have come up with a great farmhouse design plan, your following step is deciding on the accessories for it. To many people, a nice bathroom is something everyone desires and it results from many factors, including the arrangement of the space, the design and layout of the artworks, tiles, equipment, and accessories, and more. So now, to give you all the information on the various farmhouse accessories, we're taking you straight to the next, where you can find all you need to know about them.
1. Canvas artwork
Just a few beautiful farmhouse-style picture frames mounted on the wall will help your bathroom become livelier and more colorful. Instead of monotonous and tedious like its original look with empty walls.
Besides, it can make space not only less boring but also bring a sense of artwork with a farmhouse theme. Imagine you take a hot bathtub after a hard-working day, especially in a farmhouse bathroom style with a warm and cozy space, looking at the canvas art with encouraging quotes in your bathroom. It will definitely make your day!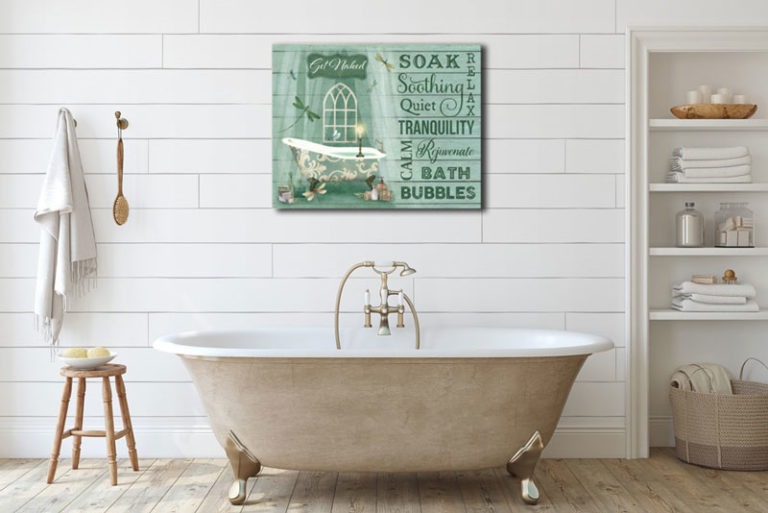 WATCH: MORE BATHROOM CANVAS WALL ART HERE.
2. Rustic mirror
Buying a new rustic mirror is a great way to add farmhouse style to your bathroom, but it can get a little bit pricey.
But, if you think that your old mirror can still be utilized, then it may be worth experimenting with something new on your current mirror. By surrounding the existing mirror with a wood frame, you will make your bathroom have a more farmhouse theme. 
3. Rustic lighting 
In farmhouse style, nature exposure and openness are top priorities.
But if you can not have enough natural light, then rustic lighting should be used to give your space a new farm-themed look to your rustic bathroom. Not just for lighting but also for bringing parts of the outside things into your area.
4. Rustic floor
The main feature of farmhouse style is rustic, simple but still brings a warm and homey look to space. To create a pleasing effect as you desire, we recommend using wooden floor tiles.
This will give you a feeling of natural warmth and a rustic tone to your farmhouse bathroom. Other types of tiles can be patterned floor tiles or light porcelain tiles. It's a perfect addition to a farmhouse bathroom remodel. Depending on the style as well as the main color, you can choose between light and dark brick colors accordingly.
MAYBE YOU INTEREST: 9 Incredible Ideas For Rustic Bathroom Wall Decor
5. Bathtub 
If the bathtub is not damaged at all, you should reuse it. Instead, cleaning can be a better option. Adding bronze claw feet or some farmhouse paint to the bathtub would create a more farmhouse feel.
If your bathtub has many big cracks or leaks, you should definitely change bathtubs. Then a secondhand shop is a good option where you can buy a rustic bathtub at an affordable price.
6. Replace fittings 
If your bathroom fixtures, such as taps and showerheads, are showing worse signs than before, it may be time to replace them. They aren't really noticeable until you switch them out and realize you've been using that filthy showerhead for far too long.
Black fixtures are really popular right now, and there are many economical options available. On the other hand, bronze or copper fixtures are similarly stylish but have a slightly warmer look. They are all good ideas for a leveled-up farmhouse bathroom look. 
7. Rustic Cabinet
Even though the bathroom is usually not very large, it still needs room to store a few essentials. However, buying and installing new bathroom cabinets will be pretty expensive.
An easier and cheaper way is to refurbish the closet with small details such as replacing the hinges, locks, and handles in metal or repainting with new wood color.
It will upgrade your cabinets and bring a rustic style suitable for a farmhouse bathroom to remodel on a budget.
8. Glass Canisters 
Cabinets and shelves located in the bathroom are often crowded with all of the many things you need on a daily basis. But if you want the feel of a farmhouse, all you need is glass canisters.
They have various sizes to store different items such as cotton balls and swabs, toothbrushes, etc, and transparency which can help you find what you're looking for easier.
9. Woven baskets
 Instead of using a plastic bin to keep extra clothes or laundry, you can use a woven basket.
The aesthetic of a woven basket is rustic beauty, natural, environmentally friendly, which is absolutely ideal for a farmhouse theme bathroom.
10. Add greenery
You can add some small plants that both act as decorations and air purifiers to ventilate the bathroom. Natural green color will bring a new breath to the toilet space and give us the feeling of getting closer to nature.
A planter overflowing with flowers or plants is a piece that makes any bathroom fresher and more attractive.  Just remember to choose plants or flowers matching with your bathroom where there is very high humidity, little natural light, and not much wind and ventilation.
Therefore, green plants grown in this environment must have suitable growing conditions with the above requirements.
11. Deodorant solution
Would you rather have a restroom that is smelly or musty? There is a wonderful option for you if you are concerned about smell.
These days, there are many product options on the market that are both financially-saving and bathroom-decorating, such as scented candles, fragrance oil, or essential oil diffusers. These items will improve the fragrance and feel of your bathroom.
We hope the inspirational decorating ideas here will help you to complete your amazing farmhouse bathroom remodel at an affordable price. If you are interested in this topic, don't forget to follow us to update more information about farmhouse decorating ideas. 
May you like these blogs: