Vintage style tends to be popular in home decor 2022. Its old-fashioned charm and coziness have attracted a lot of people to be vintage lovers in the last five years. That's why we think it's great that vintage Thanksgiving decor is truly one of a kind. It is a good idea because it combines antique charm and a traditional cozy and warm holiday.
Vintage thanksgiving decor requires everyone to spend days planning and searching for purchasing items. Therefore, Thanksgiving is a big opportunity to connect family members together. We love to admire our hard work and enjoy the beauty of our vintage thanksgiving home decor after finishing totally, and we hope everyone too.
Although Thanksgiving is usually quiet, nestled in between Halloween and Christmas but Thanksgiving is really an independent and amusing holiday, it deserves having a unique decorative look.
Simple! Just think of the autumn, harvest-inspired items you can take to your home as a DIY corn wreath, collecting leaves for table dinner, or painting pumpkins with your children. You can even craft your own rustic decoration centerpiece out of twigs. We've got tons of Thanksgiving ideas from the living room to a dinner table setting ideas that can inspire you. Let's dive into it!
MAYBE YOU LIKE: Why Is Everyone Talking About Vintage Truck Decor in 2022?
1. Vintage Thanksgiving

 

Living Room Decor Ideas
Vintage Thanksgiving decor can set a great mood in a living room, creating a pleasant way to relax beside the fireplace, play board games with family, or watch a romance movie and enjoy a cup of tea. Gorgeous autumn leaves, colorfully painted pumpkins, pine cones, warm room color palette, and cozy fabrics are a wonderful way to boost the family's spirit of this fall holiday and make Thanksgiving decor feel impressive and comfortable. 
The fireplace is a centerpiece that needs to focus on decorating to create a unique charm for the living room. A pickup truck with pumpkins or fall nature canvas wall art on the fireplace might be a stunning focal point for innovative Thanksgiving decorating.
We have some fall color schemes between furniture and interiors. Beautiful small fall accessories and mats, blankets, and decorative pillows in neutral and warm colors turn your living rooms soft, happy, and relaxing while creating perfect fall decorating.
2. Vintage Thanksgiving Decor For Kitchen
A rustic table with a Thanksgiving table setting would add classic style and a cozy mood to kitchen decorating in vintage style. Autumn leave vases or and wreaths on kitchen cabinets or walls make a colorful fall in your home, adding a charming natural feel to Thanksgiving decorating ideas.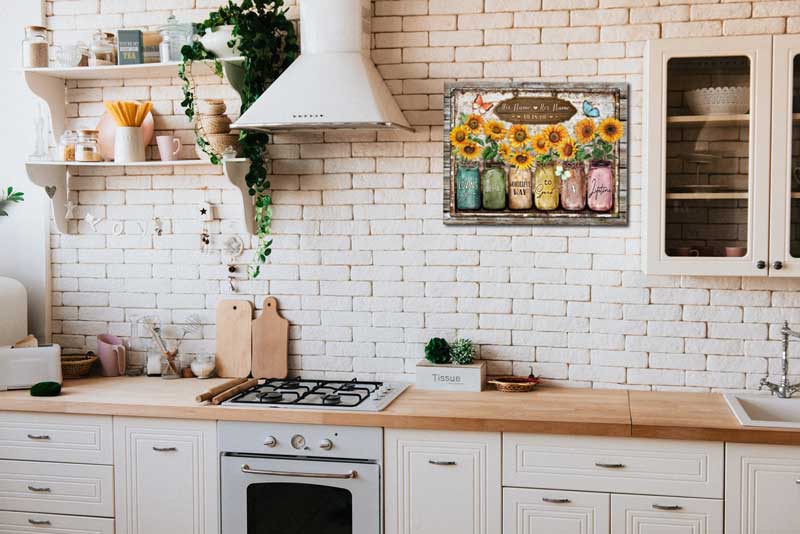 Also, the materials are easy to find and custom by yourself like pumpkins, dry corn, or nuts could help you and your little children for a fun crafternoon. These decorations will get you and your kitchen withinside the thanksgiving spirit.
Don't pass planning your thanksgiving bedroom decor where you enjoy your private time every night. Set a fall theme accessories decor to coordinate with your interior. With a few simple items, you can have a bedroom that looks just as festive thanksgiving as you please. From easy DIYs to a few store-purchased, these decorations will make your relaxing space feel extra special. The combination of orange and neutral pillows, blankets, and rugs is guaranteed to inspire your bedroom this holiday. 
For more vintage thanksgiving decoration ideas, don't forget everything that is available at your home like candles, lights, or artworks. You can see them normally but these antique gadgets customized by repainting or adding some autumn leaves or acorns can make the Thanksgiving bedroom more elegant and special.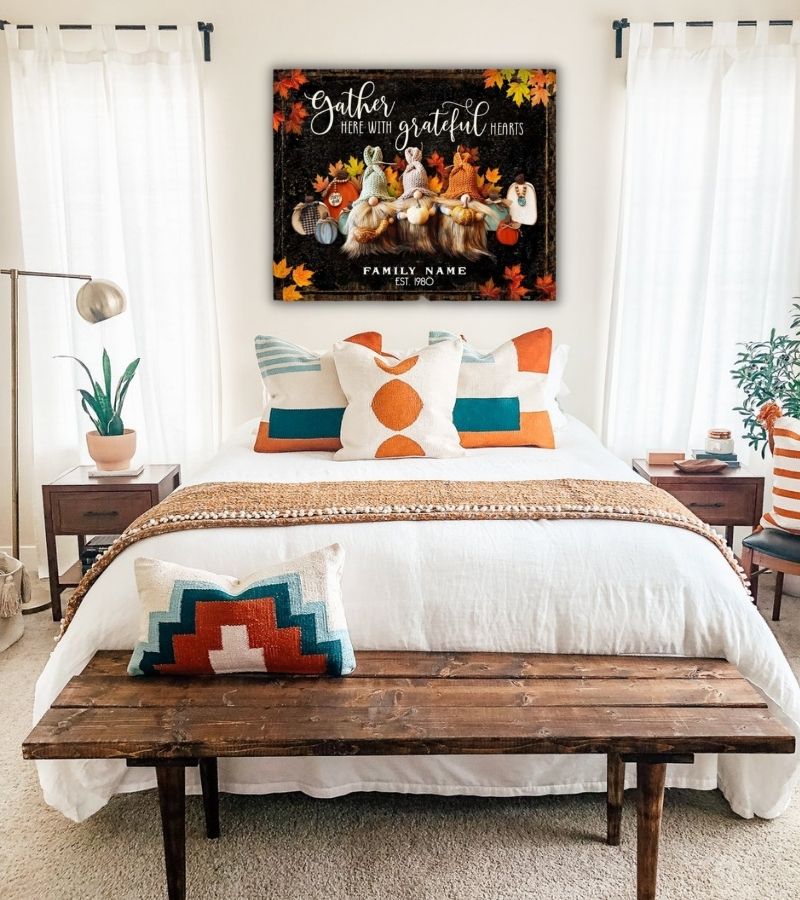 New creative ideas for bedroom walls are also a fresh way to add a festive spirit and turn your space into an elegant fall decoration with a completely new look. Think about an art gallery on your wall, you will see many wonderful images and your childhood with a barn and farm in the harvest season. Enjoy the miracle of autumn with these decoration ideas for a great holiday.
4. Thanksgiving Decor For Entryway
Greet Thanksgiving in your house including the entrance to have a full experience enjoying the charm of this wonderful holiday. We will show you some entryway thanksgiving decorations to host your vacation guests with ease and impress. You can also get inspired to decorate your entrance with fall and thanksgiving decorations ideas using some of our past articles: Thanksgiving Entryway Decor Theme To Greeting Your Holiday 2022.
5. Thanksgiving Dinner Table Decor
When Thanksgiving comes, most families prepare a Thanksgiving menu with many traditional dishes same year after year. In order to turn dinner table creativity, you can make it an inviting, unique fall scene with one of these easy DIY projects below. 
Thanksgiving dinner table centerpieces to delight all your dinner guests, make charming crafted vases, reusable pumpkins, dried leaves, berries, and blooms which to decorate with your candles. 
Take some vintage tablecloth, printed plates, natural pumpkins, a plaid box with hydrangeas – and your Thanksgiving table setting is ready! 
Find some old-fashioned plaid napkins, greenery, and a bright sunflower centerpiece with colorful glasses plates.
Friends, we have put together our top vintage thanksgiving decor for homes you can consider and look for at offline or online stores to help get you going with your own vintage decor items. Wish you success!
READ MORE OF OUR ARTICLES: