Curious how a work of faux window scene wall art or print will look on your wall? Check out our wall art samples which let you visualize your art on different backgrounds and or to a specific room.
There are some spaces simply windowless such as a living room in a basement, bedroom, bathroom, or even an interior workspace in an apartment or townhouse that lacks a window.
It could make us bored and depressed each day. The best tip to brighten your space is to bring in plants, hang many mirrors, paint a white wall, or go out to get a break from the same boring walls and take in a view of nature.
But now, we have the tip to design a dark, windowless room with natural sunlight to make the illusion that there is a window within the space. As well as add in many the proper lighting alongside light and airy furniture and fabrics.
WATCH: 7 Indispensable Furniture Farmhouse Decorations In Living Room
Why choose faux window scene wall art for a boring or windowless room?
A virtual window is a picture that resembles a window, but through which you're viewing an artificially created scene instead of the particular outside world. There are different types to settle on depending upon what scenery and size you would like, and, of course, your budget. They will be faux windows or mock skylights and may include just one pane or many.
In any case, you'll get a refreshing view of nature or another part of the planet – even outer space.
With faux windows scene wall art, its weight is slight so you can easily hang it onto the wall. And we also make sure it looks like a real window. Even you can see the summer beach through the faux window from the comfort of your own couch or office chair.
There is a variety of sizes to suit different large and narrow spaces.
It also has many kinds of pictures and colors available to choose from.
The canvas is also very durable and easy to clean with a dry cloth.
Your room is not only space where you can express yourself creatively but also can explore your personal style. Whether you would like to make a soothing vibe, a country look, or a contemporary aesthetic, your decor helps your sight become a reality.
Personalize your furniture to make your room more special. Little accents like canvas print gallery or couch of the same color with window picture leave your home unique and impressive.
Virtual windows with blue sky – Faux Window Scene Wall Art
Simulating the design of a window easily is often accomplished by hanging a virtual window with blue sky posters, decals, paintings, and murals on a roof or on an outsized wall. However, there is a rather more high-tech variety that involves backlighting behind a nature scene printed onto a semi-transparent material nowadays. These virtual windows are often mounted or recessed into the wall. And it is also often surrounded by a framework and overlaid with crossbars that simulate panes to finish the illusion that makes you simply see for a true window. In fact, the realistic images and lighting can give the illusion of a true window with clouds, birds move across the sky, and leaves flutter within the wind.
Barn through the rustic window
It is often in those windowless rooms that might look so confidential and cramped that you cannot find the fun and motivation in a house. Decorating a room with no windows can seem challenging, but it actually provides a unique creative opportunity. If you do seek the right ideas, you'll end up with something unique and practical.
Why don't you add "barn through the rustic window" canvas artworks on your walls? In 2022, faux window scene wall art will be the go-to trend for bland or windowless spaces. It does not only brighten your room but also reminds you of more childhood memories about the barn and farm of your family. So throw in some love and think how divine it will be to unwind in a room filled with art. It's a chance to create a cozy haven, a retreat from the rest of the world without anybody knowing.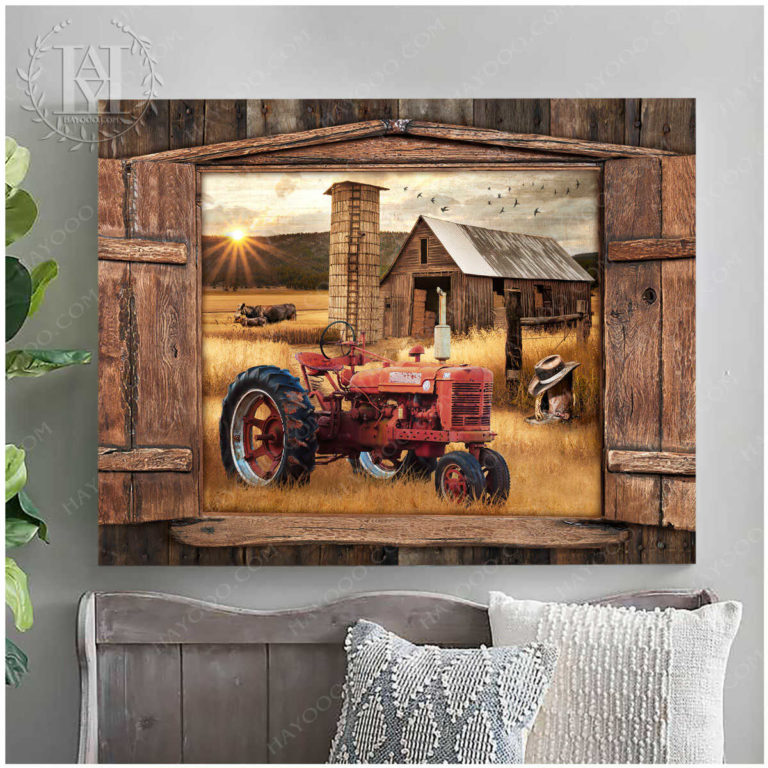 WATCH: 6 Steps For The Best Farmhouse Gallery Wall Art
Faux window beach scene wall art – Faux Window Scene Wall Art 
Summer is coming. It's time faux window beach wall art comes into play. Faux window art can expand the space of a room as well as make your mood cheerful each day.
The faux window beach scene is the artwork that was drawn by our talented artist. A fake window coastal scene such as this print artwork is both beautiful and fresh to a human's mind when placed in a small windowless room. An installed sawtooth hanger is easy to hang up wherever desired. If you appreciate fake window canvas art and need to make a windowless bedroom or general living area appear bigger and brighter, then this faux window beach scene wall art is a great choice.
Canvas colorful bird-window – Fake window
Another idea for the windowless room is a canvas colorful bird fake window. It can help stimulate the freshness of natural sunlight while reflecting light from every source for the brightest look possible. We think you should choose a neutral color for the walls and ceiling, so the windowless or small space might look larger and the colorful bird fake window artwork might earn attention.
Faux window with floral canvas wall art – Faux Window Scene Wall Art 
When dealing with a windowless room, you really start to miss the natural light and appreciate the openness they bring. If you're planning a little remodel or just add more decoration, there is a way to bring that same comfort feeling like a garden or park by hanging "floral through a fake window" canvas wall art.
Having floral artworks in the home creates a focal point that adds depth with imagery and pops of color. To capitalize on this, we combined paintings of flowers and trees with fake window frames to give the impression that you're traveling the globe from the comfort of your own home.
Adding faux window scene wall art is the easiest way to brighten and clear your home, so why not do it now to freshen and boost your mood every day? Check out these amazing fake window canvas wall art ideas from Hayooo, to make your small or windowless space look great in an instant. For more amazing ways to dress up your home, please leave your email at the box below.
MAYBE YOU INTEREST: