Greeting the festive season with amazing Thanksgiving wall decor for your home. Thanksgiving is the perfect time to get creative and become the great artist sprucing up your entire space with impressive home decor ideas and prettiest. 
Thanksgiving is coming, you can sit back to make a specific plan for Thanksgiving wall theme decor ideas, pick up one idea you love most, and then start to decorate your home. We have compiled various Thanksgiving wall arrangement ideas to set a gorgeous, rustic and elegant look for your home. Let's get creative with the living room, unique centerpieces, stunning wall art, adorable and utterly eye-catching showpieces.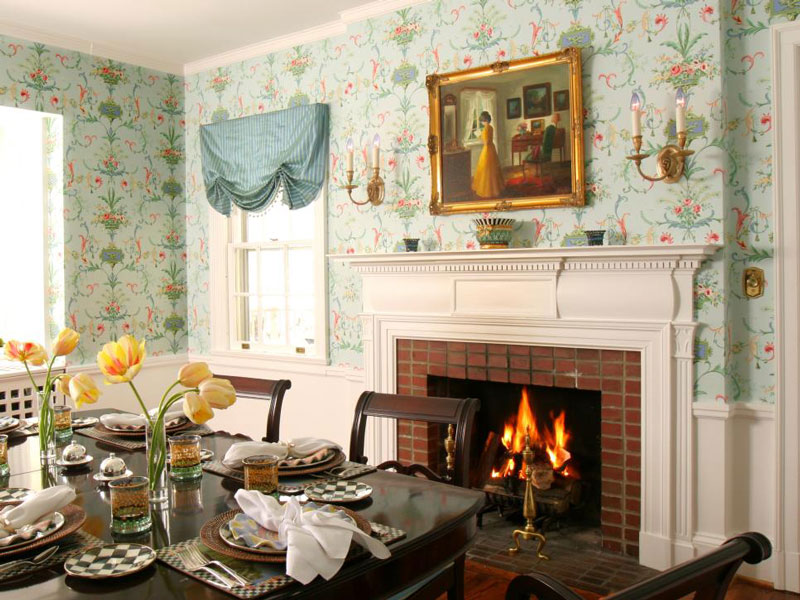 1. Choosing The Right Wall Paint Color For Thanksgiving
Embrace Thanksgiving home by signature color palettes. What's the first thing you should do as part of your Thanksgiving plan? Choosing the loved color theme can be easy to convert your home into the coziest and most perfect space of the year. And enjoy festive air with family and friends.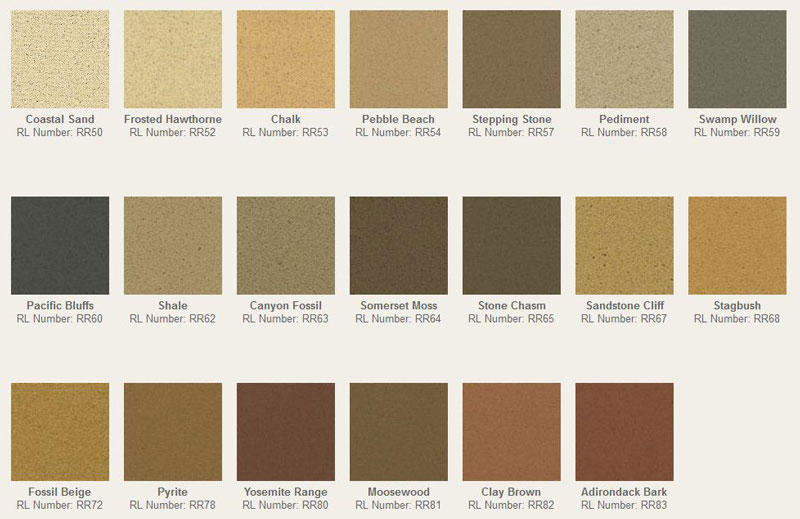 1.1. Warm colors
"Forever on Thanksgiving, the heart will find the pathway home."
Warm-up home in your heart by palette in fall colors. Wall should be changed to paints in classic autumnal shades like oranges, browns, taupes, burgundies, and yellows that are full of fun and love in the heart. Draped in a cozy wall is a soft Thanksgiving throw blanket. 
Replacing old wall art with Thanksgiving artworks is a nice idea, such as prints or paintings. Or refresh them with DIY autumn leaf decorations. Choose yellowed leaves or dried twigs for a classy yet classic look.
1.2. Neutral color
Neutral colors and light shades make your Thanksgiving home exclusive in this holiday season. Welcome guests with pleasant and relaxing blue, grey, and green pastel along your entryway, living room, and kitchen. Satter wall decorations everywhere: on a fireplace, sofas, atop bookshelves, and along an aisle among rooms. 
When using neutral paint, you can decorate the wall with a highlight craft colorful pumpkin or other warm-themed decorations. Adding ornament wool and fresh flower basket decor to add playfulness to your space. If you enjoy crafting, we have some DIY ideas below.
1.3. White theme
Everything looks better when enjoyed in a soft glow. To fill your space with natural light without being influenced by other colors, choose white tones for the wall paint color. After all, the most important thing is that your family and valued guests can have fun with festive emotions during the holiday season. The warmth of natural sunshine around your house might boost their mood well.
2. Perfect Thanksgiving Wall Decor Ideas For Your Home
Greeting Thanksgiving begins with your home wall decor. There are plenty of simple ways to explore festive unique styles, Pinterest, Google, or Hayooo (Our best ideas). Thanksgiving decorations to your space with things you already have hiding in your warehouse, home yard, or even ideas in your laptop.
2.1. DIY Autumn Leaf 
Having stuff you can easily find around your home can make incredible decorations instead of purchasing expensive decor items from the store, for example, autumn leaves and dry branches in the front yard. You could arrange found-stuffs cleverly to easily transform them into a wreath of beauty. Not only are such activities awesome in terms of their appearance, but also they show the cheerfulness and warmth you wish to deliver to your loved ones.
It would be great if your childhood used to sit in the passenger seat of a pickup truck with your father through the happy harvest season. The corn, the pumpkin and the dogs crammed in the back made a kid like us feel so happy and warm.
Our dad drove us anywhere in the red pickup truck in it as a family for so many years. It is one of our fondest childhood memories.
Therefore, charming addition to your rustic country home on Thanksgiving might remind you about a beautiful childhood sitting on a vintage pickup truck holding a seasonal harvest of colorful fall leaves, pumpkins, and berries with your father or grandpa.
2.3. Craft Ornament Wool
Wool crafting is a super soothing activity, and it keeps you playing with your children. Along with being a fun and relaxing way in your free time, it also can help you save money on holiday decor. 
If you like being crafty with decorations by wool, try to create a flock of turkeys on the wall with your favorite colorful wool roll and feathers. Or if you're all about pumpkin decor, try making lovely pumpkin wool. You can create whatever shape you want with just a few spools of wool, enjoy this time with the kids, they will surely have a lot of fun.
2.4. Thanksgiving Sign Wall Art
Line up a gorgeous empty display on your old wooden table or fireplace to let the wall be the showstopper of your home decorations this Thanksgiving. The arrangement of Thanksgiving sign boards combined with cotton flower vases and acorn jars creates an amazing wall arrangement.
2.5. Natural Fall Through Faux Window Canvas
"The thankful heart opens our eyes to a multitude of blessings that continually surround us."
Nature offers up the best Thanksgiving wall decorating ideas, and you can often find beautiful scenes you need inroads back or in front of your home. Fill the monotonous wall with amazing natural scenery. 
You can place them on a mantel centerpiece or sofa of various arrangements to create your own unique looks.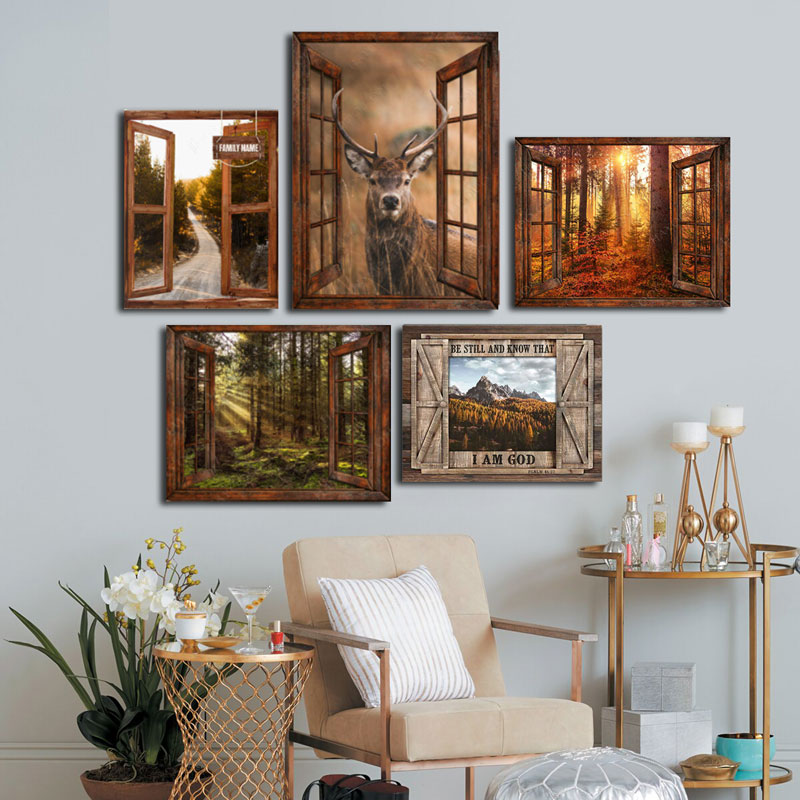 Put rattan baskets in among artwork on a shelf, and fill them with acorn jars and books. Hang a seasonal wreath in any empty space to set the tone for the holiday. 
2.6. Fall Fresh Flower
Adding a few fresh flowers on the wall helps build anticipation and sets the tone for the big Thanksgiving day.  Some of the fall's most loved colors can be brought into your living room by displaying seasonal flowers along your walls.
At the heart of your home, you'll enjoy looking at the brilliant flower garland or wreath alongside the large artwork filled with a festive air. To round off this autumn awesomeness, place a simple light to hang across the above and finish off your wall's look.
3.1. Only One Wall Art
Focus attention on the beauty of only one Thanksgiving artwork on an empty wall. Instead of combining a lot of wall decorations, one pickup truck or fall nature scene canvas wall art makes a pointed accent to your wall between different interiors in the room.
3.2. Random arrangement
However, if you appreciate the comfort that a random wall art arrangement provides you can hang them anywhere you want to enhance the mood and creativity of your home this holiday season. The combination of various sizes of art makes your festive space even more alluring.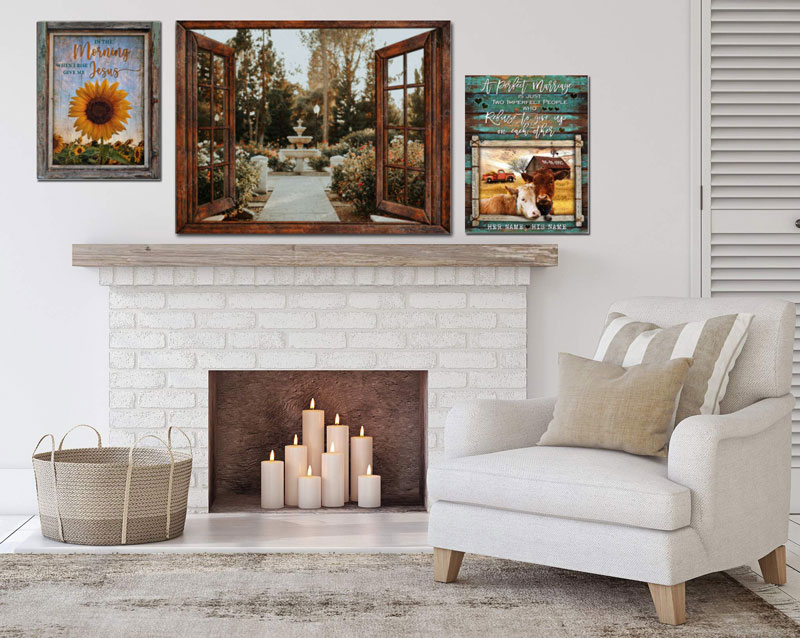 3.2. Sort By The Same Color Tone
One of our favorite Thanksgiving wall styles is sorting wall art by the same color tone. It makes a pleasant and sophisticated look on your festive wall. Complete the wall appearance with the same color palette art to pop of color to your home design.
3.3. Even Thanksgiving Wall Art Arrangement
Honestly, if you don't know much about how to arrange them artfully, you just need to create an even wall art arrangement to wow your guests. As we show above, one tone-on-tone color palette offers a dedicated wall display. Get inspired by these gorgeous even arrangements to dress up your wall for Thanksgiving ahead.
With a little creativity, the Thanksgiving wall decor ideas are endless, these budget-friendly ideas should inspire you to make your wall impressive. Hope you have a great time preparing for Thanksgiving!