It is true that everyone is usually in two minds about how to set up their bedrooms. One of the things is most people sort of rush headlong into decoration before preparing a to-do and not-to-do list. That's kinda a big mistake. So we've picked out 9 need-to-know dos and don'ts in farmhouse decor above bed that may help you get started.
Basically, the following to-do-things are as simple as ABC we may say. So what are you waiting for? We're gonna start with what people should do when hanging items above their bed.
1. Do choose the suitable wall art size
When it comes to farmhouse decor above bed, the very first thing that springs to people's minds will definitely be bedroom wall art. It is true that nothing is easier and more artistic than those gorgeous farmhouse artworks. 
They vary in size from small (11×14 inches) to large ones (30×40 inches). Choosing which one to hang is up to you but the thing is make sure they are hung at eye level for a better viewing experience. 
If you are into photography, landscapes or desaturated artworks are born for you. Wall art with inspirational phrases is also a good choice for people who need something to let their hair down after excessively long working hours.
In case you're looking to hang a canvas as farmhouse decor above bed then consider #3 or #4 above. Both of these sizes occupy the space between 60 – 80% the width of the furniture they're hung over, which is a pretty nice ratio. 
Note that our suggestion above is for a king as well as queen size bed. But don't worry if you own a single or double bed, we will bring your other options. #1 and #2 are smaller, therefore, they will look best above your furniture. 
Additionally, small-sized artworks are even more incredible when displayed in pairs or as a group. However, don't forget to treat the whole thing as one piece that's between 45 and 60 inches wide.
VIEW MORE: 6 Steps For The Best Farmhouse Gallery Wall Art
2. Do mix old and new
Let's add something else that's slightly aged to space, maybe making use of vintage windows. This sounds pretty cool for a farmhouse decor over the bed, right?
When used in creative ways, old materials can create an over-bed view looking way pricier than it is. You can find really good options for buying vintage windows at yard sales or even on some online marketplaces. It may take you long hours to sift through your true love.
Even if you can probably make it, the bulky shipment, as well as the unwanted vintage condition, will be a couple of matters that separates you and the windows apart.
Is there any farmhouse decor above bed ideas not only carrying the vintage sense of old frames but also getting rid of the above disadvantages? Let's say yes. Fortunately, faux window wall arts can give you the opportunity to hang whatever "view" from the window you choose. 
What an incredible creation I may say! They are like a haven from your tiny bedroom to anywhere – maybe the view of a slow-moving and placid river or a peaceful rice paddle field. You are in control of what you want to see. Fantastic!
SEE: MORE SUNFLOWER CANVAS HERE
3. Mirror, mirror on the wall as a farmhouse decor above bed
It is very common to see a couple of mirrors in small coffee stores or tiny showrooms. With the purpose of enlarging the tight space, mirrors do try their best to handle the role. According to interior architects, aside from oversized windows and soaring ceilings, there is no better friend to tiny spaces than a well-placed mirror. 
If you are getting extremely tired of your cramped bedroom, just give it an illusion by using a "whatever-shaped" mirror as a farmhouse decor above bed that goes with your vibe. One with a vintage wooden frame may enhance your room's look in a way that doubles the farmhouse vibe.
But mind out! Some people have a spiritual notion of the mirror position in their rooms. They strongly believe that if you place it directly opposite to where you lie, this will be the culprit of a bad night's sleep.
In case your bed faces North or East, it will be a bad idea to decorate a mirror above it since this may reflect away positive energy entering from these directions.
4. Be imaginative with ledge shelves
Your room runs out of place so you've got nowhere to display your personal collections. Then floating shelves seem to be a perfect match for yourself, indeed. No longer will you be green with envy when sifting through fabulous shelf decor on Pinterest, now you own one. What about opening a showcase above your bed right now? 
Let's start by layering artworks and other items that you're into, such as a couple of your favorite books, your family gallery, and so on. You can then embellish the shelf with some lovely pretties or any decorations you feel that fit the whole look.
5. Let's go YOUnique
Last but not least, you can follow our suggestions or not. I mean you can show us how unique you are by hanging various types of farmhouse decor above the bed. It could be a guitar your grandpa played in your childhood. It could be some colorful conches you come across, rushing back a shell of your first trip memory. 
Or perhaps if you love boating, hang a pair of oars over the bed like in this beautiful bedroom. The more unique the ideas, the better. Just unleash your creativity!
Finding the right farmhouse decor above the bed is only half of the battle. Now that you've seen the perfect piece, it is time to arrange and attach it correctly to the wall.
Here are some common mistakes that people often make when hanging wall art. Are you making any mistakes below in your bedroom right now? Hopefully no. But if your answer is yes, why don't we fix them right after reading this?
6. Don't put things at the wrong height
Most people have a tendency to attach farmhouse over bed decor too close to the headboard or the ceiling. This may lead to asymmetrical balance in the room and other problems. Take this as an example, you hang the ledge shelves so low that the moment getting up always gives you a bump on your forehead. Extremely uncomfortable, isn't it?
So the right way to display farmhouse decor above the bed is to attach it at eye level. It will provide a sense of equilibrium in the room since it will share a visible midline with the bed and other furnishings. The decor will stay beautifully at that perfect spot. Trust us since this is regularly used as a standard in many galleries and museums.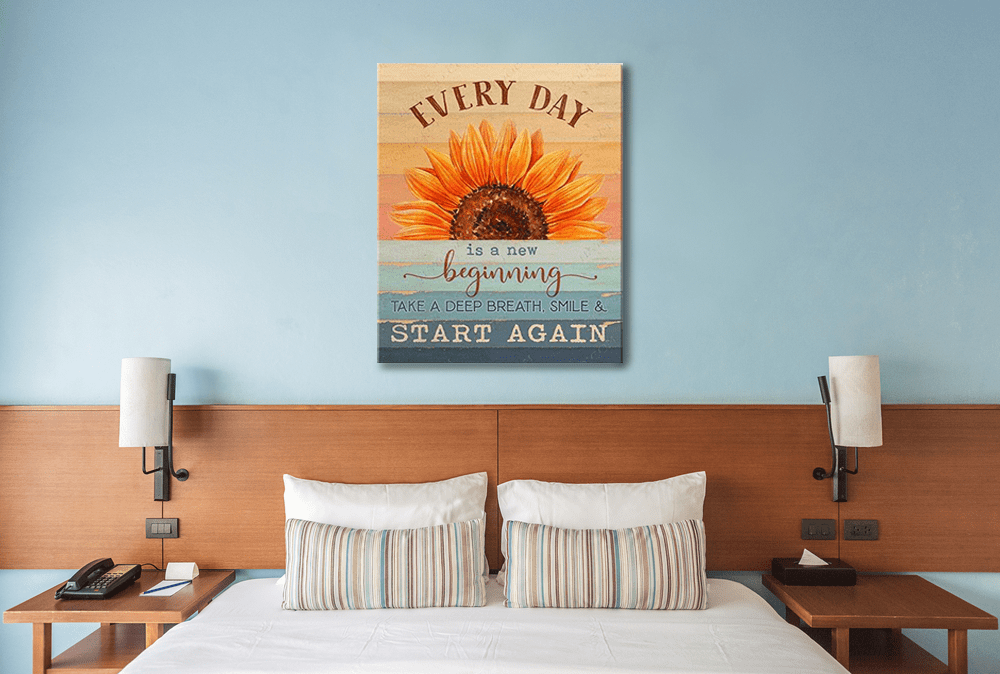 7. Don't cram inappropriate things into the wall
How do we define unsuitable items in this situation? The fact is when we go to bed, our minds dive into an unconscious state.
In case we put on the shelf above the bed such unwieldy objects as sculptures or heavy decorations without having them fixed to the surface, the worst-case scenario may happen. I mean they can fall off and terribly hit your head while you are sleeping. 
If you keep cats as a pet, the chance of occurrence may increase since cats really enjoy creeping along the shelf. So for security purposes, let's just place small farmhouse decor over the bed and try to stick them onto the surface carefully. 
Another option we can consider is to move the bed away from the wall just a little bit so that we'll be all safe even if something may fall down.
8. Don't become a big fan of above-the-bed plants
Some people are tree lovers, indeed. Are you? It is obvious to see them place a variety of plants in every home corner, in their bedroom, even above the bed. However, there are some concerns that during the night, plants produce carbon dioxide instead of oxygen.
Over time this could contribute to significant harm to someone enclosed in a small room with one. So that sounds like a bad idea to let greenery stay above your bed. Let's position your treasured plants away, maybe on the window bottom.
9. Don't be impatient
Last but not least, there is no need to rush and do all the farmhouse decor above the bed at once. The best spaces are those that have evolved over a few years.
Obviously, everyone should know "Good things take time". You can slowly build up your wall day by day until a showcase of perfection magically appears right in front of your eyes. What an over-the-moon moment!
If you keep these 9 dos and don'ts in farmhouse decor over the bed in mind, I bet people will definitely be green with envy when they come to see your room. Don't hesitate to share this blog with your friends and sift through our other intriguing posts. They're worth reading, indeed. 
Drop your email in the " Join our VIP list" box below because we know you don't want to miss out on any special offers, right? We're gonna come back to you soon, mate. Stay gorgeous. 
You may like these blogs: