Farmhouse style evokes nostalgia and warmth, so its popularity has grown in recent years. If you want to add some rural charm to your space, you will need our farmhouse living room ideas featured below.
Farmhouse decor is more than just shiplap and barn doors. (Though there are several in these living rooms as well.)
Let's get started on updating your home.
1. How To Get Farmhouse Living Room Look
1.1. Start With Farmhouse Color
Don't neglect the color scheme of your living room. Neutral tones and abundant natural lighting are hallmarks of farmhouse style. However, earthy hues such as subdued greens and relaxing blues, light grey, and warm oatmeal also work nicely.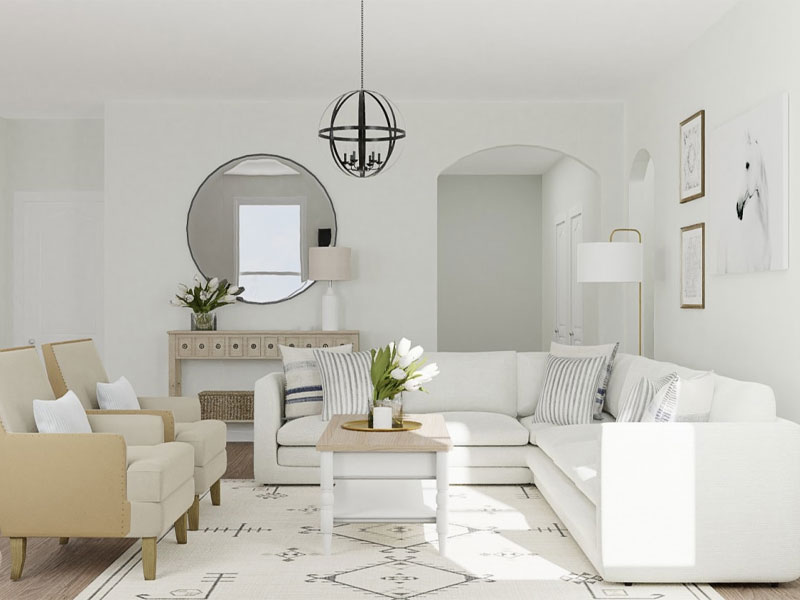 1.2. Use Shiplap
It's no secret that shiplap has been a major farmhouse design trend in the last decade. Shiplap, with its clean lines and large planks, is the ideal backdrop for a modern farmhouse living room. On the other hand, if you want to convey a sense of antiquity, use boards with nicks and scratches.
1.3. Find Nature-Inspired Accents
Natural elements, such as reclaimed wood, stone, wicker, and cotton upholstery, are popular in farmhouse design. The more natural-looking the material, the better if you're designing your home in farmhouse style. To complete the country vibe, consider adding hay-inspired throw cushions, branch components, and wicker baskets.
An excellent and easy way to liven up your living room décor is farmhouse canvas art. Country scene art or nature wall art helps give it that farmhouse feel for your home.
If you can add farm animals into your room, you will emphasize the "farm" component of the style! Farms are well-known for their numerous animals, which range from sheep to horses to chickens to goats. With Hayooo's wall art, you can freely customize the board for a personalized piece to hang up in your living room.
1.5. Mix And Match Finishes
Mixing and combining different textures and materials will give an interesting decor. For example, a slipcovered sofa, two leather recliners, matching cowhide stools, and an enormous jute rug form a stunning rustic family room. You may also combine various matte metals to get a contemporary, industrial design.
Maybe you're interested in: 20+ Vintage Thanksgiving Decor Ideas
1.6. Invest In Lighting
Take into account every aspect of your design, from the floor to the ceiling. That's why a rustic light fixture, such as one made of salvaged metal or with exposed bulbs, can add so much to your environment. A sleek barn-inspired sconce may help to elevate your living room. To create an ambient farmhouse lighting system in your family room, hang a simple lantern with a glass cover on either side of your sofa.
1.7. Bring Plants In
Indoor plants are the best way to warm up a room. A few green plants will add some color to your living room. You can place a ficus or fiddle leaf fig in a huge basket or plant tree into a tall pot.
2. What is Farmhouse Style Furniture And Decorations?
Finding the proper furniture and decorations is one of the secrets to creating the ideal farmhouse living room.
2.1. Rustic Wood Furniture
There is a wide range of furniture that goes well with rustic décor. You should look for wood furniture that is less shiny and rougher. With a modern touch, reclaimed and plywood pieces are ideal possibilities. By combining wood finishes, you may create a pleasant ambiance. Choose huge items that you can sink into, such as comfy sectionals.
2.2. Beige Sofa
White couches are common in farmhouse living rooms. However, you can choose a beige sectional sofa instead. It will offer you a bright and airy appearance without staining as quickly as white.
2.3. Living Room Wall Art
Sometimes all you need is a little chalkboard to give your home a lovely rustic feel.
You also hang a rustic farmhouse mirror you found at a flea store or make from your old mirror.
Or explore more farmhouse living room wall decor at Hayoooshop.
Related: 8+ Red Truck Christmas Decor Ideas For Gorgeous Farmhouse
2.4. Farmhouse Coffee Table
A domineering coffee table with a wood plank top and faded white paint will serve as a rustic focal point in a farmhouse-inspired family room. It's the ideal surface for a board game or that puzzle you've been meaning to finish for months.
Integrating an industrial-style coffee table into the farmhouse home is a trend working very well.
2.5. Oversized Wall Clock
You can see large wooden wall clocks on many walls in farmhouse homes. It's excellent decorations for adorning the wall of your farmhouse living room.
2.6. Fireplace
On a cool autumn night, a crackling fire makes people comfortable. A fireplace design that features rustic stone or a reclaimed wood mantel adds a farmhouse look to your living room.
2.7. Barn Doors
The living room is an ideal location for sliding barn doors. Sliding barn doors separate the living area from the rest of the house.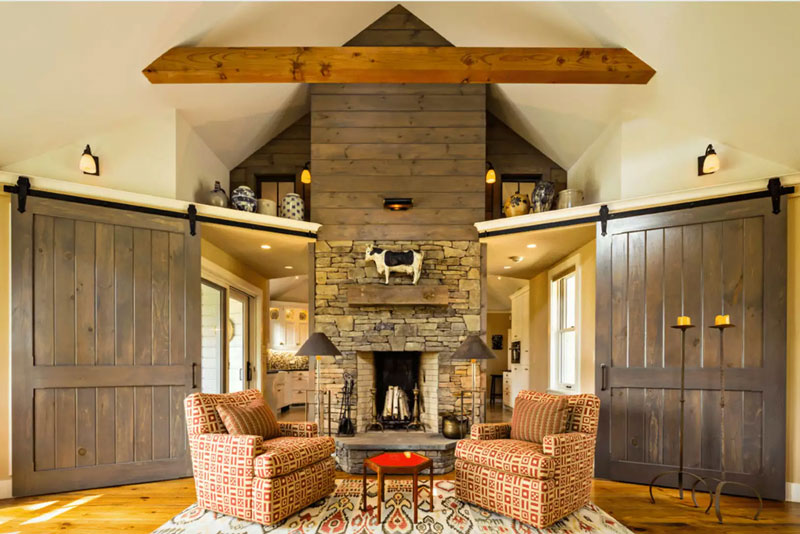 2.8. Wooden Shelf
A wooden hanging shelf is ideal for keeping books, plants, and other items at the doorway to your living room. Put green plants, photos, or books on the shelf to add color to your rustic room.
2.9. Linen Curtain
With sumptuous linen curtain panels, you may let in some natural light. The natural material will tie together your farmhouse family room décor and keep the heat in throughout the cooler months.
2.10. Farmhouse pillows
Farmhouse throw pillows provide warmth and joy. They can complement your rustic style. Some choices for you: layer pillows, checkered plaid pillows, faux fur pillows, and tasseled pillows.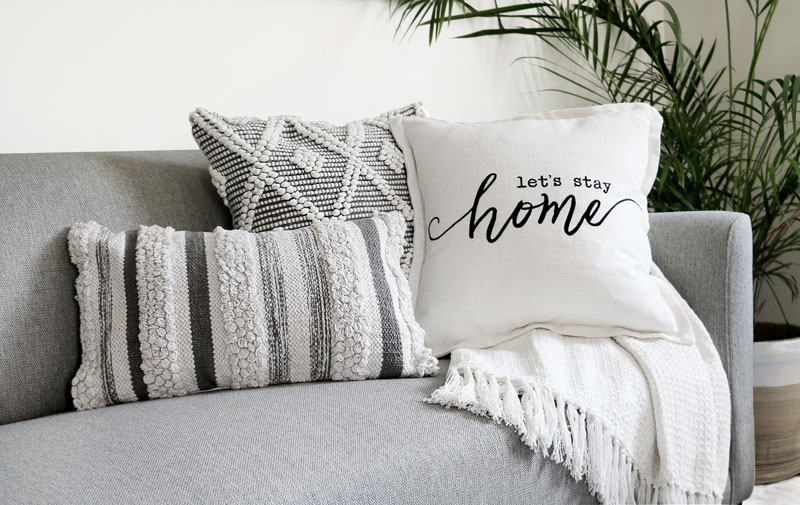 Farmhouse living rooms are among the coziest sorts of family rooms to design. With these suggestions, we hope you will enjoy the company of friends and family in your perfect living room.